Stuffed Mirchi Vada is a spicy, deep fried snack and a popular street food from Rajasthan. Big sized green chillies are slit open, deseeded and stuffed with spicy potato mixture. It is then dipped in besan batter and deep fried. They can be served with green chutney or tomato ketchup. This makes for a good tea time snack and can also be served as a side dish with your meals.  
These mirchi vadas are quite addictive and you cannot stop at one. Here is the recipe:
Ingredients
 10 big sized green chillies/ Bhavnagri green chillies
For the stuffing
3 medium sized potatoes, boiled
1 onion, finely chopped
½ tsp turmeric
1 tsp Kashmiri red chilly powder
½ tsp cumin coriander powder
¼  tsp garam masala
1 tsp lemon juice
¼ cup chopped coriander
salt to taste
For the besan batter
1 cup gram flour (besan)
1 tbsp rice flour
1 tsp carom seeds (ajwain)
½ tsp turmeric powder
½ tsp Kashmiri red chilly powder
salt to taste
Oil for frying the mirchi vadas/pakodas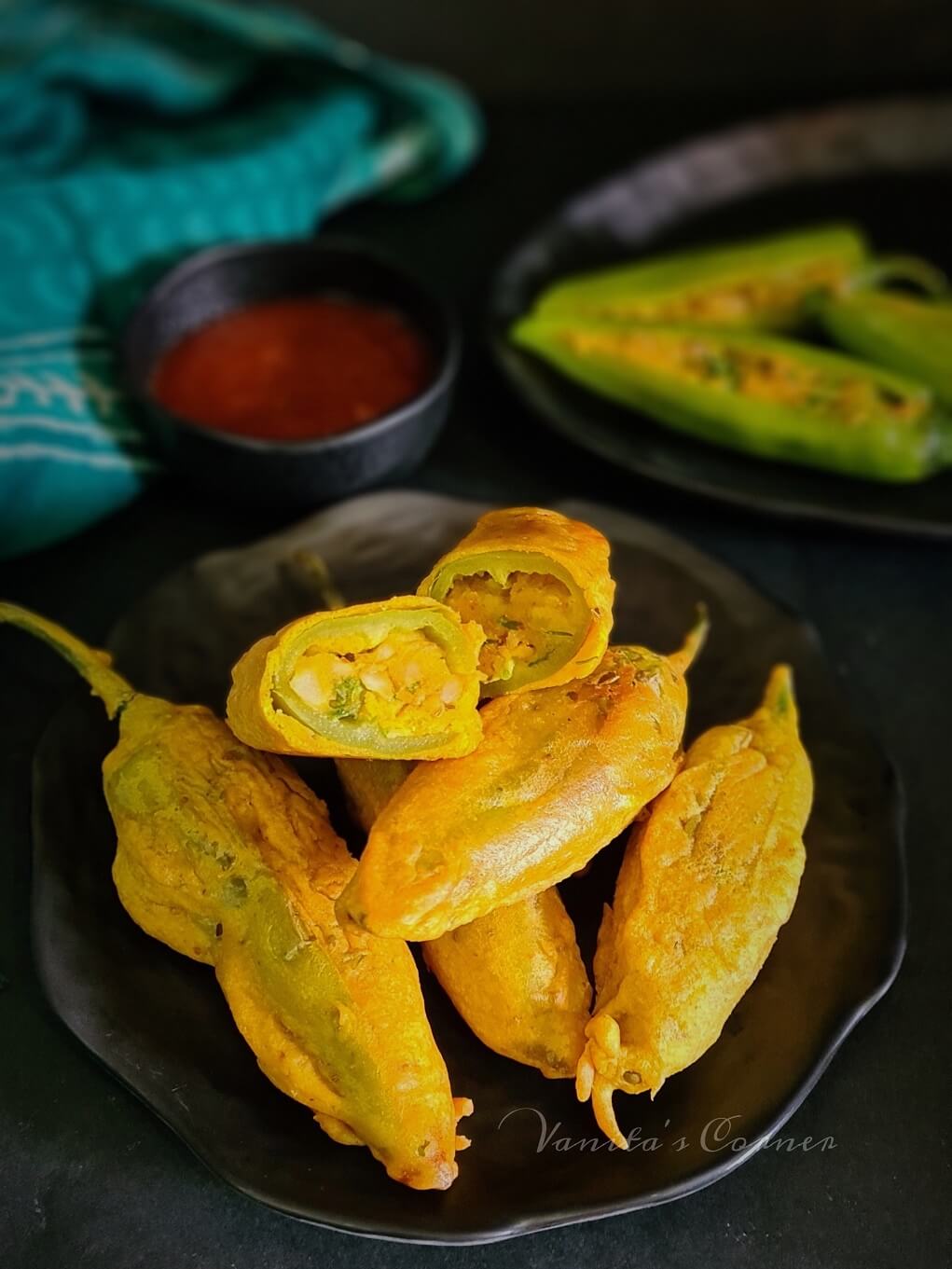 Method
Wash the green chillies and wipe them dry.

Slit the chillies on one side keeping the stem intact.

Scoop out the seeds.

Keep the chillies aside.

To prepare the stuffing, peel the boiled potatoes.

In a mixing bowl, place the boiled potatoes.

Mash the potatoes.

Add chopped onion, turmeric powder, red chilli powder, cumin coriander powder, garam masala, salt, lemon juice and chopped coriander leaves. Mix well.  

Now, stuff all the green chillies with potato mixture. Keep aside. 

To prepare the besan batter, in a bowl, add besan, rice flour, ajwain, turmeric powder, chilly powder amd salt.

Add water gradually, as required and make a thick batter. 

Dip the stuffed chillies in besan batter and coat them well with the batter. 

Drop the chillies into hot oil and fry them till they are golden in colour.

When mirchi vadas turn golden and crisp, remove them and place on kitchen paper towels to remove excess oil.

Serve Mirchi Vadas with green chutney / tomato ketchup.
WATCH RECIPE VIDEO:


Shallow fried green chillies stuffed with besan and spices : Recipe here.