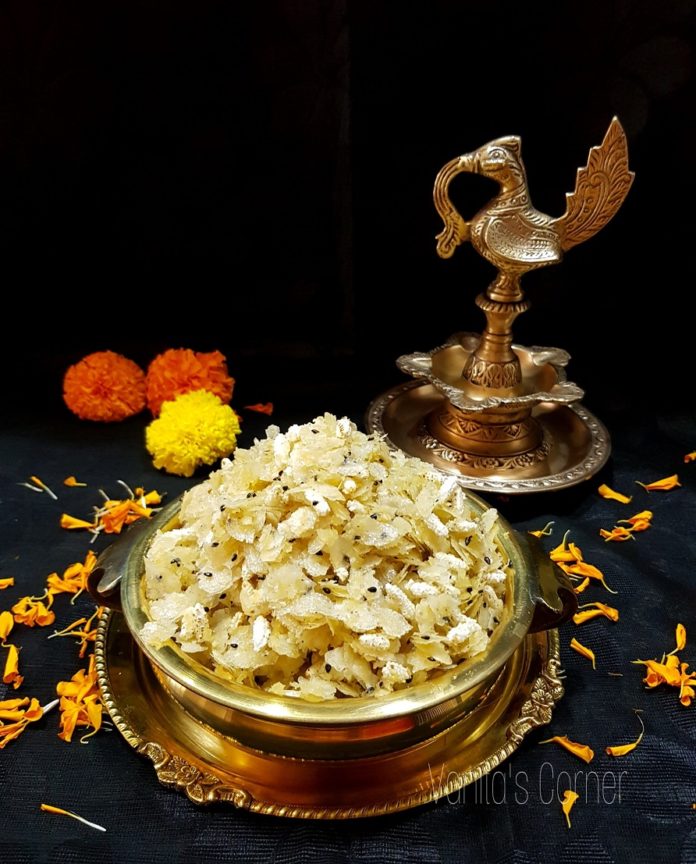 In Mangalore/Udipi region of Karnataka, Sweet poha is prepared for poojas as an offering to God.  It's a simple dish but with divine taste. There are a few variations of this dish. It is also made by adding small pieces of sugarcane or chopped banana. Except for the roasted sesame seeds, this is a no-cook recipe and gets made within no time. This is also a breakfast dish. If making for breakfast, puffed rice can be skipped.  Here's the recipe:
Ingredients
2 cups thin variety of flattened rice ( Poha)
¼ cup puffed rice
2 tbsp black sesame seeds (til) (dry roasted)
1 cup grated fresh coconut (nariyal)
½ cup grated jaggery (gud)
1 tsp cardamom powder (elaichi powder)
1 tsp clarified butter (ghee)
Method
Heat a pan and dry roast the sesame seeds. Keep it aside.

In a mixing bowl, add the grated coconut, grated jaggery, roasted black sesame seeds, cardamom powder, ghee and mix well using your hands.

To this, add the poha, puffed rice and give a good mix.

Thats all. Sweet Poha is ready to be offered to God and later served as prasad.
WATCH RECIPE VIDEO