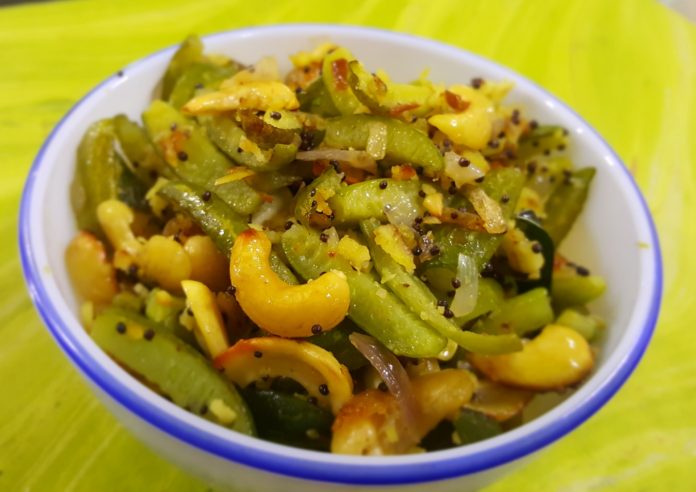 Tendli Kaju Sabzi, popularly known as Manoli Beeja Upkari in Mangalore is a traditional dry vegetable from the Mangalorean (Konkani) cuisine.   Tendlis (Ivy gourd) is cooked with cashewnuts tempered with mustard seeds and fresh coconut. It is a simple dish and is generally served as a  side dish with rice and sambar.
Ingredients
¼ kg Ivy gourd (Tendlis)
4 tbsp Cashews (Kaju)
½ Onion (chopped)
6 to 7 Curry leaves
2 Green chillies
1 tsp Mustard seeds (Rai)
1 tsp Udad dal
2 tbsp Fresh coconut (grated)
1 tbsp Oil
Salt as per taste
Method
Soak the cashews in a bowl of water for 30 minutes.

Drain and keep it aside.

Wash the tendlis, cut the ends and slit them vertically into four pieces.  

Heat oil in a pan.

Add the udad dal and mustard seeds.

When they start crackling, add the curry leaves, chopped onions, chopped green chillies and saute for a minute.

Now, add the tendlis and let it cook for 5 minutes.

Add the cashews, salt and cook covered for another 8 to 10 minutes on medium flame. 

Garnish with fresh grated coconut.

Serve Tendli Kaju Sabzi as a side dish with rice and Mixed vegetable sambhar.