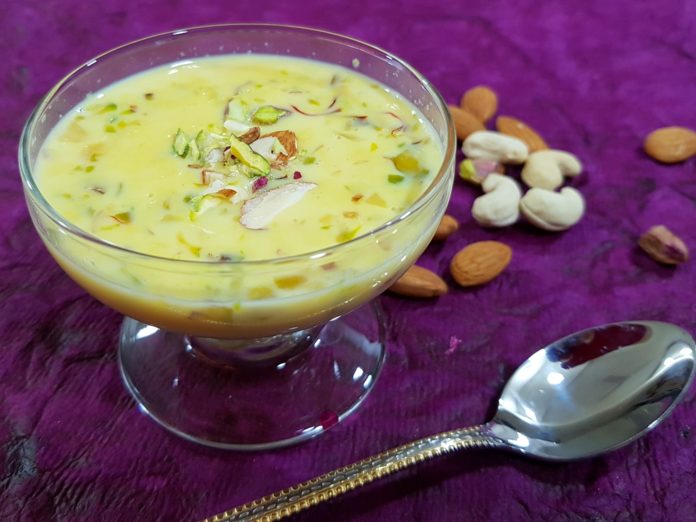 Basundi is a traditional Indian dessert made by boiling milk on a slow flame until the milk is reduced by half and is garnished with dry fruits. It is commonly made in Maharashtra and Gujarat and is more or less similar to the North Indian rabdi. Here is the recipe:
Ingredients
3 cups full fat milk
3 tsp sugar
a large pinch of saffron (kesar)
2 tbsp chopped nuts (almonds, pistachios & cashew nuts)
a pinch of cardamom powder
chopped nuts for garnishing (almonds, pistachios)
Method
Heat a broad, thick bottomed pan.

Add the milk and cook on a slow flame.

Keep stirring occasionally. 

Remove 2 tsp milk in a small bowl and add  saffron to it.

Set it aside.

Add  sugar to the boiling milk. 

Allow the milk  to boil till it reduces to half its quantity.

Keep scraping the sides of the vessel.

Add the saffron mixture to the milk and mix.

Add the chopped nuts and mix.  

Allow it to cool.

Refrigerate and serve cold.

Garnish with chopped nuts while serving.
WATCH RECIPE VIDEO
Also, have a look at Mango Basundi