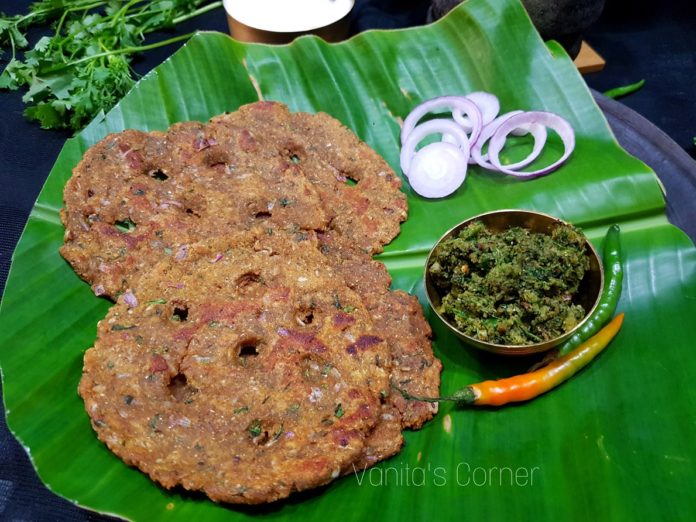 Bhajani Thalipeeth -a traditional Maharashtrian breakfast dish using multigrain flours and spices.
I have earlier shared the recipe of thalipeeth where I had  used flours of various grains and pulses to make the dough. Today I have made thalipeeth using readymade thalipeeth bhajani which is made using 12 grains.  The word 'Bhajaney' means 'to roast' in Marathi. All the ingredients are roasted and then ground into a flour. The ingredients in this flour are Sorghum ( Jowar), Pearl Millet ( Bajra), Chickpeas (Chana), Finger millet (Nachni), Split black gram (Udad),Moth beans ( Matki), Whole Green gram (moong) , Black eyed peas (Chawli), Rice (chawal), Wheat (gehu), Masoor (Whole red lentils), Poha  (flattened rice) and spices.   This makes for a healthy and delicious breakfast. It tastes great with mirchi thecha and curds.  Here's the recipe:
Ingredients
2 cups thalipeeth bhajani  (flour)
1 large onion finely chopped (pyaaz)
½ cup coriander leaves, chopped (dhaniya)
1 tsp red chilly powder (laal mirch)
½ tsp turmeric powder (haldi)
Salt as per taste
1 tsp oil for kneading the dough and oil to cook the thalipeeth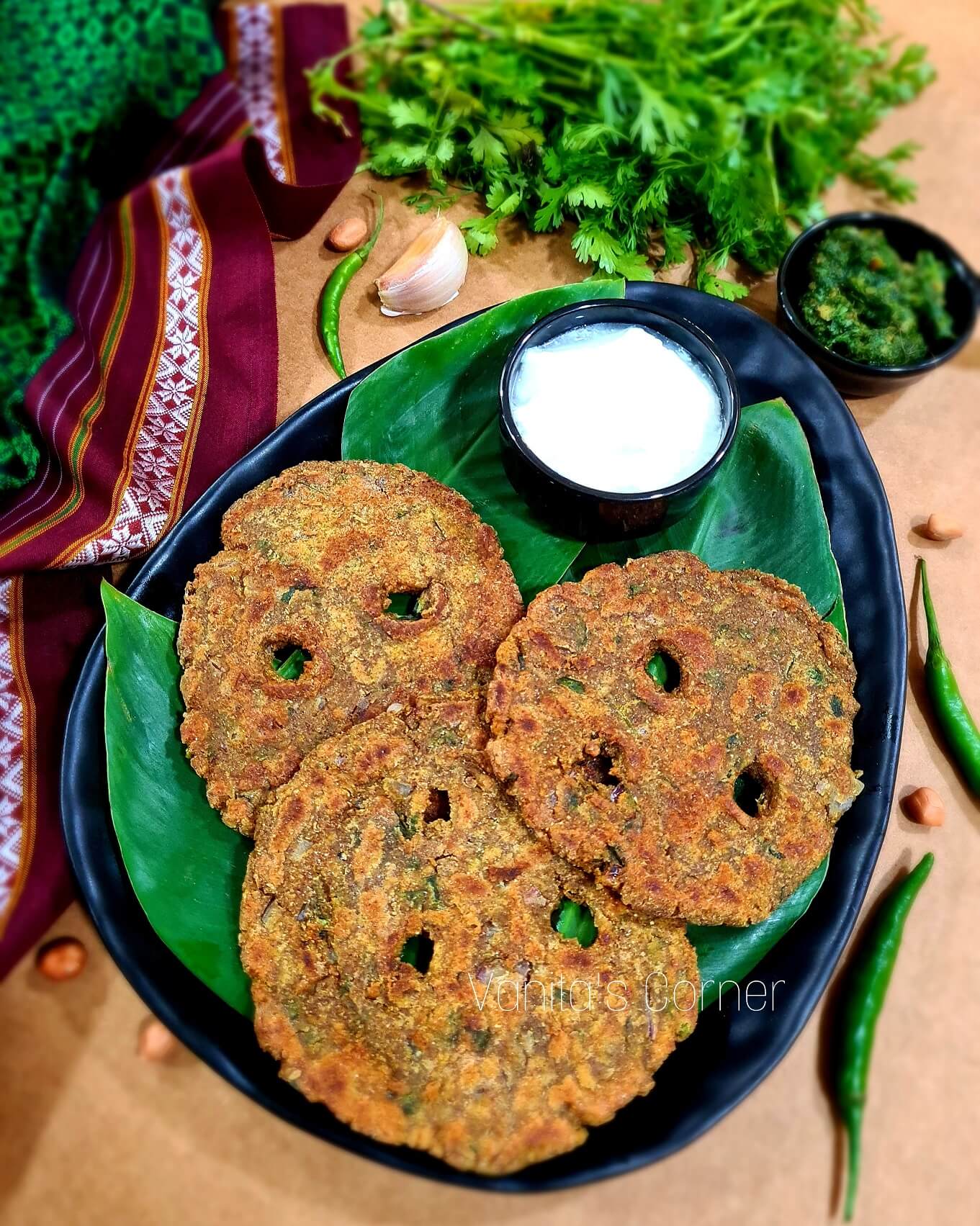 Method
In a mixing bowl, add the thalipeeth flour, chopped onions, chopped coriander, chilly powder, turmeric powder and salt.

Mix everything using a spoon.

Add water, little at a time and knead into a smooth dough.

Add a tsp of oil to the dough and knead.

Take a plastic sheet and place it on flat surface.

Apply a drop of oil on the plastic sheet. Take a small portion of dough and place it on a plastic sheet.  

Flatten the dough ball into a circle using your fingers.  

Make few holes on the thalipeeth. This helps in even cooking of thalipeeth.

Heat a pan. Place the thalipeeth on the pan.

Drizzle some oil on the edges of the thalipeeth.

Cook both the sides evenly.  

Serve hot with mirchi thecha and curds.
Note :
I have used "Taste for Life" thalipeeth bhajani. Since the flour already contains other spices, I have only added turmeric powder and chilly powder.

I have used an earthern pan/tava to cook the thalipeeth. When using earthen tava, add a teaspoon of oil on the tava and then heat the tava.
WATCH RECIPE VIDEO: