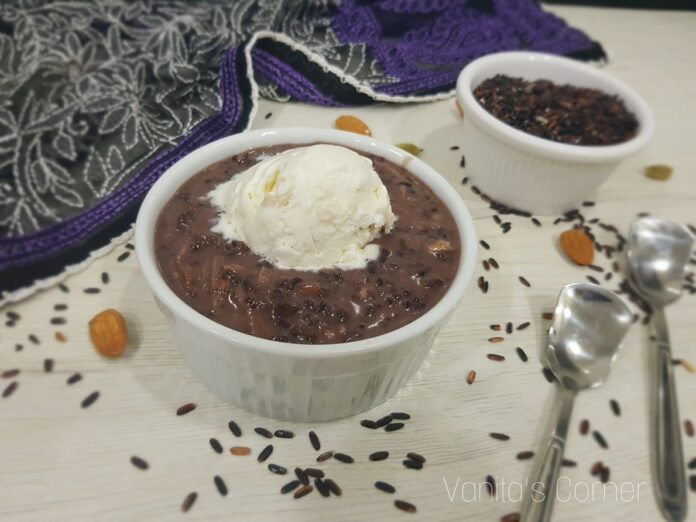 Black rice coconut pudding made with black rice, coconut milk and jaggery is a healthy vegan dessert. The pudding tastes great on its own. But, when served with ice cream, either vanilla or tender coconut , it tastes out of this world.  Black rice is indigenous to north-east India. Originally from eastern India, it is now  grown in West Bengal and Karnataka in an effort to conserve it. Black rice is nutritionally dense and contains more vitamins compared to white rice. It is rich in fibre and the grains are aromatic with a nutty taste, which makes it ideal for puddings.   Here goes the recipe:
Ingredients
½ cup black rice
½ cup thin coconut milk
½ cup thick coconut milk
½ cup jaggery
2 tbsp fresh, grated coconut
1 tsp cardamom powder
1 to 2 tbsp chopped almonds and pistachios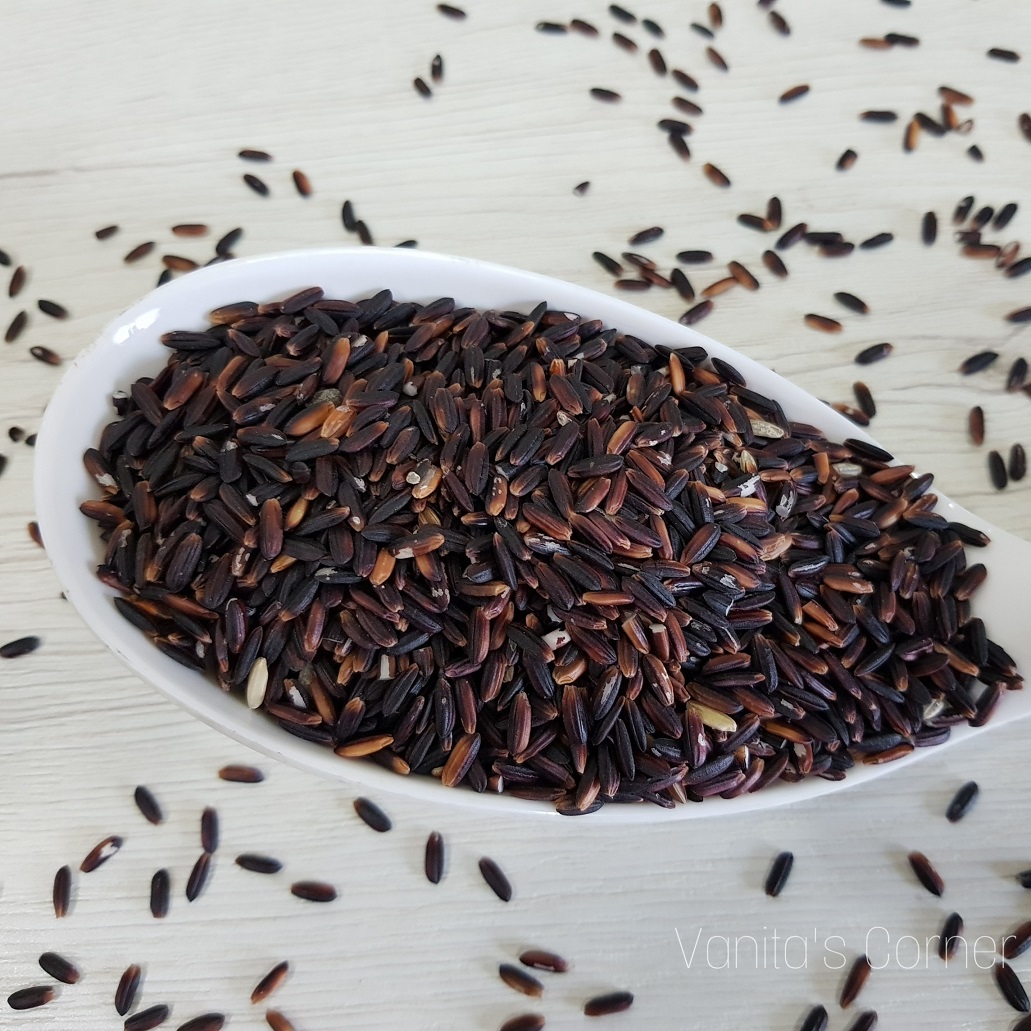 Method
Wash the black rice.

Soak it in 1 cup of water, for 8 to 9 hours or overnight.  

Transfer the soaked rice alongwith the water to a pressure cooker.

Add another cup of water.

Pressure cook for 5 to 6 whistles. This rice takes longer to cook.

Once the steam escapes fully, open the pressure cooker.

Mash the rice slightly, with the help of a masher.

Next, heat a pan.

Transfer cooked  rice to the pan.  

Add jaggery and fresh coconut.

Mix well and cook till the jaggery dissolves.

Now, add thin coconut milk and give a mix. 

Cook covered for 5 to 8 minutes. 

The pudding will now start thickening.

Next, add thick coconut milk and cardamom powder.

Give it a mix and cook for another 2 minutes.

Add the chopped almonds and pistachios.

Serve hot or chilled.  

Black rice pudding tastes great on its own.

But, you can serve it topped with a scoop of vanilla or tender coconut ice cream  to enhance its flavor.  

Vegans can skip the ice cream and just have the rice pudding.
WATCH RECIPE VIDEO: