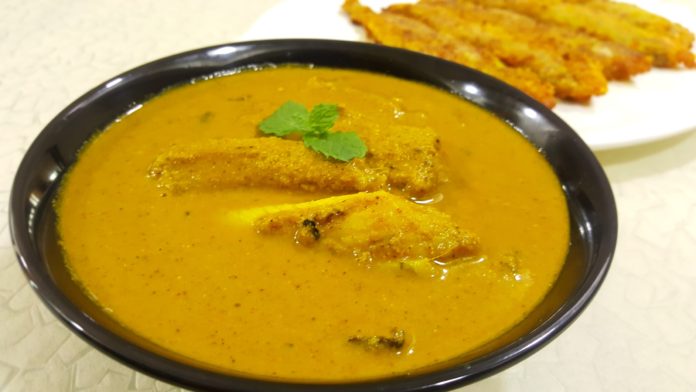 When it comes to bombil, most of us just resort to frying them. The  golden crisp fried bombil is preferred to the curry, by many. I, myself had kept away from this dish for quite a long time, though not for any specific reason. It's just that it was not one of those fishes which was made in my house.  It's only recently that I have started making bombil curry.  But now it has become a regular dish on my menu. This tangy, Maharashtrian style spicy bombil curry  is a tasty bombil preparation which one must try.
Ingredients
10 to 12 bombil (cut into medium pieces)
1 cup fresh grated coconut
1 cup fresh coriander leaves
7 to 8 cloves of garlic
2 to 3  tsp red chilly powder
1 teaspoon turmeric powder
7 to 8 pieces kokum
1 tbsp oil
Salt as per taste
Method
Clean the fish and cut into medium sized pieces. Keep it aside.

Blend fresh coconut, coriander, garlic to a fine paste.

Heat oil in a pan.

Add the ground masala paste  and saute for 2 minutes.

Add red chilly powder, turmeric powder and salt.

Add little water and cook for a few minutes.

Add the kokum pieces and salt. Cook covered. 

You can add more water to get the desired consistency.

When it starts boiling, add the bombil pieces.

Cover the pan and cook on a medium flame till it comes to a roaring boil.

Serve hot with rice or chapati.
Note : Bombil is a delicate fish and does not take long to cook. Over cooking may lead to the fish pieces disintegrating. After dropping the fish in the curry, cook on a gentle simmer and once the curry comes to a roaring boil, turn off the gas.
WATCH RECIPE VIDEO
If you love fish, do check my other fish recipes, Pomfret Curry, Prawns Curry, Stuffed Pomfret, Surmai Fry, Amritsari Fish.