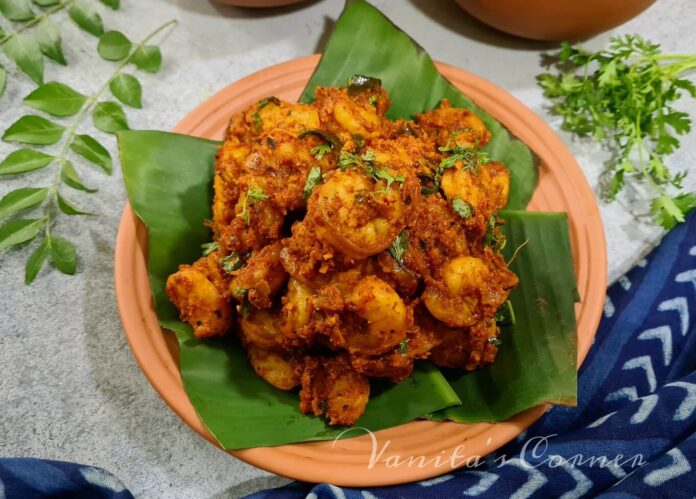 Prawns Sukka – a delicious prawns preparation from the Mangalorean cuisine, known a Yetti Sukka or Yetti Ajadina in Tulu.
Mangalorean cuisine is famous for its sukka recipes, be it Chicken Sukka, Clams sukka, Tendli Chana Sukka or prawns sukka. Mangalore being a coastal town, coconut and curry leaves are used generously in their food. Sukka recipes are made with host of spices and freshly grated coconut. It is a dry/ semi-dry preparation and can be served with rice, neer dosa or chapati.
Prawns sukka  made with freshly ground masala turns out very tasty. You can serve it with neer dosa or chapati. It also goes well with rice and tomato saar.  Here's the recipe for Prawns Sukka:
Ingredients
500 gms prawns, cleaned and deveined
1 tsp turmeric powder
2 tbsp + ½ tsp oil
7 dry red chillies ( a mix of Kashmiri and Byadgi)
1 tsp mustard seeds
1 tsp cumin seeds
3 tsp coriander seeds
½ tsp black peppercorns
8 to 10 fenugreek seeds (methi)
6 cloves of garlic
¾ cup freshly grated coconut
4 sprigs of curry leaves
2 onions, chopped
1 tomato, chopped
2 tbsp tamarind pulp
salt as per taste
2 tbsp chopped coriander leaves for garnishing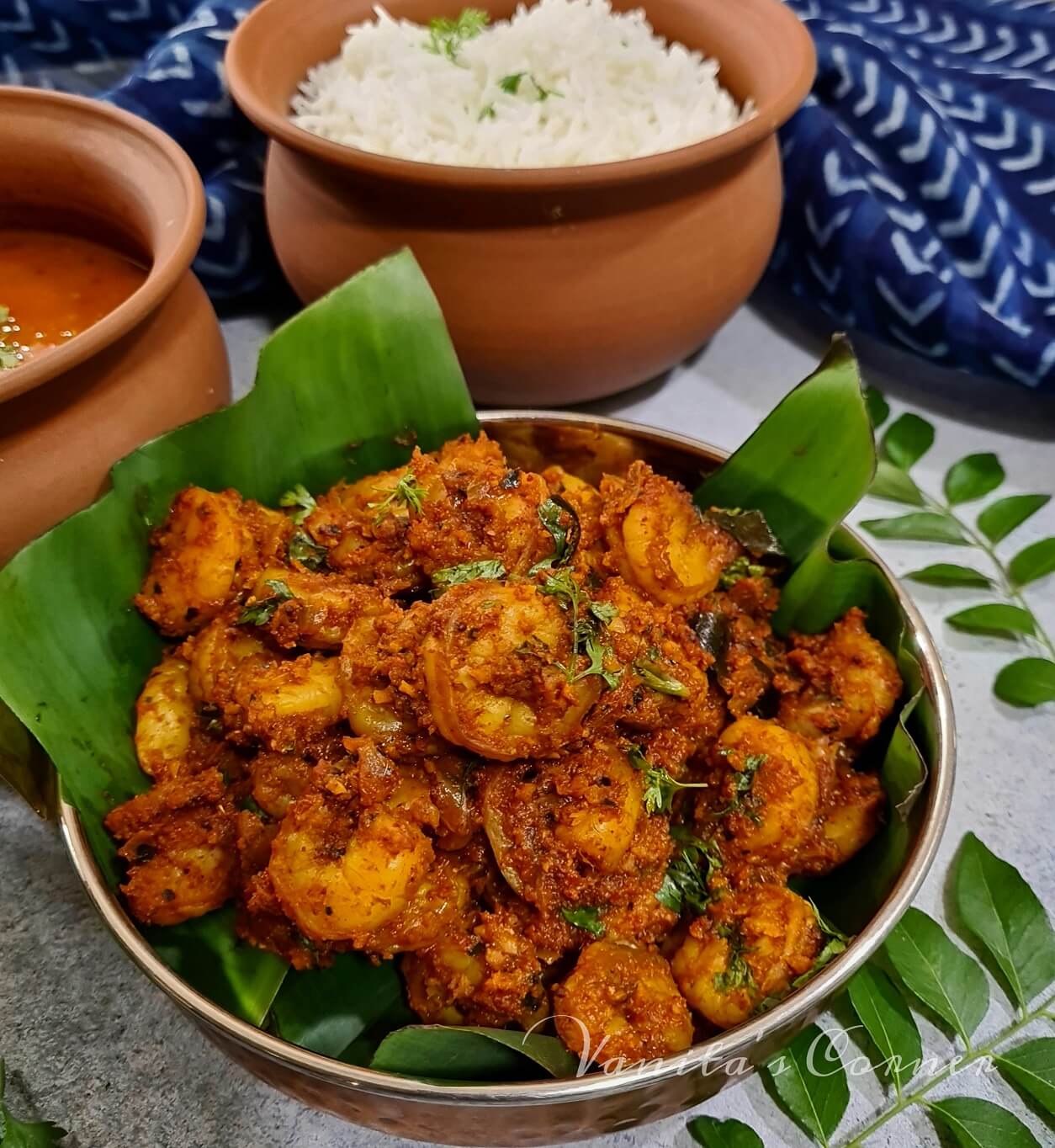 Method
Firstly clean and devein the prawns.
Marinate the prawns with salt and ½ tsp turmeric powder. Keep aside.
To make the spice powder, heat ½ tsp oil in a pan.
Add red chillies, mustard seeds, cumin seeds, coriander seeds, black pepper, methi seeds and garlic.
Saute on low flame till the spices turn aromatic.
Remove the roasted spices from the pan and keep aside to cool.
In the same pan add grated coconut and 3 sprigs of curry leaves.
Saute on low flame till the coconut turn aromatic. Allow this to cool down.
Transfer the roasted spices to a mixer jar and blend to a fine powder. Keep the masala powder aside.
Into the same jar, add roasted coconut. Blend the coconut on pulse mode and make a coarse powder.  Keep this aside.
Heat 2 tbsp oil in a pan.
Add ½ tsp mustard seeds, 1 sprig curry leaves and chopped onions.
Sprinkle a pinch of salt on the onions. This helps the onions to cook faster.
When the onion turns golden brown, add chopped tomato.
Cook till the tomato turns soft.
Add ½ tsp turmeric powder and mix well.
Add marinated prawns and mix.
Cook covered for 7 to 10 minutes.
Add the masala powder, tamarind pulp and mix well. Cook covered for 5 minutes.
Next, add the ground coconut and mix well. Add salt as per taste.
Cook covered for 2 more minutes.
Garnish with chopped coriander leaves.
Prawns Sukka is ready to be served.
WATCH RECIPE VIDEO: