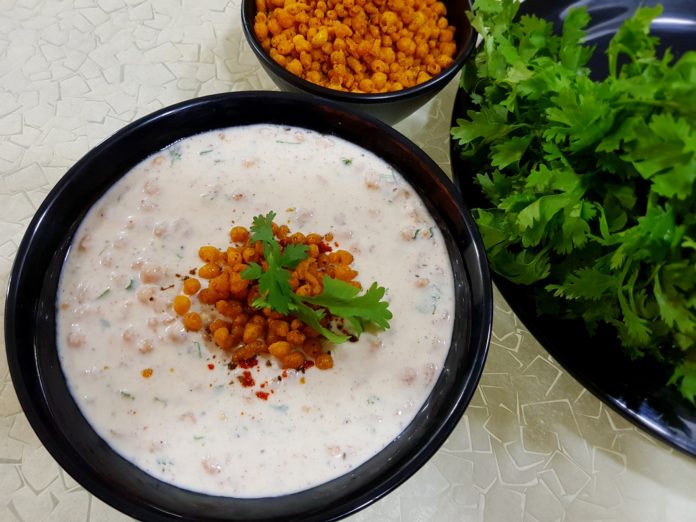 Raitas are an integral part of Indian cuisine. They are a must have dish with biryanis, pulaos, parathas and other spicy preparations. They have a cooling effect on the body. You can make variety of raitas with different ingredients. Today, I am sharing the recipe of boondi raita | fried gram balls raita.  Here's the recipe :
Ingredients
For making the boondis
½  cup gram flour (besan)
¼ tsp turmeric powder (haldi)
|¾ tsp red chilly powder (laal mirch)
¼ tsp carom seeds (ajwain)
Salt as per taste (namak)
Oil for frying the boondis
For Raita
1 cup curds (dahi)
½ cup boondi (fried gram balls)
1 tsp roasted cumin powder (bhuna jeera powder)
1 tsp red chilly powder
Salt as per taste
1 tbsp fresh coriander, chopped (dhaniya)
For Garnishing
A pinch of roasted cumin powder
A pinch of red chilly powder
1 tbsp of boondis
Chopped coriander
Method
For making the boondis
In a mixing bowl, add the gram flour, turmeric powder, red chilly powder, carom seeds and salt.
Add little water and mix well to make a thick batter with flowing consistency.
Heat oil in a pan.
Hold a perforated ladle above the pan and drop the batter on the ladle so that the boondis drop into the oil.
Deep fry the boondis over a medium flame.
Once they are fried, remove and keep them aside.
For making the raita
In a mixing bowl, add the curds.
Whisk until smooth.
Add roasted cumin powder, red chilly powder, salt, chopped coriander and mix.
Add the boondis and mix.
Refrigerate for an hour.
While serving boondi raita, garnish with roasted cumin powder, red chilly powder, boondis and chopped coriander.
Note:
Store bought boondis can be used to make raita to avoid the hassle of making boondis.
Since boondis also have salt, adjust the salt in the curds accordingly.
WATCH RECIPE VIDEO