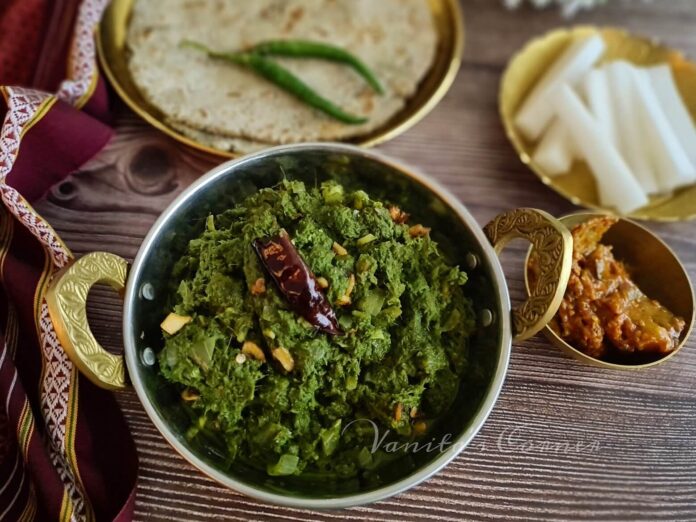 Chane Ka Saag – a nutritious, delicious saag made using chickpea greens.
Winter is here and so are the various types of winter vegetables and the leafy greens. There are certain greens that are available only during winters and one must make the most of it, for eg…mustard leaves, bathua and  chickpea greens.
Every winter I make sarso ka saag and saag paneer using mustard leaves and bathua…. However chickpea greens (hare chane ka saag)  are something which I had never cooked before. Chickpea greens are tender leaves of chickpea plant. The leaves are plucked before the plant bears chickpea pods.  These greens make for a delicious sabzi.
 Yesterday, on my visit to the vegetable market, I came across a vendor selling fresh, tender chickpeas leaves and since chane ka saag was on my to-do list for a long time, I bought them.  I looked up the internet for chana saag recipes, but was not satisfied with any of the recipes, So, I came up with my own recipe and I must say that the saag tasted really  good with bajra rotis. Here is my recipe for Chane ka Saag:
Ingredients
250 gms chickpea greens (hare chane ka saag)
1 tbsp oil (tel)
1 tsp cumin seeds (jeera)
½ tsp asafoetida  (hing)
1 onion, chopped (pyaaz)
1 tomato, chopped (tamatar)
6 to 7 cloves of garlic (lehsun)
3 green chillies (hari mirch)
1 tbsp cumin coriander powder (dhaniya jeera powder)
1/2 tsp garam masala
salt as per taste (namak)
For the tempering
1 tsp oil  (tel)
1 tbsp chopped garlic (lehsun)
1 dry red chilly  (sookhi laal mirch)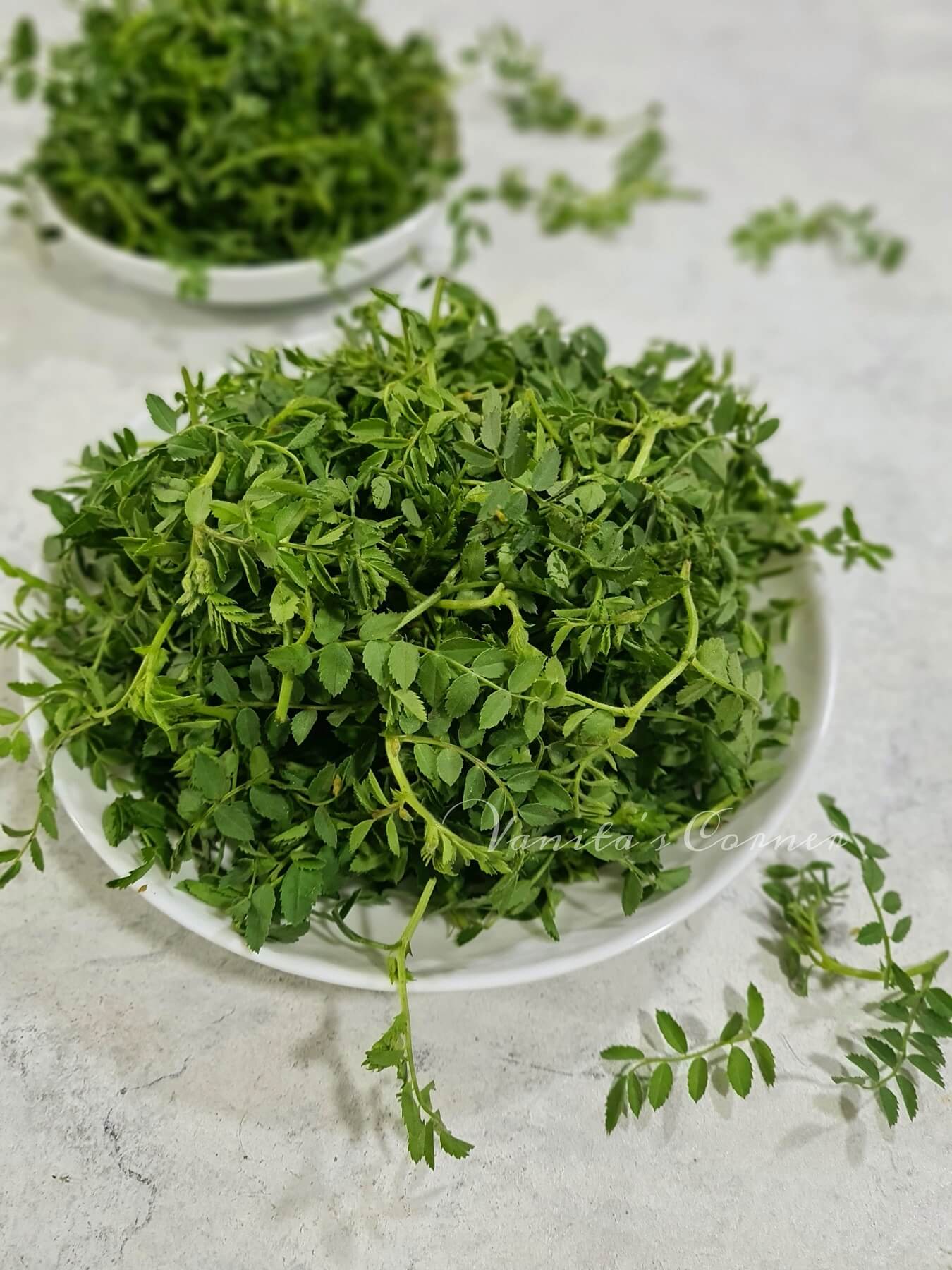 Method
Firstly, we need to pluck the tender stems and leaves of the chickpea greens. Discard the hard stem. 

Wash the leaves well 3 to 4 times.

Boil 4 to 5 cups of water in a pan.  

Add washed chickpea greens into the water and allow it to cook for 5 to 7 minutes.   

Remove the boiled leaves and dip in cold water (to retain the dark green colour).

Add the blanched leaves alongwith green chillies to a blender and make a smooth puree.  Keep it aside.

Heat oil in a pan.

Add cumin seeds.

When the seeds start crackling, add hing and chopped garlic.

Saute the garlic till they start changing colour.

Add in the chopped onions and saute till they turn golden brown in colour.

Next, add chopped tomatoes.

Saute till they turn mushy. 

Now, add chickpea greens paste.

Add cumin coriander powder, garam masala and salt. Mix well.

Add water as required to adjust the consistency of the saag. Cook for few minutes.

For the tempering, heat 1 tsp oil in a small pan.

Add chopped garlic.

When the garlic starts changing colour, add chopped dry red chilly.

Pour this tempering over the saag.

Serve chane ka saag with bajra rotis and chopped radish on the side.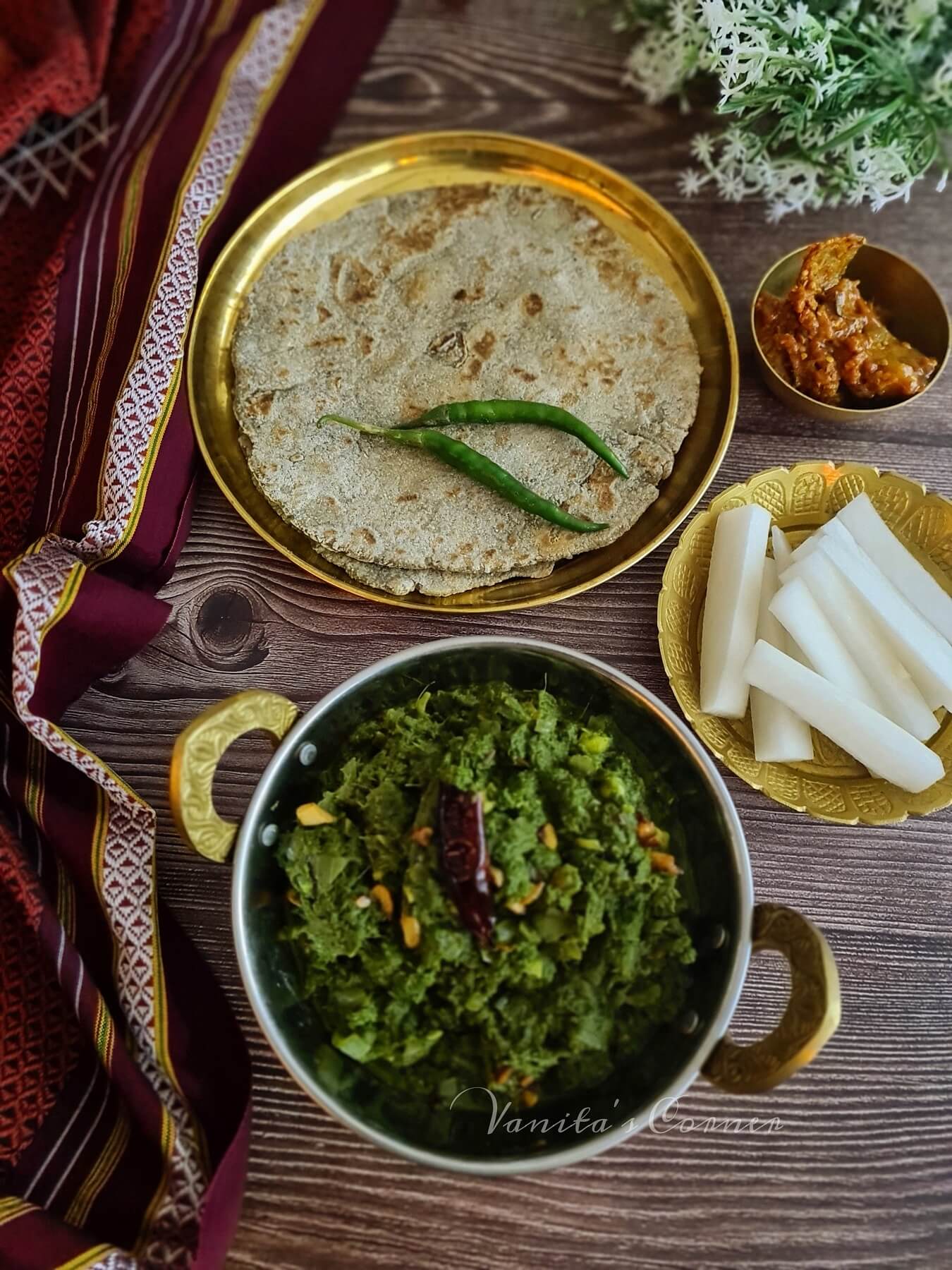 WATCH RECIPE VIDEO: