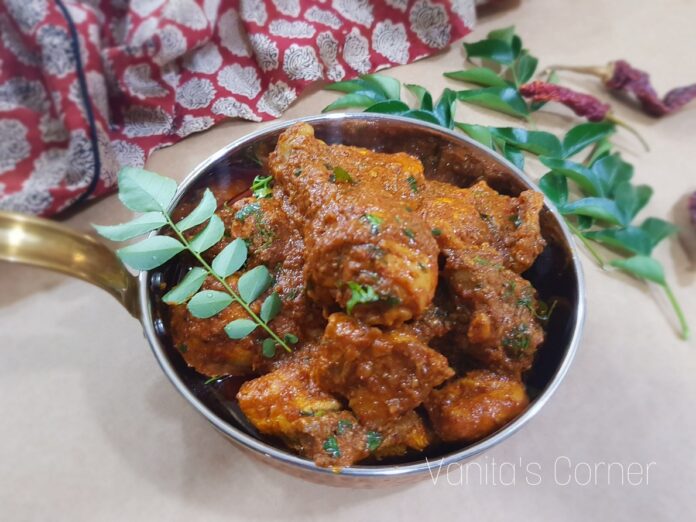 Chicken Ghee Roast, the pride of Mangalore, is believed to be invented in  Kundapur district of Mangalore.  This is a signature dish in many Bunt households. 
Last year I came across an article carried by Indian Express about this iconic dish.  Until then, I had never attempted making this dish. However after reading the article, I wanted to try out this dish at the first available opportunity. After looking up the internet and after talking to some of my Mangalorean friends, I tried this recipe. And I must admit …. it is a super delicious dish and is not called the pride of Mangalore for nothing. Since then, I have been cooking this dish regularly.   This dish calls for generous use of ghee (clarified butter). But that's where all the flavour comes from. So, don't compromise on the ghee. Here is the recipe for Chicken Ghee Roast :
Ingredients
1 kg chicken
For the marinade
1 cup curds (How to make curds)
1 tsp red chilly powder
1/4 tsp turmeric powder
1 tsp ginger garlic paste
1 tbsp cumin coriander powder
1/2 tsp black pepper powder
2 tbsp lemon juice
Salt as per taste
For the masala paste
½ tsp fennel seeds
1/2 tsp black peppercorns
1 Tsp cumin Seeds
5 – 6 fenugreek seeds
1″ stick cinnamon
4 cloves
12 to 15 cloves garlic (chopped)
1 tsp chopped ginger
2 tbsp coriander Seeds
8 to 10 dried red chillies (a mix of Byadagi and Kashmiri chillies)
a lemon sized ball of tamarind
2 tsp jaggery powder or grated jaggery
7 to 8 tbsp ghee  (clarified butter)
few curry Leaves
chopped coriander leaves for garnishing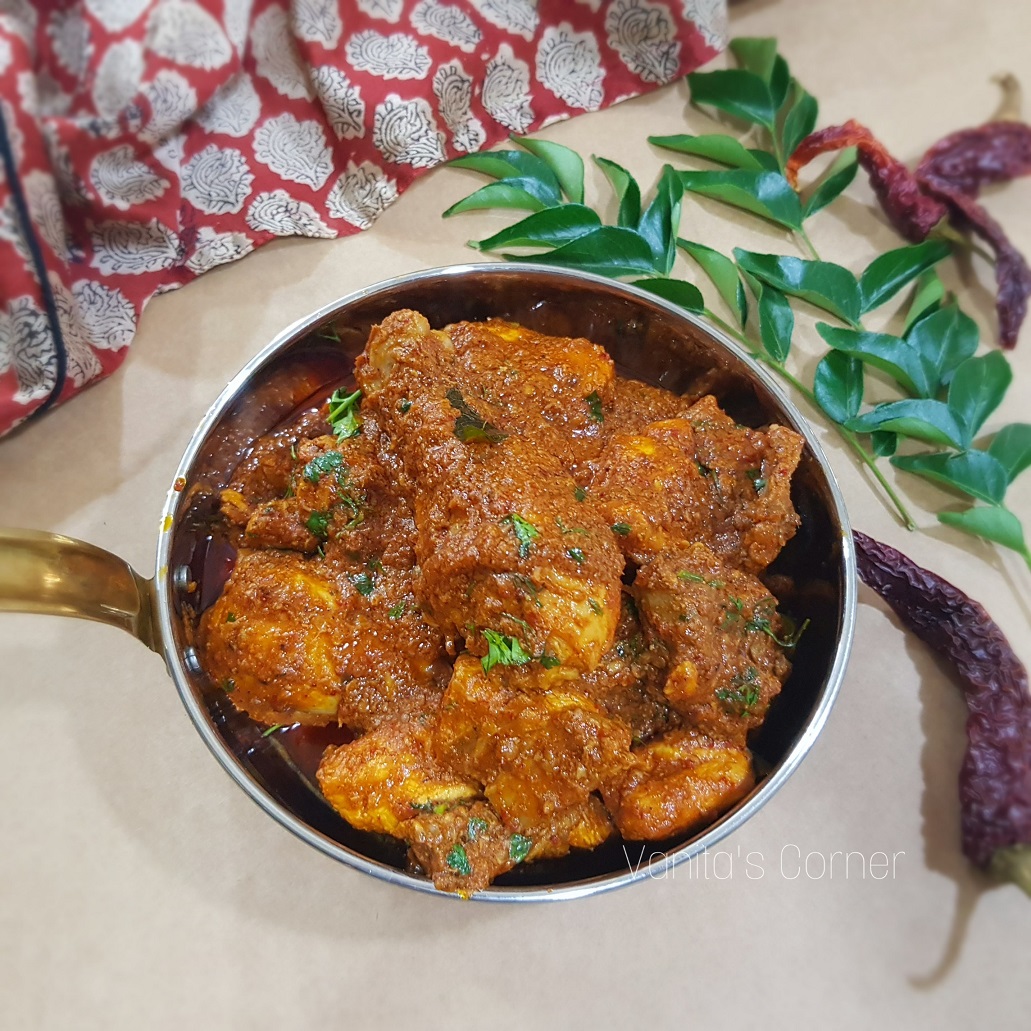 Method:
Wash and cut chicken into medium sized pieces and marinate it in curds, ginger – garlic paste, cumin-coriander powder, pepper powder, Red chilly powder, turmeric, salt and lime juice.

Keep the marinated chicken aside, for atleast an hour.

In a pan heat 1 tbsp ghee.

Add chopped  garlic, fennel seeds, black peppercorns, cumin seeds, fenugreek seeds, cinnamon, whole cloves, chopped ginger, coriander seeds, and whole red chilies.

Fry this for about a minute or so, add tamarind and 1 1/2 cups of water.

Let this boil for few minutes so that the masalas get soft.

Allow this mixture to cool down and blend it into a fine paste.

In a heavy bottom pan, add about 1/2 tsp ghee and the marinated chicken along with the marinade.

Cover and cook till the chicken is cooked.

In another pan, heat the remaining ghee, add curry leaves, the masala paste and saute.

Let the masala get fried well.

When you see ghee floating on top of the masala, the masala is properly done. 

Mix cooked chicken with the fried masala and continue frying for about 10 minutes.

Add powdered jaggery and mix well.

Garnish with chopped coriander leaves and serve hot.
WATCH RECIPE VIDEO: