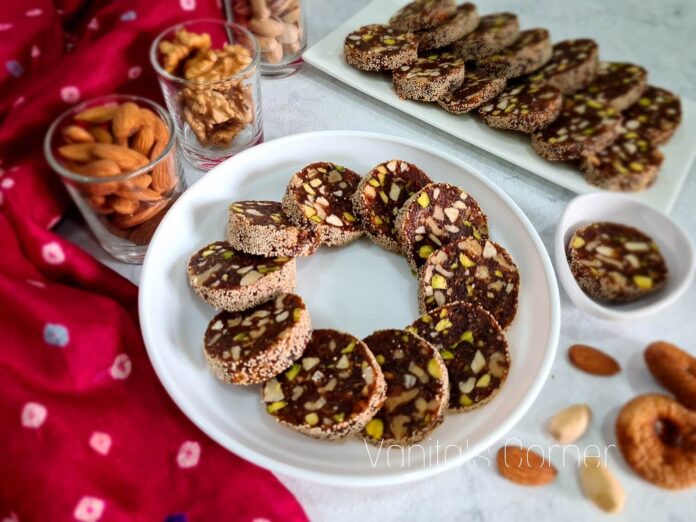 Dry fruits burfi – a guilt free indulgence, an energy boosting snack.
Dry fruits burfi is a delicious, nutritious  dessert/snack made with dates, figs, almonds, walnuts and  pistachios. Needless to say, dates, figs, walnuts, almonds and pistachios are loaded with nutrients. This particular burfi is made without sugar or jaggery. The sweetness comes from dates and figs. Hence, this burfi makes for a healthy snack . It can be had as a mid morning snack or post-workout energy bite or as a dessert after meals.
Though I have used dates and figs here, these burfis can be made using only dates or only figs too. The nuts that I have used are almonds, pistachios and walnuts. However, you can add cashewnuts, raisins, pumpkin seeds, sunflower seeds etc as per your choice. Dates and figs help in binding the burfi together whereas the nuts give that nice crunch to these burfis. The burfis are coated with roasted poppy seeds which also enhances the flavour of these burfis.
These easy-to-make dry fruits burfis make for a perfect treat during festivals like Diwali, Christmas etc.  Also, winters are the best time to relish these burfis as they keep our body warm and provide necessary nutrients.  Here's the recipe for Dry fruits burfi:
Ingredients
200 grams soft dried dates (khajoor)
200 grams dried figs (anjeer)
½ cup almonds (badam)
½ cup pistachios (pistas )
½ cup walnuts (akhrot)
2 tbsp poppy seeds (khuskhus)
1 tbsp clarified butter (ghee)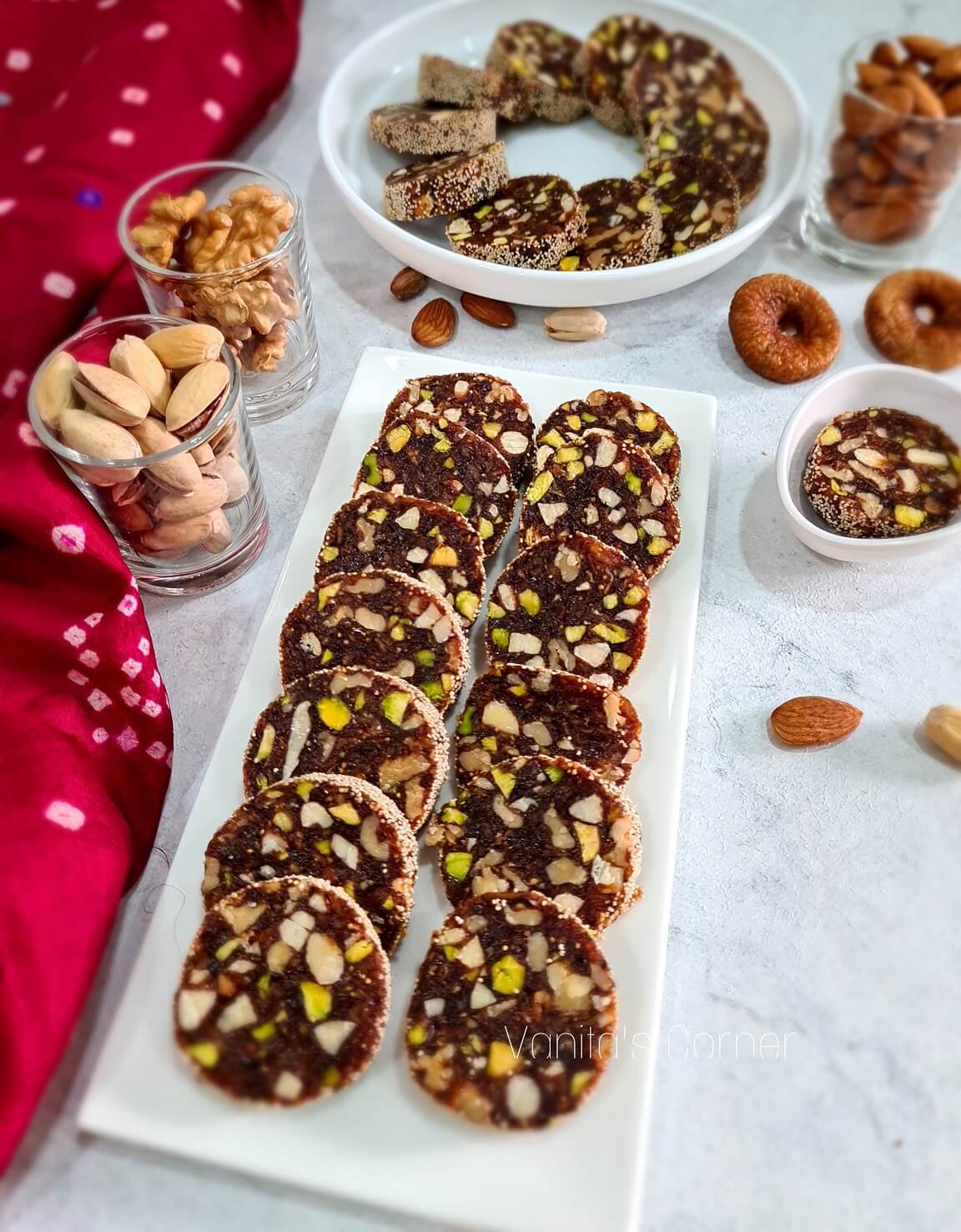 Method
Deseed the dates and blend them using pulse mode of the mixer.

Chop the figs into tiny pieces and blend them. You may have to run the mixer many times with some gap to blend the figs. 

Keep the crushed dates and figs aside.

Chop the nuts (almonds, walnuts and pistachios) into tiny pieces and keep aside.

Heat a pan and add poppy seeds. Saute for 3 to 4 minutes. Keep aside.  

Dry roast the chopped nuts for few minutes till they turn aromatic. Keep the roasted nuts aside.

Heat ghee in a pan.

Add crushed dates and saute for few seconds.

Add the crushed figs. Saute for 3 to 4 minutes.

Add the roasted nuts (almonds, pistachios and walnuts). Mix well.  Let it cook for 5 minutes. 

Turn off the heat and allow this mixture to cool down a little.

Now, transfer this mixture to a large plate or a kitchen platform and roll into cylindrical log.

You can cut the log into two for the ease of rolling them evenly.

Sprinkle roasted poppy seeds on the plate and roll the logs on the poppy seeds so that they are coated well from all sides.   

Wrap these dry fruit logs with aluminium foil and refrigerate for 1 hour.

After 1 hour, cut them into slices.  

Store these  dry fruit burfis  in an air tight container and serve as required.
WATCH RECIPE VIDEO: