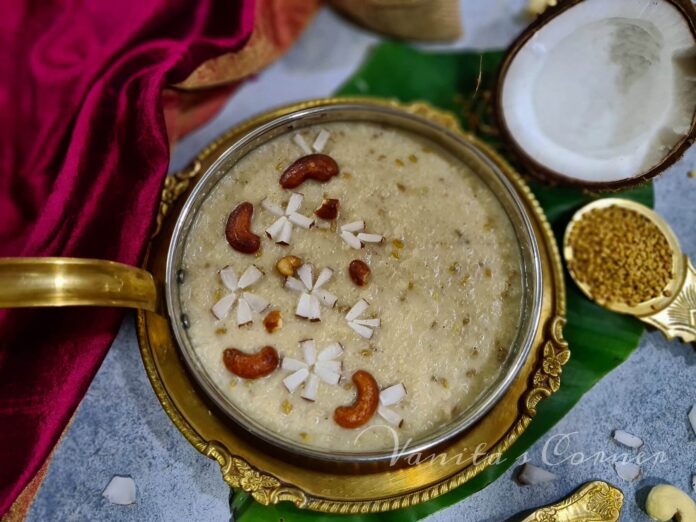 Fenugreek and Rice Conjee or Metheda Ganji (in Tulu) is a traditional dish prepared by Mangaloreans, generally  on  the new moon day of Ashada month (Aati Amavasya in Tulu).
In Mangalore, on the new moon day of Ashada month, it is a tradition to consume a bitter, herbal concoction made from the bark of a medicinal tree ( Paale tree in Tulu), first thing in the morning. It is then followed by fenugreek and rice conjee for breakfast. (the source of this information is my cousin who stays in Mangalore). To know more about the rituals followed on Aati Amavasya, click here.
The bitter concoction is known to build immunity and the fenugreek-rice conjee provides nutrition to the body. Fenugreek and rice conjee made with coconut milk and jaggery, turns out very delicious. This nutritious conjee is often given to lactating mothers. Here's the recipe to this delicious and nutritious conjee:
Ingredients
½  cup rice
1  tbsp fenugreek seeds (methi seeds)
1 ½ cups of water to cook rice and methi seeds
1 ½ cup coconut milk (How to extract coconut milk)
1 cup grated jaggery
½ tsp salt
1 tsp cardamom powder (elaichi)
10 to 12 cashew nuts
1 tbsp clarified butter (ghee)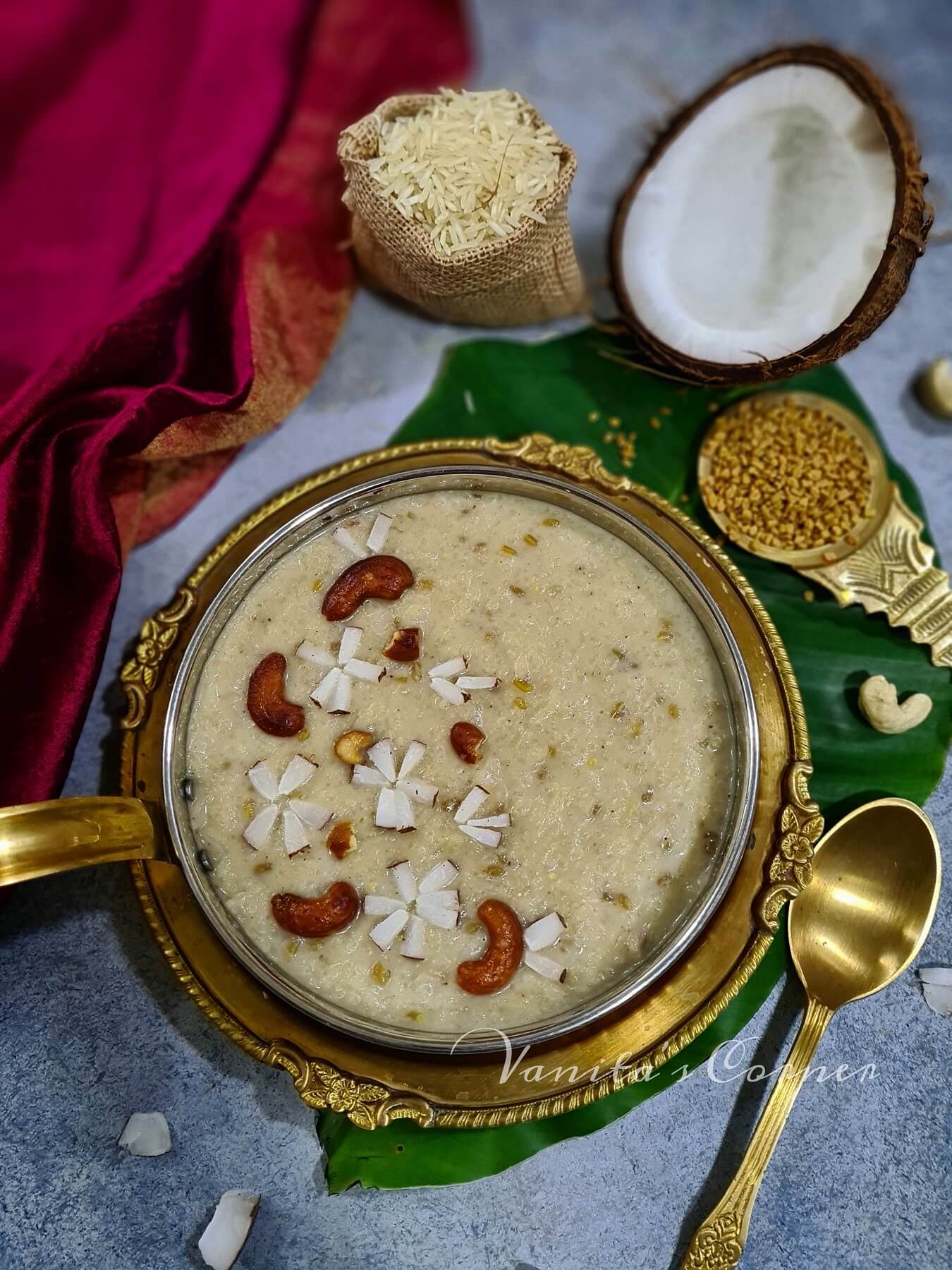 Method
Wash the fenugreek seeds and soak in water for 5 to 6 hours.

Wash and soak rice in water for 2 to 3 hours.

Drain the water and transfer soaked rice and fenugreek seeds to a pressure cooker.

Add water and pressure cook for 4 to 5 whistles.

Allow the steam to escape fully before you open the pressure cooker.

Transfer cooked rice and fenugreek seeds to a pan.  

Add salt and grated jaggery.

Mix well on a low flame till the jaggery melts.

Now, add coconut milk and mix well. Bring it to a boil.

Add cardamom powder and mix.

Turn off the heat and keep aside.

Heat ghee in a small pan.

Add cashew nuts and fry till they turn golden in colour.

Add these fried cashew nuts to the conjee.

Serve hot.
WATCH RECIPE VIDEO: