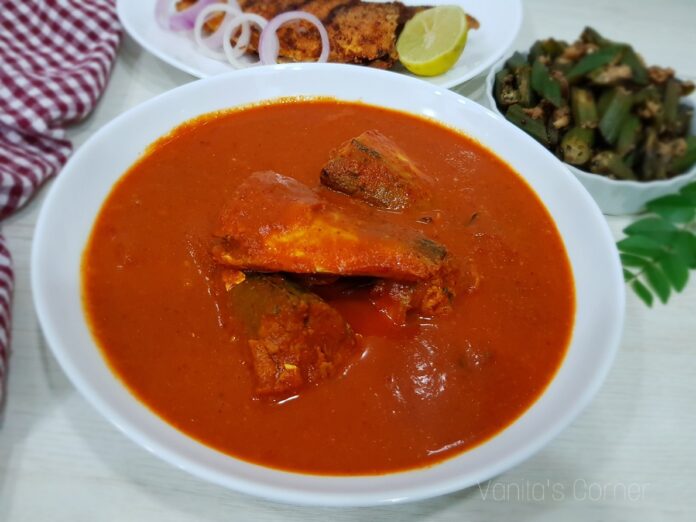 Fish Pulimunchi is a spicy, tangy fish curry from the Mangalorean cuisine. Bangude Pulimunchi is nothing but mackerels cooked in a spicy, tangy gravy. Bangude stands for Mackeral in Tulu*. Puli is tamarind and munchi means chillies. The gravy is made by grinding roasted whole spices alongwith onion, garlic and tamarind. Fish Pulimunchi tastes great with hot steamed rice, preferably brown (boiled) rice alongwith some veggies on the side like cabbage sabzi or bhindi (ladyfinger) sabzi. I have used a clay pot to make this curry. Fish curry cooked in a clay pot turns out very delicious and aromatic. Here is the recipe for Fish Pulimunchi:
*Tulu is the language spoken in the south west part of Karnataka.
Ingredients
2 big mackerels-(300 grams (Bangda)
7 to 8 dry red byadgi chillies  (sookhi laal mirch)
2 tbsp coriander seeds (dhaniya)
1 tbsp cumin seeds (jeera)
1 tsp mustard seeds (rai / sarso)
½ tsp carom seeds (ajwain)
6 to 7 whole black pepper (kali mirch)
8 to 10 fenugreek seeds (methi seeds)
1 medium sized onion, sliced (pyaaz)
6 cloves of garlic (lehsun)
2 lemon sized ball of tamarind (imli)
1 tsp turmeric powder (haldi)
2 ½  tsp oil (tel)
10 to 12 curry leaves (kadi patta)
Salt as per taste (namak)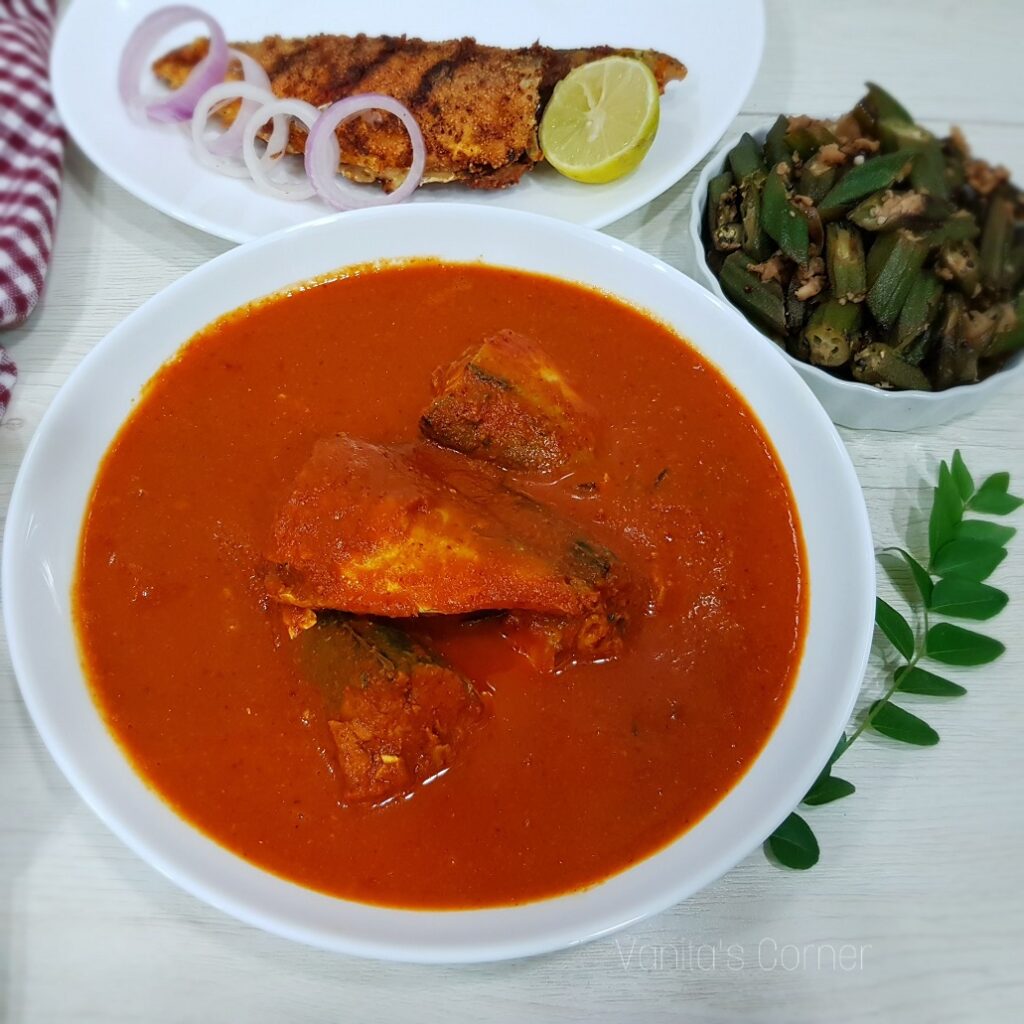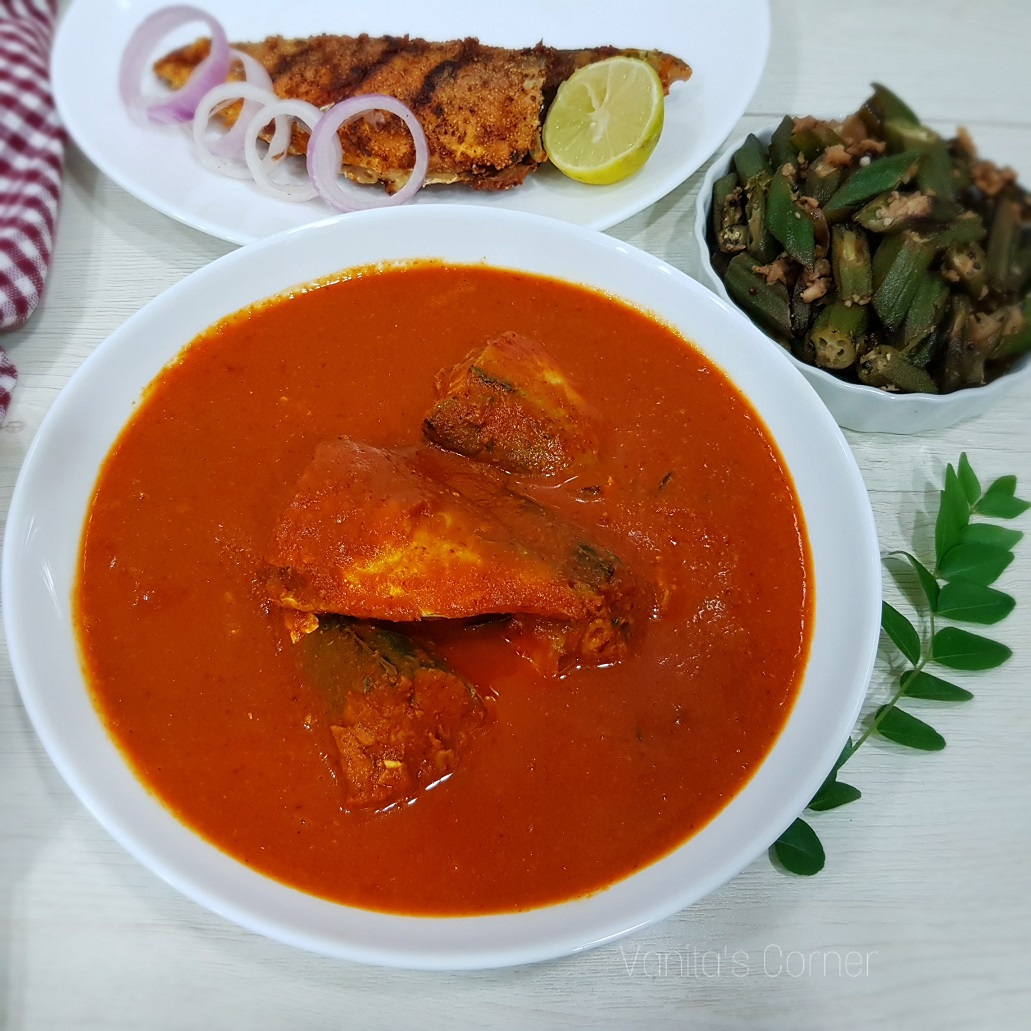 Method
Wash and clean the fish. Cut into pieces and keep aside.

If the fish is small, whole fish can be used in the curry. Since the mackerels I have used were large in size, I have cut each mackerel into 2 pieces.

Heat ½ tsp oil a pan and add dry red chillies.

Roast the chillies for few minutes.

Remove and keep aside.

Now, add coriander seeds, cumin seeds, mustard seeds, carom seeds, black pepper and fenugreek seeds.

Roast the spices till they turn aromatic.

Transfer the roasted spices alongwith roasted chillies to a mixer jar.

Add chopped onion, garlic, tamarind and turmeric powder.

Add little water and blend to a smooth paste.

Keep this masala paste aside.

Take a clay pot and add 2 tsp oil into it.

Heat the pot. Add curry leaves and saute for few seconds.

Now, add the masala paste.

Add salt, little water and allow the curry to boil.

Water should be added as per the desired consistency of the curry. Pulimunchi curry is usually on the thicker side.

When the curry starts boiling, drop the fish pieces into the curry.

After adding the fish pieces, swirl the pot so that the fish pieces are coated well with the masala.

Avoid using spoon/ladle to give a mix. If using a spoon, you will have to gently move the fish pieces in the curry.

Cook covered for 8 to 10 minutes or until the fish is cooked.

Serve hot with steamed rice.
WATCH RECIPE VIDEO:
Thank you for stopping by. If you like/ tried this recipe, leaving a comment below the post will enable more readers and cooking enthusiasts to discover these recipes. Also, if you are on Instagram, do share a picture of the dish and tag @vanitascorner to be featured in my stories.
Do follow me on Instagram, Facebook and Pinterest.
Subscribe to my youtube channel for easy video recipes.
Happy Cooking!!