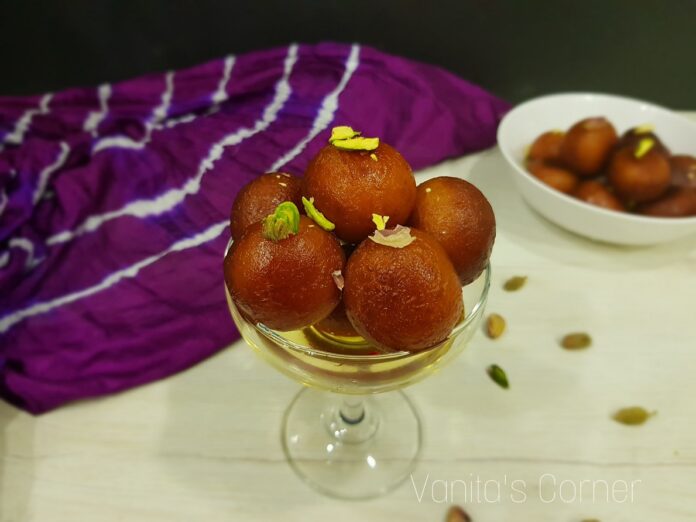 Gulab Jamun is one of the most popular Indian sweets, loved by most people. This traditional Indian delight is found in most festival/ wedding menus. Traditionally gulab jamuns are made of mawa. Tiny balls of softly kneaded mawa are deep fried and dunked in sugar syrup.  They can also be  made of milk powder, paneer, bread etc.  Today, I am sharing the recipe of milk powder gulab jamun. This is a very easy recipe and makes perfect, juicy gulab jamuns. Here's the recipe:
Ingredients
1 cup milk powder
3 tbsp refined flour (maida)
1 tsp baking powder
1 tbsp + 1 tsp clarified butter (ghee)
3 tbsp milk
For sugar syrup
1 ¼ cup sugar (cheeni)
1 ¼ cup water (paani)
3 cardamom (elaichi)
A pinch of saffron (kesar)
1 tsp lemon juice
Pistachio slivers for garnishing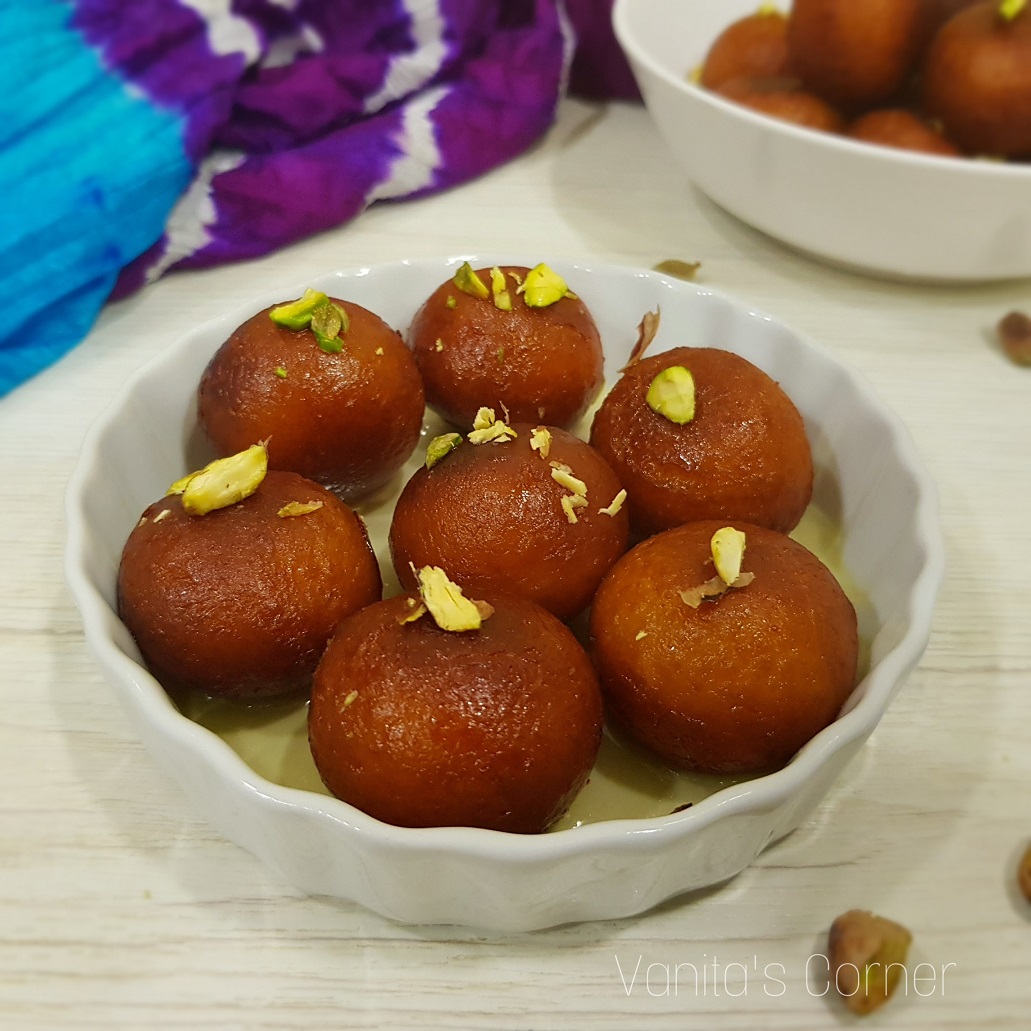 Method
In a mixing bowl, add milk powder, maida, baking powder and mix with the help of a spoon.

Add 1 tbsp ghee and mix.

Add milk, little at a time and knead to make a smooth, sticky dough.

Finally add 1 tsp ghee and knead for few seconds.

Keep this dough aside.

For making the sugar syrup, heat a pan.

Add 1 ¼ cup sugar and 1 ¼ cup water. Keep stirring.

Allow the sugar to dissolve.

Break open the cardamom pods and add to the sugar syrup.

Also, add a pinch of saffron.

Allow the mixture to boil.

When the syrup turns sticky and a little thick, turn off the heat.  

Add lemon juice and give a mix.

Lemon juice is added to prevent crystallization of sugar. 

Keep the sugar syrup aside.

Make small balls of the dough.

The balls should be crack free.

If there are cracks on the ball, they will start cracking while frying. 

Heat oil in a pan.

When the oil starts getting hot, drop the balls into the oil and fry the balls on a low flame so that the dough balls are fried evenly from within.  

When the balls are evenly fried, remove them and place them on an absorbent paper.

Now, drop the fried balls into warm sugar syrup.

If the sugar syrup has become cold, reheat the syrup for few seconds and drop the fried balls into it.

Allow the fried balls to remain in the sugar syrup for 2 to 3 hours so that they absorb the sugar syrup. 

After 3 hours, gulab jamuns are ready to be served.
Serving ideas:
Gulab jamuns can be refrigerated and served cold.

They can be re-heated and served hot with vanilla ice-cream

They can be served with rabdi.
WATCH RECIPE VIDEO: