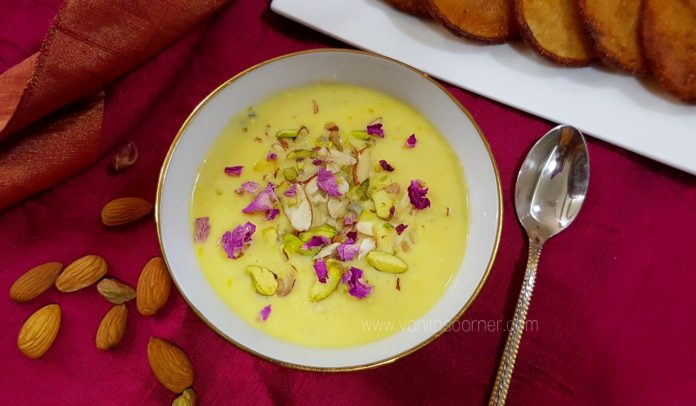 Rabdi is nothing but thickened sweet milk garnished with saffron and nuts. Milk is simmered and reduced on a low flame till it reaches a semi thick consistency. It is chilled and served as dessert. Rabdi can be enjoyed as a standalone dish or can be served as a topping over hot jalebis, malpuas, kulfis etc. Here goes the recipe:
Ingredients
1 litre milk
3 tbsp sugar
A pinch of saffron (kesar)
Chopped almonds and pistachios
1 tsp of cardamom powder (elaichi)
Pista slivers and Dried rose petals for garnishing
Method
Heat a broad bottomed pan.

Add the milk and cook on a slow flame.

Keep stirring occasionally.

Remove a tsp milk in a small bowl and add saffron to it.

Set it aside.

Allow the milk to boil till it reduces to half its quantity.

A layer of cream will keep sticking to the sides of the vessel.

Keep scraping the sides of the vessel.

When the milk has thickened and reduced to half its quantity, add sugar and mix well.

Add the saffron mixture, chopped nuts and mix.

Allow it to cool.

Refrigerate and serve chilled.

Garnish with pista slivers and dried rose petals while serving.
WATCH RECIPE VIDEO: