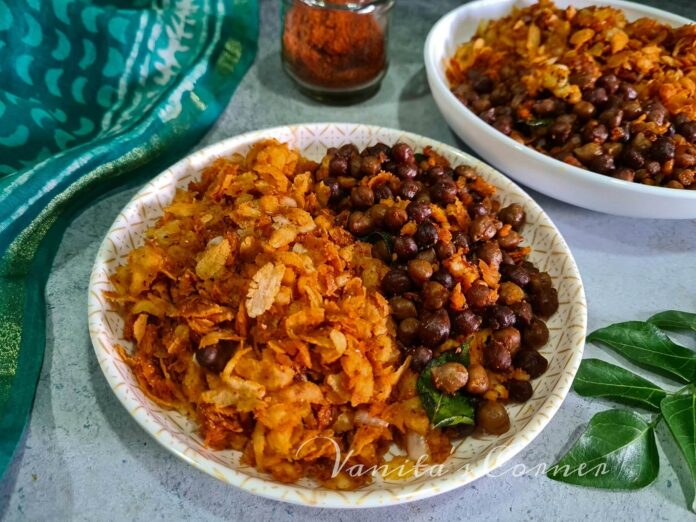 Kadle Bajeel is a traditional Mangalorean breakfast dish. It is a combination of sweet and spicy poha served with spiced chanas (chana upkari). (Kadle is the tulu word for chana and bajeel for poha)
Mangalore being a coastal town, rice and coconut are commonly used ingredients in most Mangalorean dishes.  Most of the breakfast dishes/snacks like neer dosa, idlis, steamed bottlegourd cake and host of other dishes are made using rice. Poha (flattened rice) is served in different forms – sweet poha, poha served with upma, famously known as Sajjige Bajeel in Tulu and Kadle Bajeel which is a combination of sweet and spicy poha with chana upkari.  
Sajjige Bajeel and Kadle Bajeel were the two common/famous breakfast dishes in Mangalore. In fact, growing up, Kadle Bajeel used to be a regularly made breakfast dish at home. But over the last few years, these dishes somehow have taken a back seat making way for other dishes. However, I like to make these dishes once in a while so that my kids are also aware of these dishes, thus preserving the traditions so to say.
Ingredients
For the spice mix
½ tsp coconut oil
5 dry red chillies
2 tbsp coriander seeds
1 tbsp cumin seeds
few curry leaves
¼ tsp turmeric powder
For the Bajeel/Poha
1 ½ cups of thin flattened rice/ poha
¾ cup fresh, grated coconut
2 tbsp grated jaggery
a pinch of salt
3 spoons of spice mix
2 tsp chopped onions
For Chana Upkari
½ cup black chana
1 tbsp coconut oil
1 tsp mustard seeds
1 tsp udad dal
1 dry red chilli
few curry leaves
1 tbsp chopped oLnions
salt as per taste
2 tsp spice mx
2 tbsp fresh, grated coconut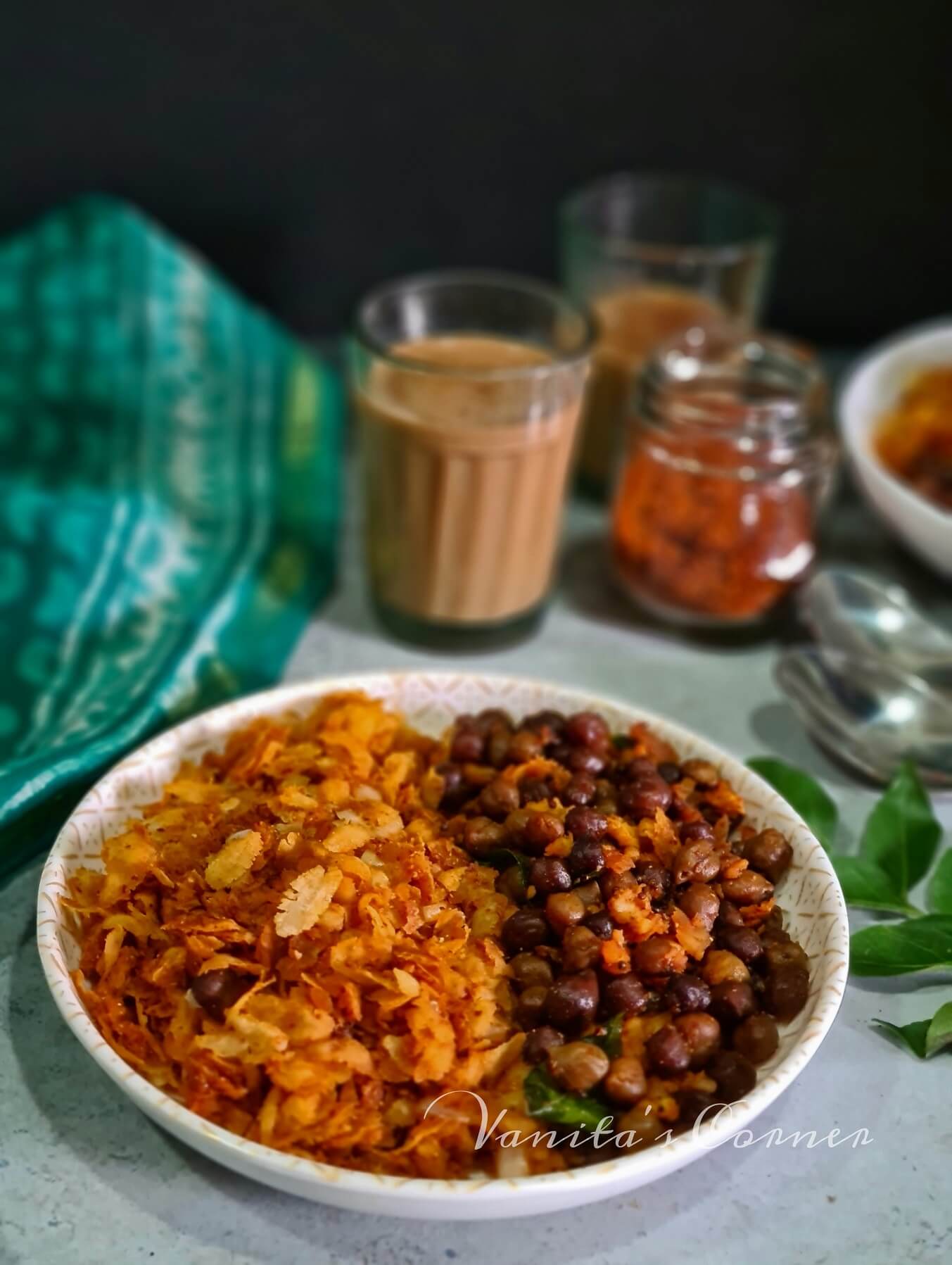 Method
For the spice mix
Heat ½ tsp coconut oil in a a pan.

Add dry red chillies, coriander seeds and  cumin seeds.

Saute for few seconds.

Add curry leaves and saute till the spices turn aromatic.

Allow the roasted spices to cool completely.

Transfer the spices to a mixer jar.

Add turmeric powder.

Blend to a fine powder.

Store this spice mix in an airtight container and use as and when required.
For the Kadle (chana upkari)
Wash and soak chanas in water for 6 to 7 hours.

Pressure cook the chanas with salt for 4 to 5 whistles.
The chanas should cook well and turn soft.
Keep the boiled chanas aside.
Heat coconut oil in a pan.
Add mustard seeds, udad dal, red chilly, curry leaves and saute for few seconds.
Add chopped onions, salt and saute till the onions turn soft.
Add boiled chanas and spice mix.
Mix well and cook for 2 minutes.
Finally add the grated fresh coconut and mix.
Keep this aside.
For the Bajeel (Poha)
In a mixing bowl, add grated coconut, grated jaggery, a pinch of salt, spice mix and chopped onions.

Mix well using your hands.

Add the poha and mix gently.

Poha should be coated well with the coconut jaggery mixture.
For serving kadle bajeel, add the chana upkari and poha in a plate. Serve hot with tea or coffee.
WATCH RECIPE VIDEO: