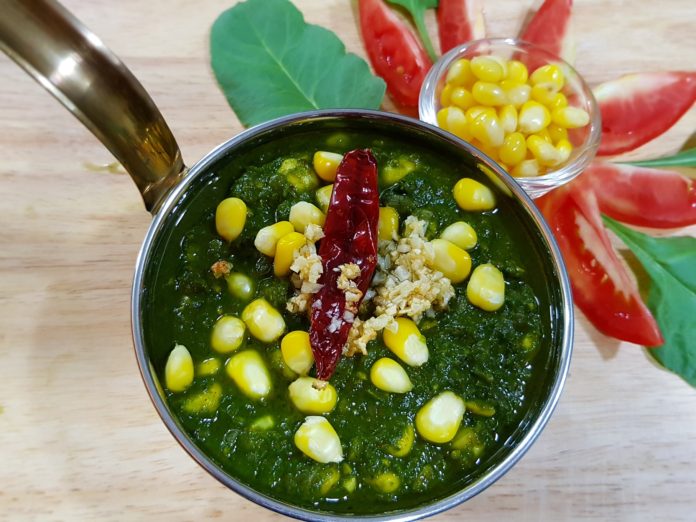 Lasooni corn palak is a delicious sabzi made with spinach and corn. Palak with sweet corn is a good combination and the garlic in this recipe adds a nice flavour to the gravy.  Try this flavourful and colourful sabzi today. Here goes the recipe:
Ingredients
1 big bunch Palak (Spinach)
1 cup boiled corn kernels
2 Onions (finely chopped)
1 Tomato
Garlic (finely chopped) 15 cloves
2 Green chillies, finely chopped
1 tsp Chilly powder
¾  tsp turmeric powder
1 tsp Cumin-coriander powder
1 tsp Garam masala
1 dry red chilly
2 tbsp oil plus 1 tbsp oil for the tempering
Salt as per taste
Method
Wash spinach in cold water.

Boil 3 cups of water in a pan.

Add spinach leaves to the boiling water and keep in the boiled water for 2 to 3 minutes.

Drain water from spinach.

Dip the spinach in cold water (to retain the dark green colour).

Blend the blanched leaves to a smooth puree. Keep it aside.

Blend the tomato to a smooth puree and keep it aside.

Heat oil in a pan. Add chopped garlic  (12 cloves of garlic) and saute till the garlic changes its colour.

Add chopped onions and saute till it turns golden brown.

Add chopped green chillies and saute.

Add the tomato puree.

When the onion and tomatoes have cooked well, add the palak puree, chilly powder, turmeric powder, cumin-coriander powder, garam masala, salt and mix well.

Cook on a medium flame for 3 to 4 minutes.

Add the boiled corn kernels, mix it and cook for another 2 minutes.

In a small pan heat 1 tbsp oil and add the remaining chopped garlic and saute.

Add the dry red chilly.

Saute  till the garlic is fried well.

Add the garlic chilly tempering to the palak corn gravy.

Serve hot with rotis.
WATCH RECIPE VIDEO
If you love palak, you must definitely check the recipes of Palak Chole and  Palak Paneer