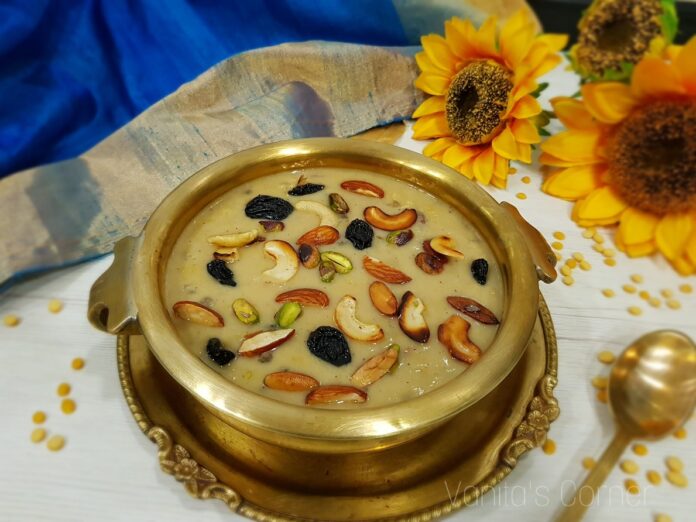 Madgane or Chana Dal Payasam is a traditional dessert from Konkani cuisine. This  dessert is made using chana dal, sabudana or rice flour, coconut milk, jaggery with a dash of cardamom and  garnished  with fried dry fuits.  Madgane is similar to Moong Dal Payasam except for the use of chana dal in Madgane instead of moong dal.  This dessert  is made for festive occasions, weddings etc.   I made this last week on Sankashti Chaturthi to offer it as naivedyam to Lord Ganesha. Here's the recipe for this creamy, delicious dessert called Madgane.  
Ingredients
½ cup split Bengal gram (chana dal)
1/3  cup sago (sabudana)
1 ½ cup jaggery, cut into small pieces (gud)
2 cups of thin coconut milk (nariyal ka doodh)
1 cup of thick coconut milk (nariyal ka doodh)
1 tsp cardamom powder (elaichi powder)
A pinch of salt (namak)
Few almonds (badam)
Few cashew nuts (kaju)
Few pistachios (pista)
Few raisins (kishmish)
1 tbsp clarified butter (ghee)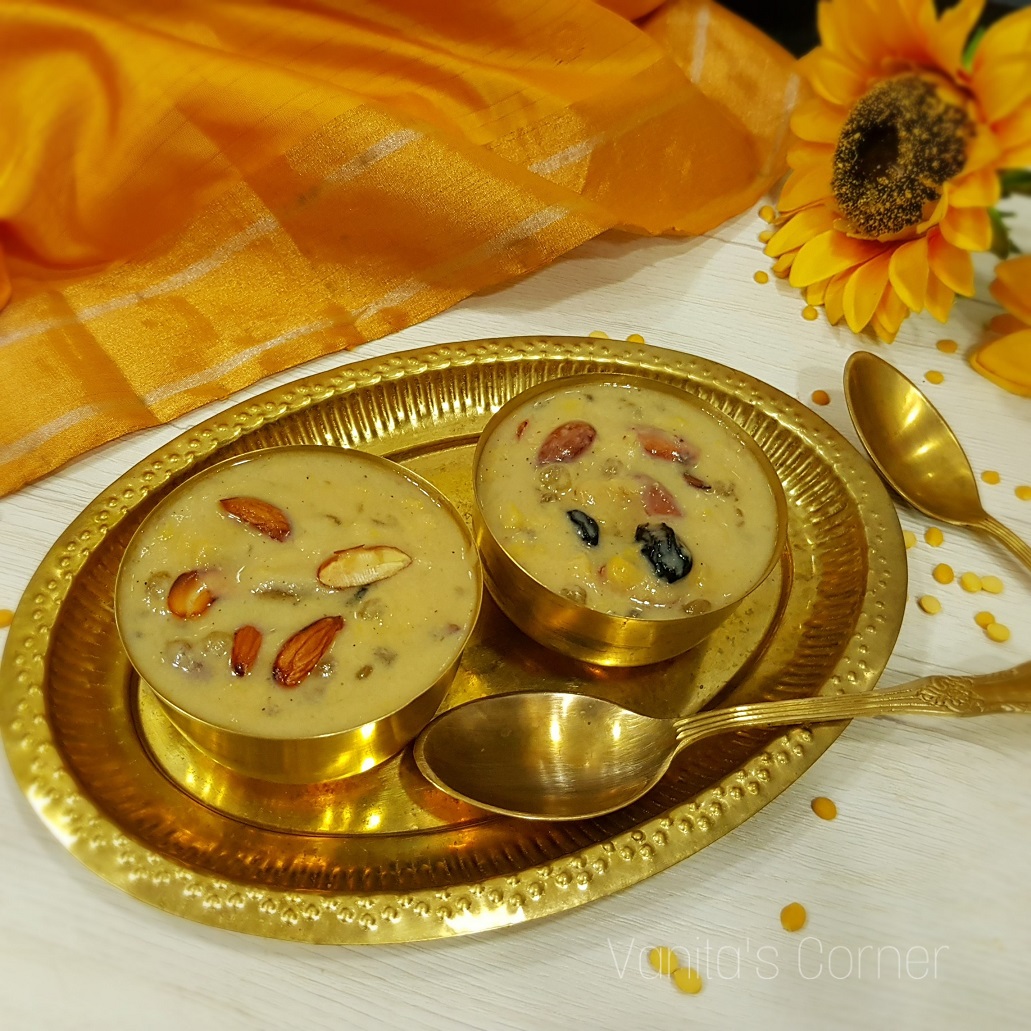 Method
Wash and soak chana dal for 3 hours.

Wash and soak sabudana for 3 hours.

After 3 hours, drain the water from chana dal, sabudana and keep them aside. 

Transfer soaked chana dal to a pressure cooker.

Add 1 to 1 ¼  cup of water into the pressure cooker and cook the chana dal for 2 to 3 whistles. Keep cooked chana dal aside.

Heat 1 tbsp ghee in a pan.

Fry all the nuts one by one (almonds, cashews, pistachios and raisins), and keep aside. 

Now, heat a pan.

Add cooked chana dal, soaked sabudana and jaggery. Mix well.

Add 2 cups of thin coconut milk and mix. 

Keep stirring the mixture till the jaggery dissolves and the mixture starts thickening.

Add  a pinch of salt and mix.

When the mixture has cooked well, add a cup of thick coconut milk and mix.

Allow it to come to a boil.

Add cardamom powder and mix.

Garnish with fried dry fruits. 

Serve Madgane hot, or refrigerate and serve chilled. Either way, it tastes delicious.
Notes:
Sabudana is added to this payasam to give it a thicker consistency. Instead of sabudana, rice flour can also be added.  If using rice flour, it is better to add rice flour to the coconut milk and mix well to avoid formation of lumps.

Use any nuts/dry fruits of your choice for garnishing.
WATCH RECIPE VIDEO: