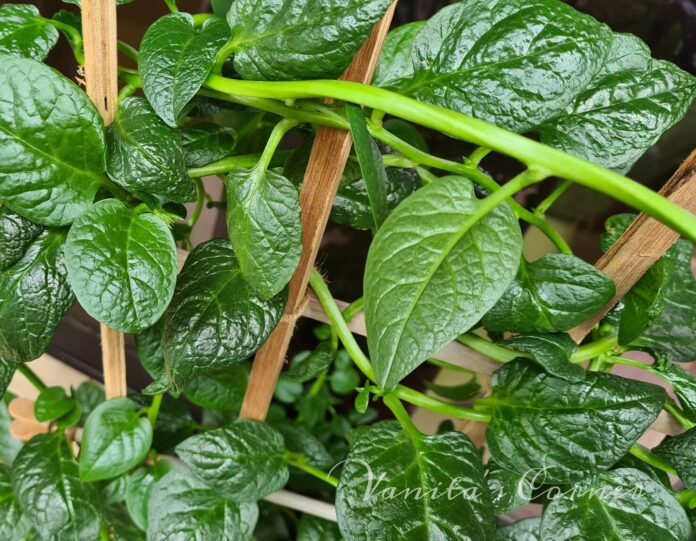 Malabar Spinach (Latin name: Basella Alba) is a fast growing leafy vegetable and thrives in hot climate. Known as Basale in Mangalore, it is a much loved vegetable by Mangaloreans. Mangaloreans make coconut based curries using basale. It is paired with prawns or clams or black eyed peas (chavli) or jackfruit seeds or raw papaya and there could be more combinations that I am not aware of.
In Mangalore, it is very common to see people growing basale in their backyard. One of my childhood memories, during our annual visit to Mangalore, is seeing these basale creepers growing on bamboo trellis in almost every house.
Propogating Malabar Spinach
So, last time when I bought Malabar spinach from my vegetable vendor, I had this sudden urge to plant a stem cutting.  I added some vermicompost to the soil in a pot, and planted a slightly thicker stem cutting, in the pot.  I was not sure if this plant grows from stem cuttings. This was meant to be an experiment. But to my pleasant surprise, it started growing very well. Initially I placed the pot in a shady area. Once new leaves started appearing on the stem, I moved the pot to a sunny spot, where the plant got 3 to 4 hours of sunlight everyday.  I added banana peels /and egg shells to the soil a few times (once in 10 days or so). When the creeper started growing  longer, I made a trellis with some bamboo sticks lying at home. In 2 months time, Malabar spinach  was ready to be harvested.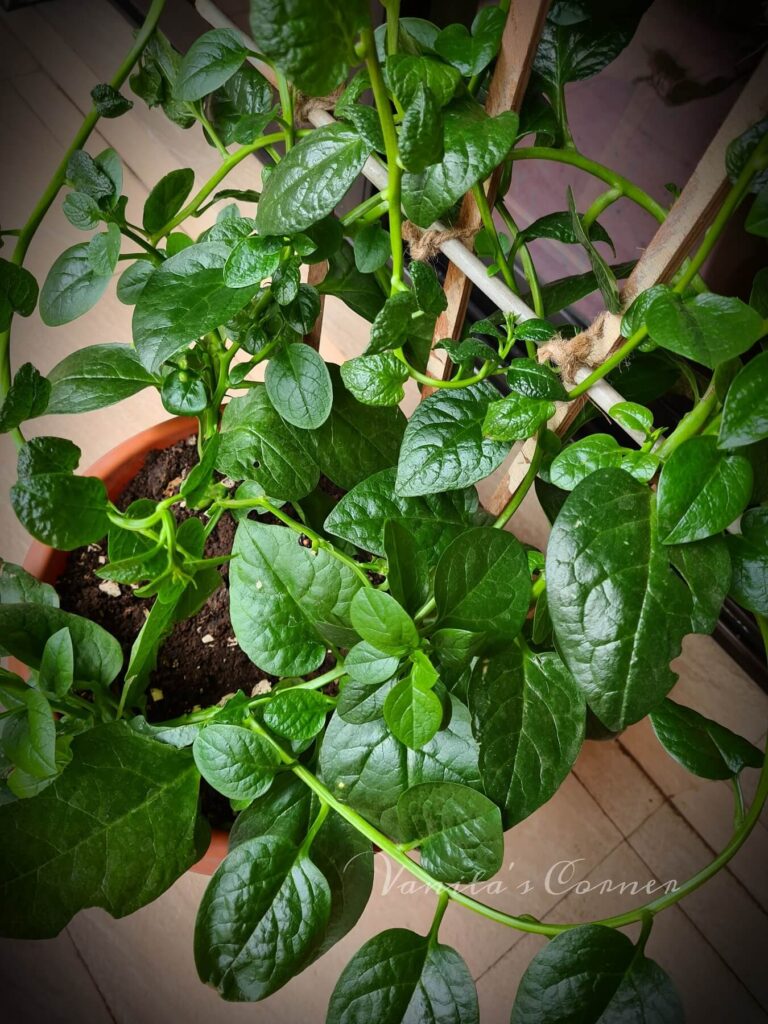 More about Malabar Spinach Plant
The creeper looks quite pretty with glossy green leaves, white flowers and purplish black berries on them and the satisfaction of growing your own vegetables is unmatched. I am over the moon to have Malabar spinach growing in my balcony . It brings back childhood memories of the summer vacations spent in my hometown, Mangalore.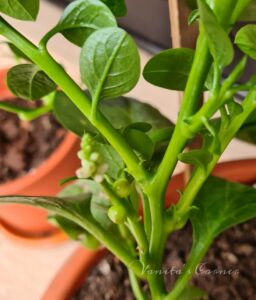 So, next time, when you buy Malabar spinach, try planting a healthy looking stem in a pot if you want to grow them in your kitchen garden.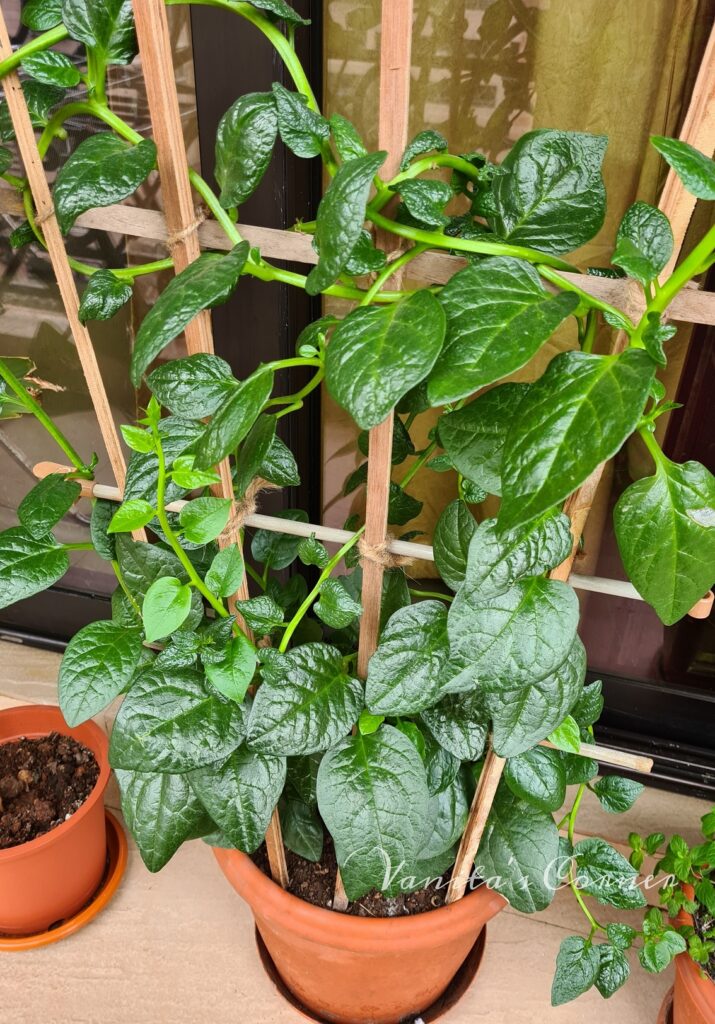 Plant as on January 18, 2023
The Malabar Spinach plant which I propogated from a bazaar purchase almost one and a half years ago is still going strong. Every time it produces purplish black berries, I pluck and sun dry them and grow more plants from them. I have even distributed the seeds to few friends of mine. So, there is malabar spinach growing at many more houses apart from mine.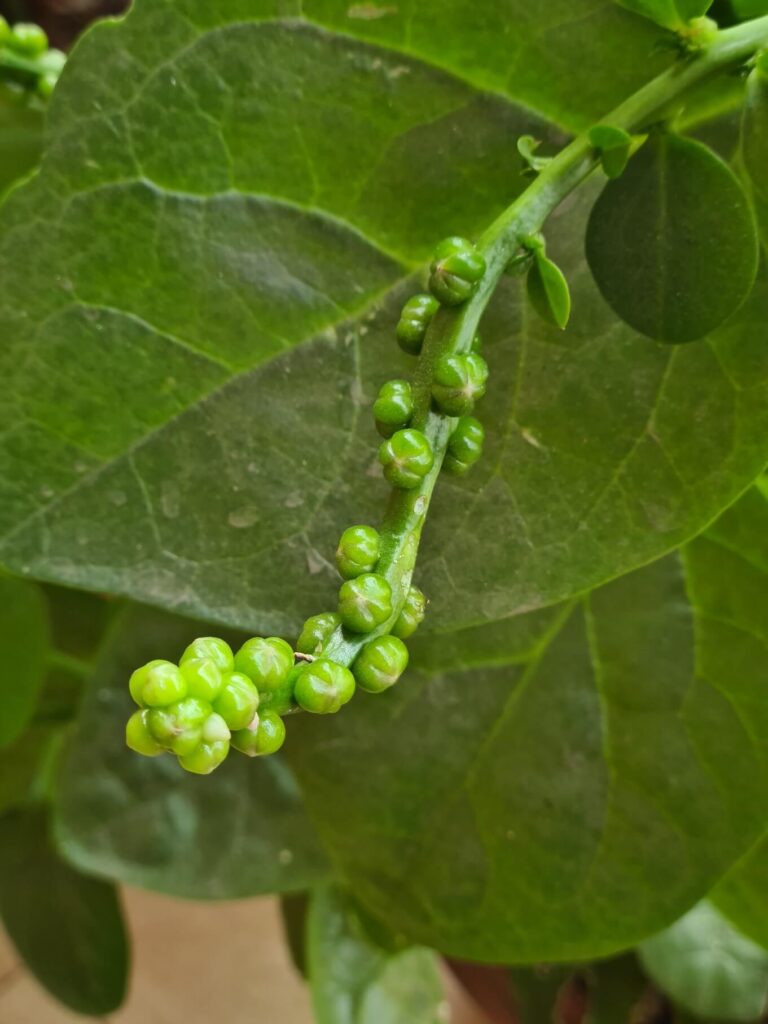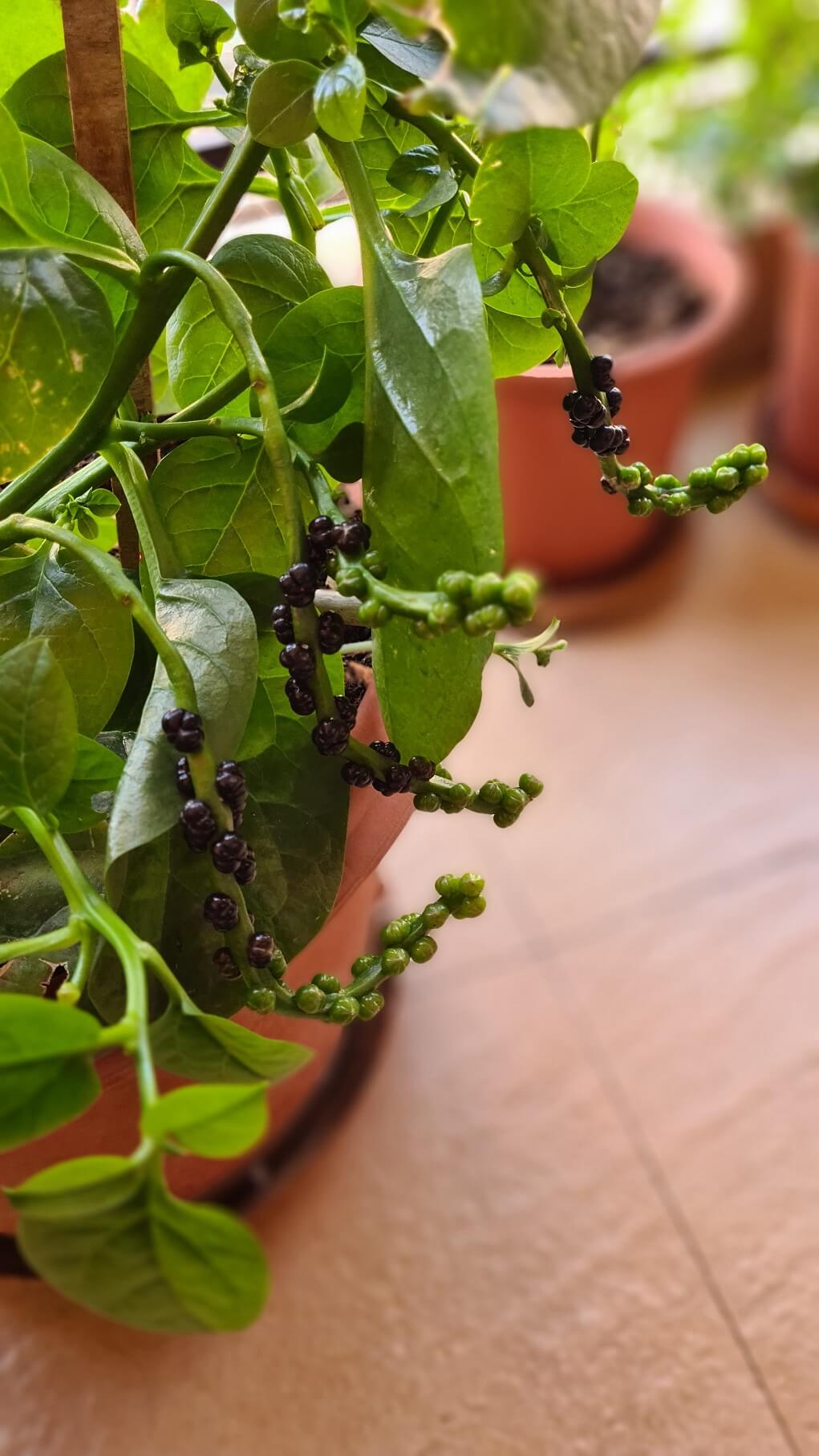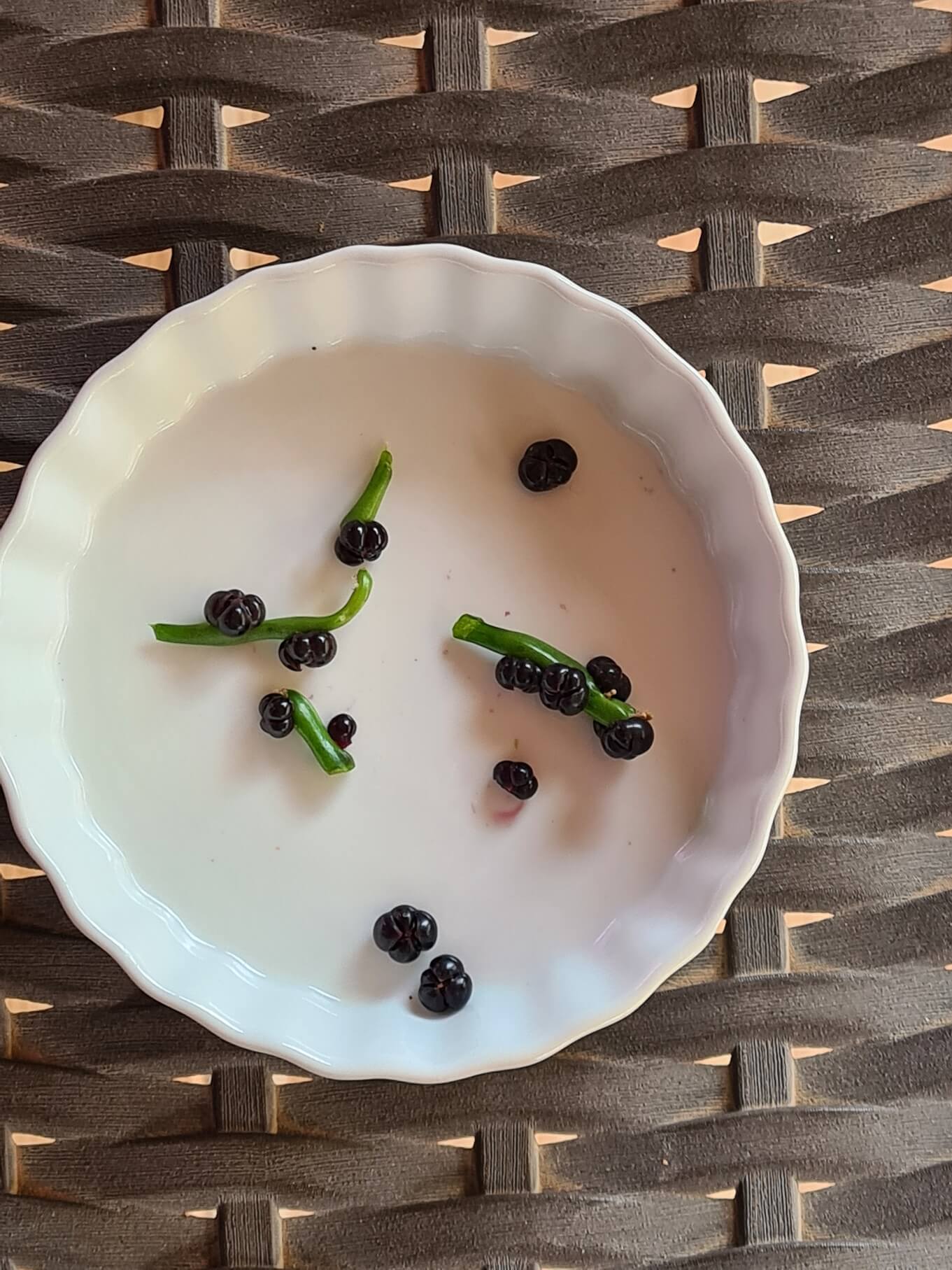 Nothing can beat the rewarding feeling of growing your own food. When you see that the seeds you have planted have taken off and started flourishing, it gives you immense satisfaction.
Plant as on August 4, 2023
Now, I have two pots of Malabar Spinach growing in my balcony. It was in the year 2021 that I first planted a stem cutting of Malabar spinach. Since then , there has been no looking back. The plant has been thriving well, producing berries which has been used to grow more plants.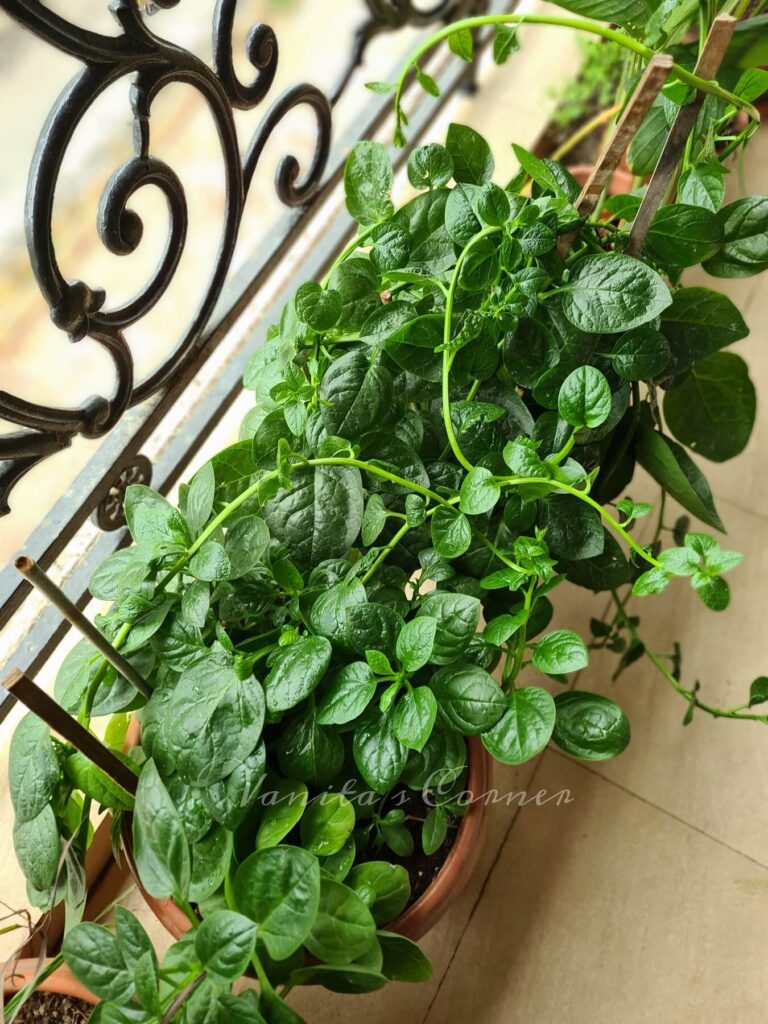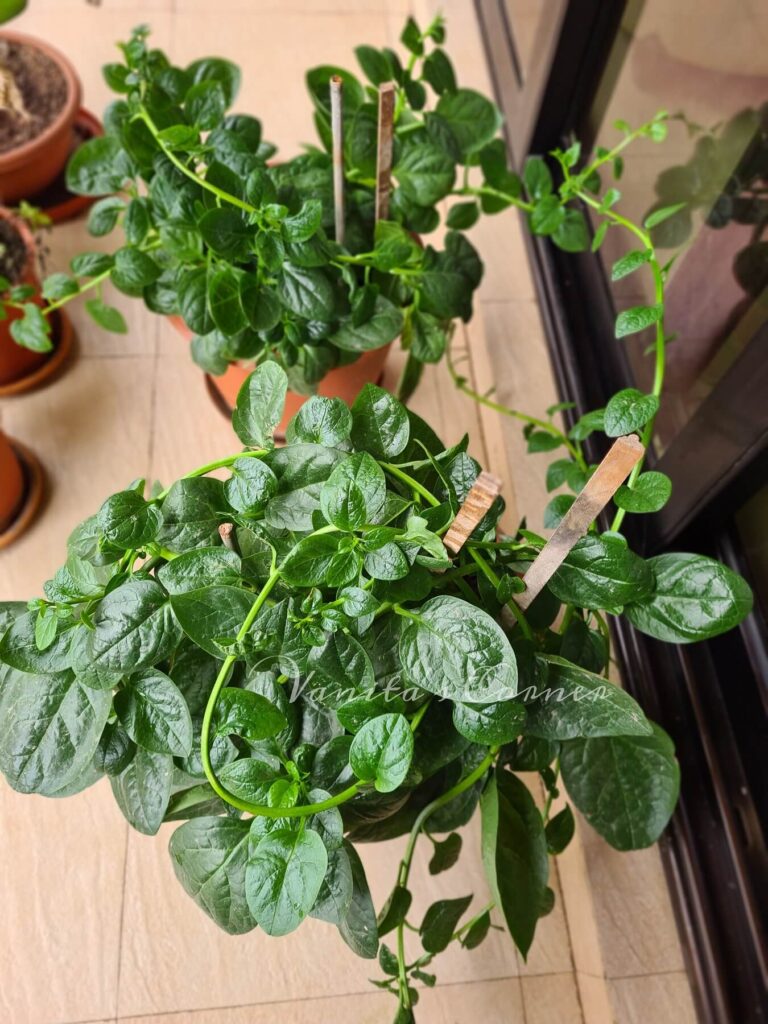 It is amazing to see how a plant can grow and continue to thrive just form a stem cutting or for that matter a tiny seed. It is a testament to the wonders of Mother Nature. The more we learn to appreciate these small processes, the better can we live in harmony with Nature and preserve it for generations to come.
Happy Gardening!!