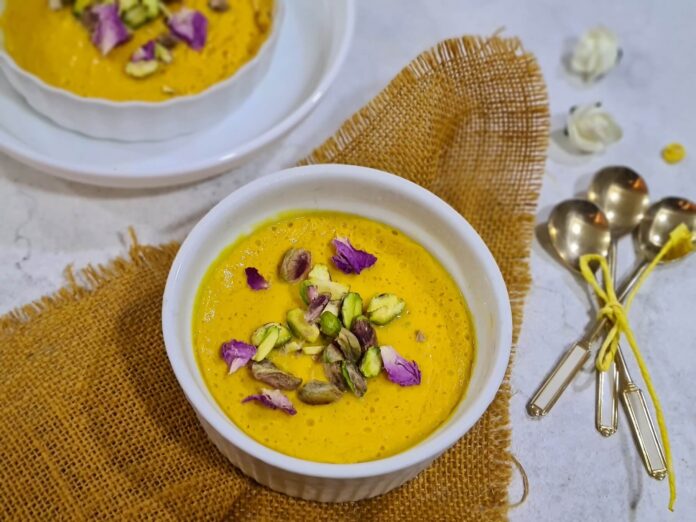 Mango Bhapa Doi – traditional Bengali steamed curds with the goodness of mangoes.
Mishti Doi and Bhapa Doi are two curd based desserts from the Bengali cuisine. Bhapa doi in Bengali means steamed curds. It is made by blending hung curds and condensed milk which is then steamed on stove top. When bhapa doi is prepared by adding mango pulp to the hung curd and condensed milk, what you get is delicious, creamy Mango Bhapa Doi. Mango season is almost coming to an end. I wanted to make mango bhapa doi before we bid adieu to the king of fruits. So, here is the recipe for Mango Bhapa Doi:
Ingredients
1 cup hung curds
¾ cup alphonso mango pulp
1 cup condensed milk
¼ cup milk
Chopped pistachios for garnishing
dried rose petals for garnishing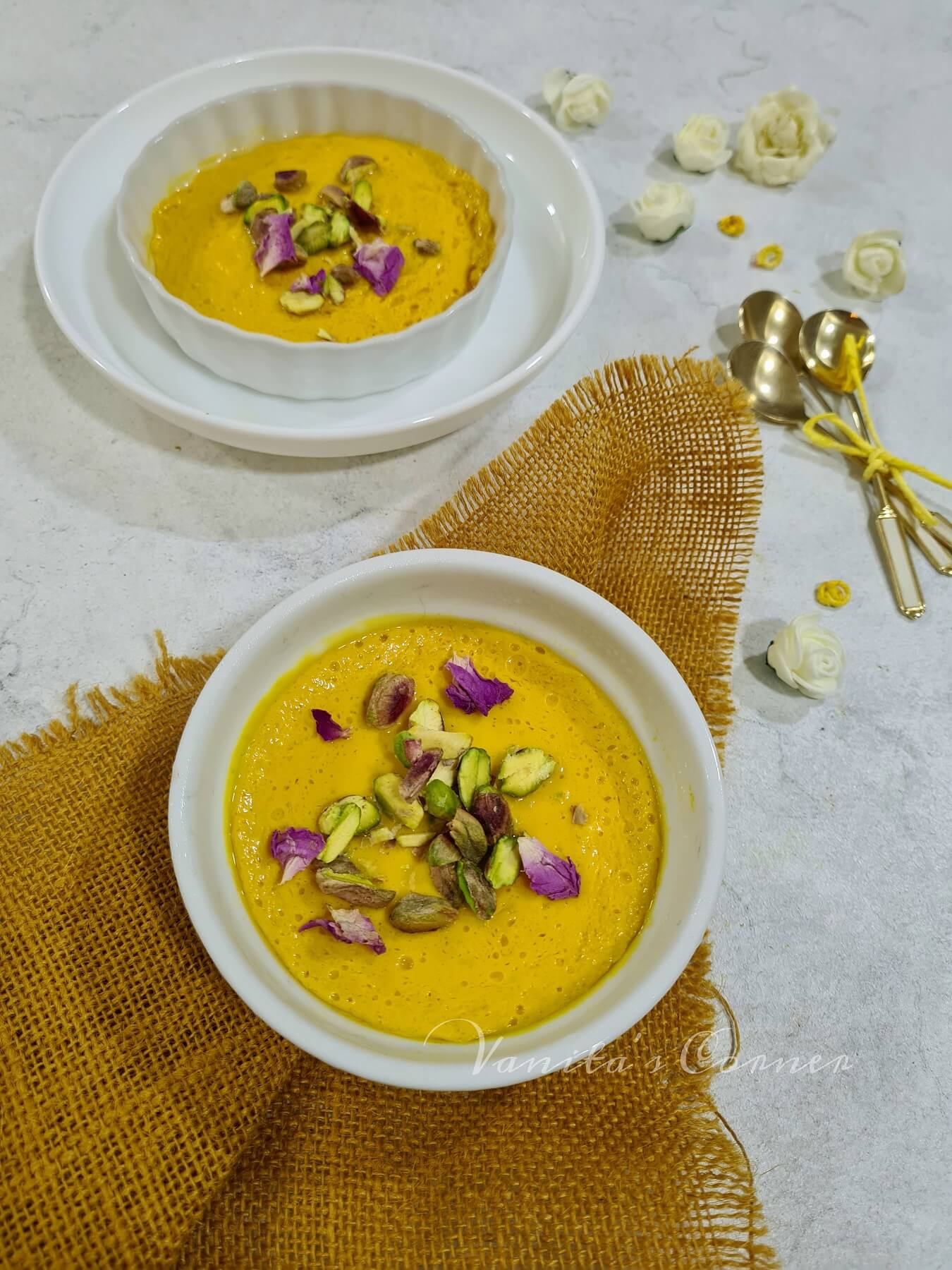 Method
In to a mixer jar, add hung curds, mango pulp and blend till you get a smooth mixture.

Next, add condensed milk, milk and blend again.

Pour the mixture into ramekins/ earthen bowls/steel bowls or steel container. C

over the bowls with aluminium foil.

Heat water in a steamer or a deep vessel.

Place a stand inside the steamer.

Place the bowls/ container over the stand.

Cover the steamer and steam mango doi for 15 to 20 minutes on low flame.

Remove the bowls and allow them to cool completely.

Refrigerate Mango Bhapa Doi atleast for an hour.

Garnish with chopped pistachios and dried rose petals.

Serve chilled.
Notes:
To make hung curds, place a strainer over a container. Spread a muslin cloth over the strainer. Add curds. Tie the cloth. Place this alongwith the container in the refrigerator for 4 to 5 hours. After 5 hours, the whey would have dripped into the container and the hung curd (in the muslin cloth) is ready to be used.
WATCH RECIPE VIDEO:
Thank you for stopping by. If you like/ tried this recipe, leaving a comment below the post will enable more readers and cooking enthusiasts to discover these recipes. Also, if you are on Instagram, do share a picture of the dish and tag @vanitascorner to be featured in my stories.
Do follow me on Instagram, Facebook and Pinterest.
Happy Cooking!!