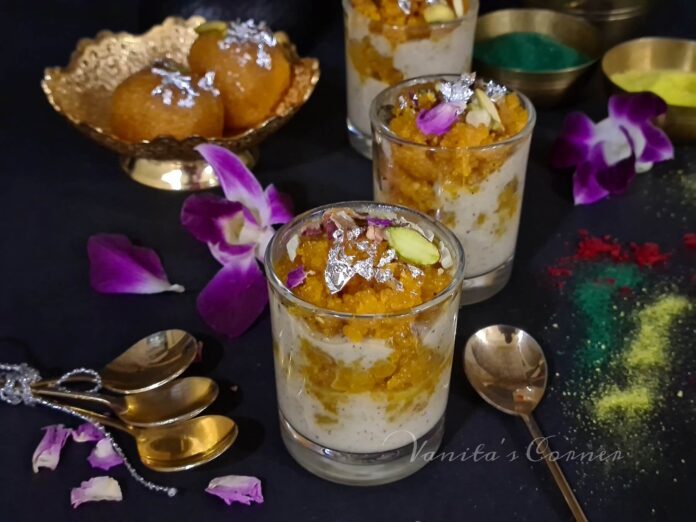 Motichoor Thandai Rabdi Trifle – a delicious and attractive dessert to celebrate Holi.
Holi festival is incomplete without thandai. For many, Thandai is a must have drink for Holi and if you are making thandai paste or powder at home, there are many desserts that can be made with it … thandai phirni, thandai rabdi, thandai lassi, thandai cake etc.
Motichoor thandai rabdi is a delicious dessert made by layering thandai rabdi and crumbled motichoor laddoos. Apart from being delicious, this dessert looks very attractive and is  perfect for a Holi party. So, here is the recipe :
Ingredients
1 litre milk (doodh)
5 almonds (badam)
5 cashew nuts (kaju)
5 pistachios (pista)
1 tsp watermelon seeds (magaz)
2 tsp fennel seeds (saunf)
1 tsp poppy seeds (khuskhus)
1 tsp black peppercorns (kali mirch)
½ cup of sugar  (cheeni)
A big pinch of saffron (kesar)
1 tsp of cardamom powder (elaichi powder)
5 to 6 motichoor laddoos
For garnishing
Almond slivers (badam ke barik tukde)
Pistachio slivers (pista ke barik tukde)
Dried rose petals (gulab ke sookhe pankhudiya)
Method
Soak almonds, cashewnuts, pistachios, watermelon seeds, fennel seeds, poppy seeds, black peppercorns in a bowl of water, for 4 to 5 hours.

After 5 hours, drain the water and grind all the ingredients to a fine paste.  This is the thandai masala.

In a bowl, take 2 tbsp warm milk.

Add a big pinch of saffron to it and keep it aside for an hour.

Heat the milk in a thick bottomed pan.

When the milk starts boiling, lower the heat and keep stirring.

Add thandai masala and keep stirring.

Do this until the milk has reduced to one third of its quantity.

Add sugar, saffron mixture and mix well.

Keep scraping the sides of the pan and mix.

Add cardamom powder and cook for another 3 to 4 minutes.

Let it cool down.

Refrigerate thandai rabdi for 30 minutes to an hour. 

To assemble the trifle, pour a layer of thandai rabdi in a small glass.

Crumble motichoor laddoos and spread it over the rabdi.

Add another layer of rabdi and top it with a layer of motichoor.

Garnish with almond slivers, pistachio slivers and dried rose petals.

Refrigerate and serve chilled.