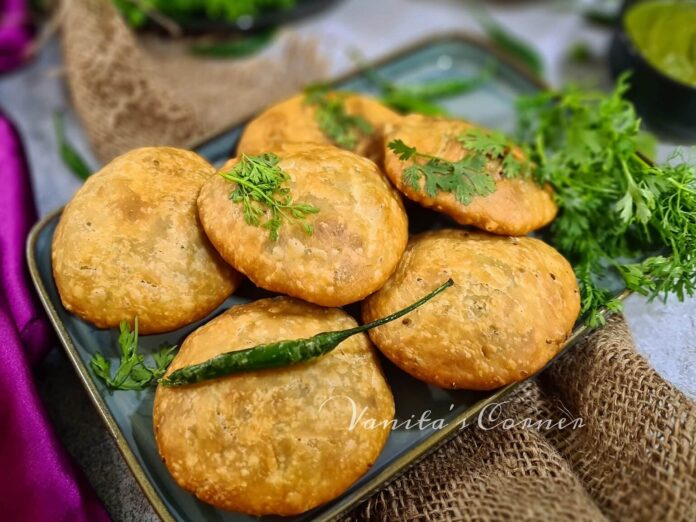 Matar Kachori is a delicious, deep fried snack filled with spicy peas filling.
Winters bring with it the best green peas. Though peas are available round the year, there is something special about the peas that are available during winter. There are certain dishes,  I try to make atleast once during winter when fresh green peas are available and they are matar ka nimona, matar kachori, matar gujiya, matar paneer and matar pulao.
Matar Kachori makes for a great time tea-time snack. It is generally served with mint chutney and sweet chutney. There are cerain things to be kept in mind while making perfect, crispy kachoris.  First and foremost, the amount of oil added to the flour and mixing it well with the flour plays an important role in making a perfect outer covering of the kachori. Secondly, the dough should be stiff, and finally the kachoris should be fried in moderately hot oil.  So, here is the recipe:
Ingredients
For the outer covering
2 cups of all purpose flour (maida)
4  tbsp oil (tel)
1 tsp carom seeds (ajwain)
salt as per taste (namak)
For the stuffing
2 ¼ cup fresh, green peas (matar)
½ cup fresh coriander leaves (hara dhaniya)
3 green chillies (hari mirch)
2 cloves of garlic (lehsun)
1 tsp chopped ginger (adrak)
1 tbsp oil (tel)
1 tsp cumin seeds (jeera)
½ tsp asafoetida (hing)
1 tsp coriander powder (dhaniya powder)
1 tsp red chilli powder (laal mirch)
½ tsp turmeric powder (haldi)
1 tsp dry mango powder (aamchoor)
1 tsp chaat masala
1 tsp fennel powder (sauf powder)
½ tsp garam masala
a pinch of sugar (cheeni)
2 tsp gram flour (besan)
salt as per taste (namak)
Oil for frying the kachoris
Method
In a large mixing bowl or a big plate, add maida, 4 tbsp oil, carom seeds and salt.

Mix all the ingredients thoroughly.

Rub the oil well into the flour for 4 to 5 minutes.  This is very important in order to make a flaky crust for the kachoris.

Next, add water, little at a time and knead into a stiff dough.

Once the dough is ready, cover it with a wet muslin cloth and keep aside the dough for 30 minutes.

In the meanwhile, blend peas, coriander leaves, ginger, green chillies and garlic to a coarse paste without adding any water, and keep aside.

Heat 1 tbsp oil in a pan.

Add cumin seeds and hing.

When the cumin seeds start crackling, add coriander powder, turmeric, red chilli powder,  aamchoor, chaat masala, garam masala, fennel powder and sugar.

Saute and roast the masalas well.

Add besan and saute till it turns aromatic.

Now, add peas paste and salt.

Saute on low flame.

Add little water and keep stirring till the mixture is well cooked.

Allow this mixture to cool completely. This is the stuffing for the kachoris.

Shape the stuffing into tiny balls and keep aside. 

Now, take a dough ball and flatten it.

Place the stuffing in the centre of the flattened dough ball and seal the edges.

Flatten  and shape it like a small puri. 

Now, heat oil in a pan on a low flame. The oil should be moderately hot. To check the temperature, drop a small piece of dough into the oil. It should not sizzle, but bubbles should form after few seconds. 

Now, slide the kachoris gently into the oil.

Do not disturb the kachoris for few minutes.

Once it gets fried (on low flame) on one side, flip the kachoris and fry on the other side, also on low flame. 

When the kachoris are evenly fried from all sides, remove from the oil on absorbent paper.  

Before frying the next batch of kachoris, you may need to turn off the flame for sometime to lower the temperature of the oil. If you fry the kachoris in hot oil, the outer covering of the kachori will not be as crispy as desired.

Serve matar kachoris with mint chutney and sweet chutney.