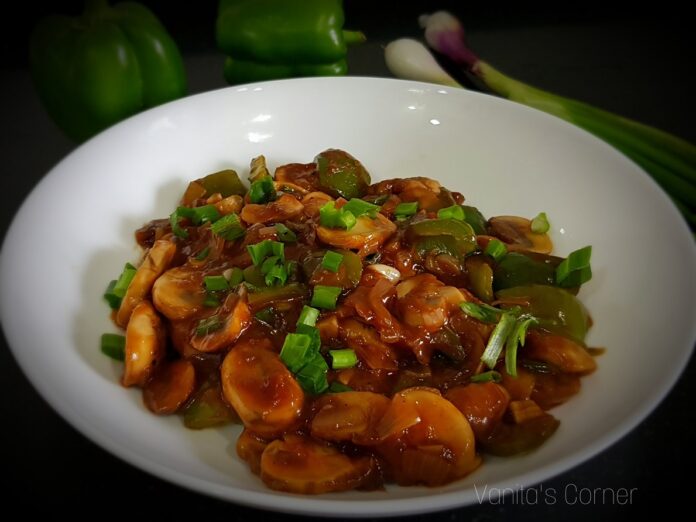 Mushroom Chilli – a delicious Indo-Chinese starter / side dish.
Mushrooms, the latest superfood on the block is a good source of Vitamin D and rich in antioxidants. Mushrooms can be used to make a number of dishes. You can choose to make Mushroom stir fry, Mushroom masala, grilled mushrooms, mushroom pulao, the list is endless.
Amongst the variety of mushrooms, the most commonly available are the button mushrooms. They need to be cleaned properly before cooking as they are grown in the wild.
Mushroom Chilli is an easy to make, delicious dish which makes for a good side dish with fried rice. Here goes the recipe:
Ingredients
10 to 12  grams button mushrooms (khumbh)
2 tbsp of wheat flour or refined flour (gehu ka aata or maida) to clean the mushrooms
1 tbsp ginger garlic paste (adrak lehsun paste)
1 tbsp + 1 tsp soya sauce
2 tbsp cornflour
2 tbsp oil (tel)
1 tsp finely chopped ginger (adrak)
2 tsp finely chopped garlic (lehsun)
¾ cup chopped spring onions (hara pyaaz)
1 medium sized capsicum, cut into cubes (Shimla mirch)
1 tsp black pepper powder (kali mirch powder)
salt as per taste (namak)
1 tbsp red chilli sauce (laal mirch sauce)
1 tbsp tomato sauce  (tamatar sauce)
1 tsp vinegar (sirka)
1 tbsp chopped spring onion greens (hare pyaaz)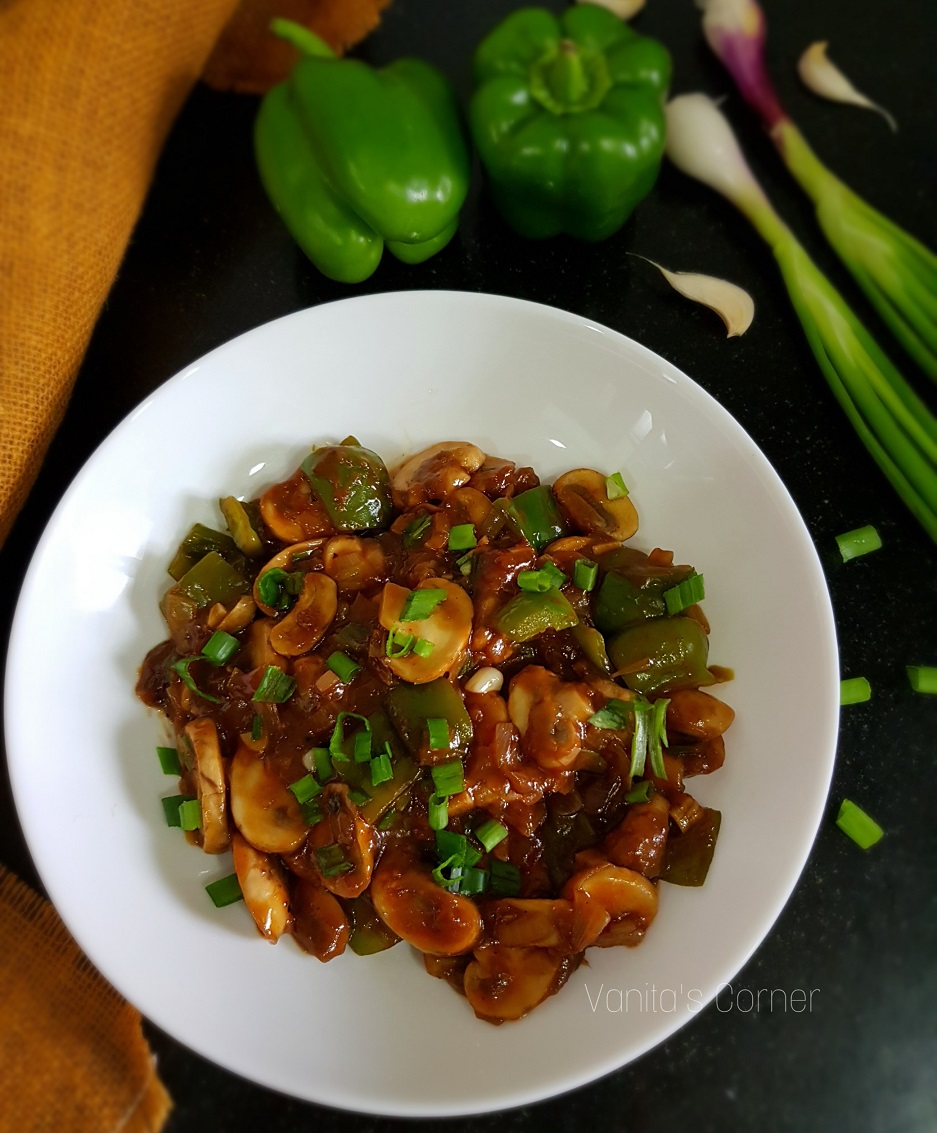 Method
Firstly, the mushrooms are to be cleaned thoroughly .

In a large bowl, add the mushrooms.  

Add water and rinse.

Drain the water. Add the flour and coat mushrooms with it.

Then add water and rinse thoroughly.

Drain the water.

Add water again and wash the mushrooms well.

Drain the water.

Pat dry the mushrooms using tissue paper.  

Next, cut the mushrooms into thick slices and keep aside.

In a large bowl, mix ginger garlic paste and 1 tbsp soya sauce.

Add chopped mushrooms and mix well .

Add cornflour and coat the mushrooms well with cornflour.

Keep this aside.   

Heat 2 tbsp oil in a pan.

Add marinated mushrooms.

Shallow fry the mushrooms.

Remove the fried mushrooms and keep aside.

In the same pan, add chopped ginger, chopped garlic and chopped spring onions.

Saute for a minute.

Now, add capsicum cubes.

Saute for few minutes.

Add salt, black pepper powder, 1 tsp soya sauce, red chilli sauce, tomato sauce and mix well.

Add fried mushrooms, vinegar and give a mix.

Finally, garnish with chopped spring onion greens.

Serve hot.
WATCH RECIPE VIDEO: