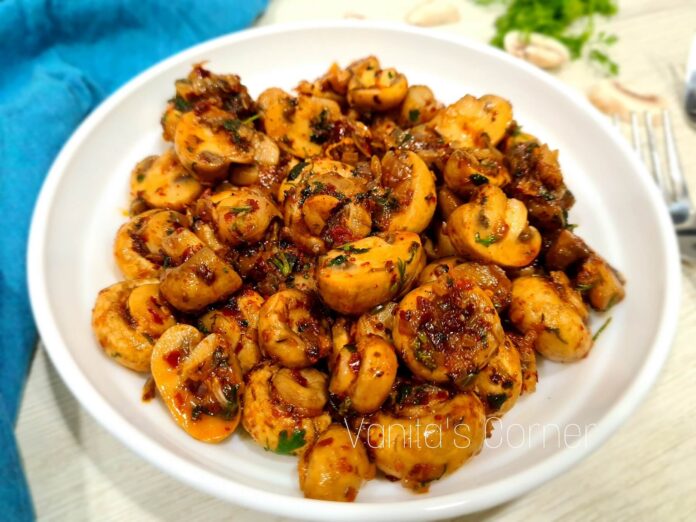 Butter Garlic Mushrooms – a quick, delicious mushroom recipe.
Mushrooms are a good source of Vitamin D and can be used in a wide range of dishes, from soups, stir-fries  to biryani.  Butter garlic mushrooms is a simple, delicious recipe made with button mushrooms. Button mushrooms are easily available round the year.
Butter garlic mushrooms makes for a good starter dish or as an accompaniment with garlic bread and soup. Button mushrooms can be used whole or sliced for this recipe. I have used a mix of both. The bigger mushrooms have been sliced and the smaller ones are used whole. Here goes the recipe for butter garlic mushrooms:
Ingredients
2 packets of mushrooms / 20 to 25 mushrooms
1 medium sized onion, chopped
1 tbsp butter
1 tsp oil
1 tbsp garlic paste
1 tbsp oregano
2 tsp red chilli flakes
2 to 3 tbsp fresh coriander leaves, chopped
1 tsp Kashmiri chilli powder  (optional)
salt as per taste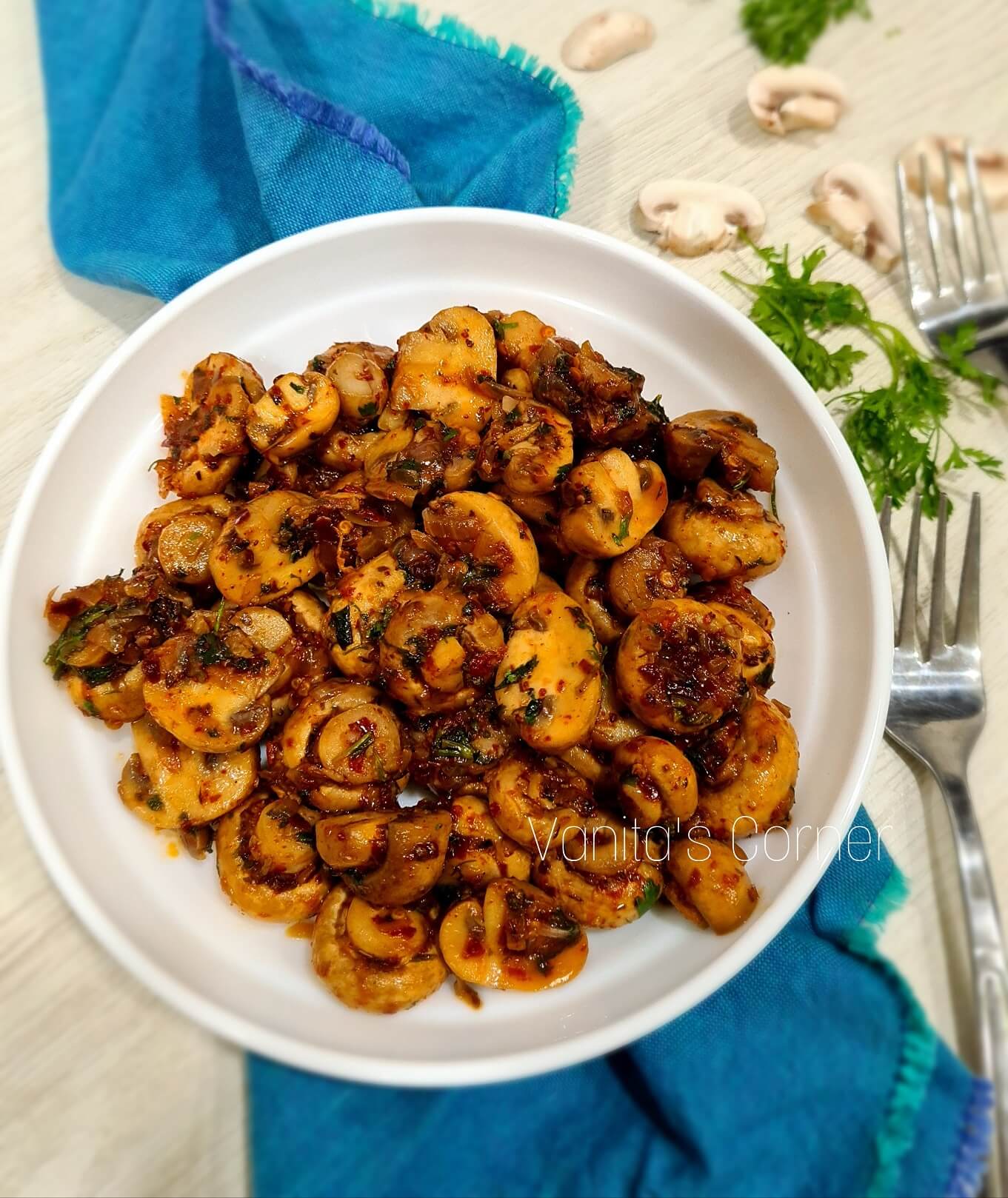 Method
Firstly, clean the mushrooms.

Pat dry the mushrooms using tissue paper and keep aside.

Cut the bigger mushrooms into slices. Smaller ones can be used whole.

Heat a pan. Add butter and oil.

When the butter starts melting, add chopped onions.

Saute the onions till they turn soft.

Add garlic paste and mix.

Next, add the mushrooms..

Saute on high flame for 2 to 3 minutes.

Add salt, oregano, chilli flakes and chopped coriander leaves.

Mix well. Saute and cook for few minutes.

Add Kashmiri chilly powder.

Mix and cook until the mushrooms are cooked.

Serve hot.
Notes:
I have added Kashmiri chilli powder so as to give a dark colour to the dish. Adding Kashmiri chilli powder is optional.
Some other mushroom recipes on this blog are mushroom masala, mushroom rice and mushroom chilli.
WATCH RECIPE VIDEO: