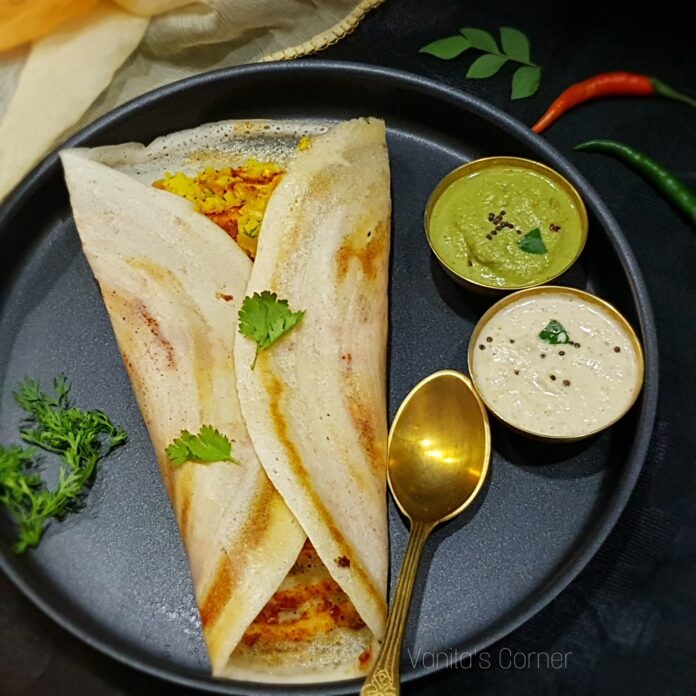 Mysore masala dosa is a variant of masala dosa and is popular among South Indian breakfast recipes. For Mysore masala dosa, red spicy chutney is spread on the dosa and  potato sabzi is rolled inside the dosa.  It is served with coconut chutney and sambar.
Ingredients
For Dosa
2 cups rice
1 cup udad dal
2 tsp methi seeds
½ cup cooked rice
Salt as per taste
For Red chutney
1 tsp oil
4 tbsp chana dal
8 to 10 dry red chillies
3 to 4 cloves garlic (chopped)
1 inch ginger (chopped)
1 onion (chopped)
1 tsp turmeric powder
Salt as per taste
For potato bhaji/potato masala
3 to 4 boiled and mashed potatoes
1 tbsp oil
1 tsp udad dal
1 tsp mustard seeds
A pinch of asafoetida
Few curry leaves
1 onion
2 to 3 cloves garlic (chopped)
2 to 3 green chillies
1 tsp turmeric powder
1 tbsp lemon juice
2 tbsp fresh coriander (chopped)
Salt as per taste
Click here for Recipe of Saada Dosa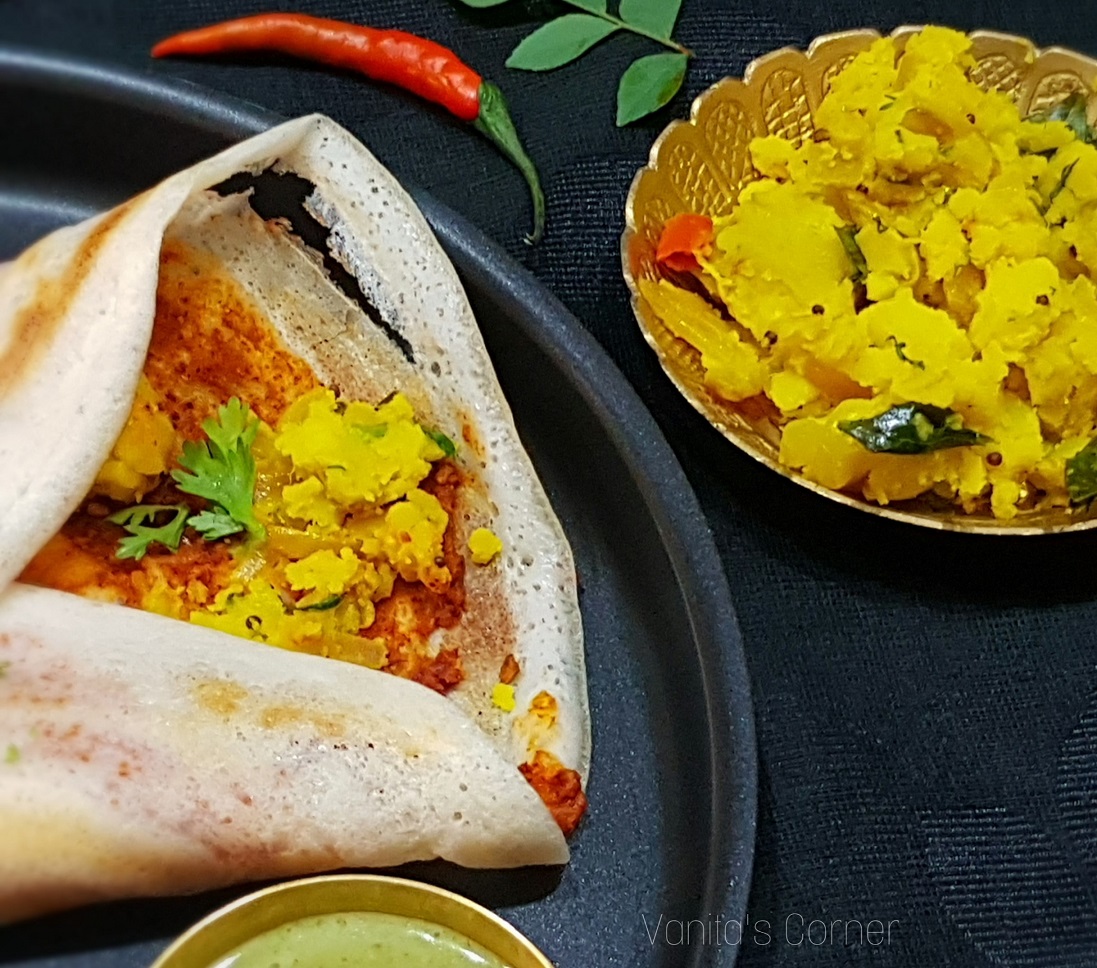 Method:
Soak rice and methi seeds in one vessel for 3 to 4 hours.

Soak udad dal in another vessel for 3 to 4 hours.

Grind udad dal to a fine paste.

While grinding rice and methi seeds, add half a cup of cooked rice to it and grind to a fine paste.  

Mix both the batter well.

Add salt and keep for fermentation for 8 to 10 hours.
Red Chutney
Heat 1 tsp oil in a pan.

Roast all the ingredients mentioned under ingredients for red chutney.

Grind it to a fine paste and keep it aside.
Potata Bhaji/ Potata Masala
Heat oil in a pan. 

Add udad dal and roast for a minute.

Add the mustard seeds.

When the seeds start crackling add green chillies, curry leaves, chopped onion, chopped garlic and saute.

Add turmeric powder, asafoetida and salt and mix well. 

Add the boiled and mashed potatoes and mix well.

Add lemon juice and chopped coriander.
How to proceed
Once the dosa batter is fermented, to prepare dosas, heat a pan. 

Pour a ladleful of batter on the pan.

Spread it in a circular motion.

Drizzle a few drops of oil on the edges of the dosa.

After the dosa is slightly cooked, spread a tbsp of red chutney on the dosa.

Over the red chutney, spread the potato bhaji

. Cook for a few seconds, fold the dosa and remove from the pan. 

Serve mysore masala dosa with chutney and sambar.
WATCH RECIPE VIDEO