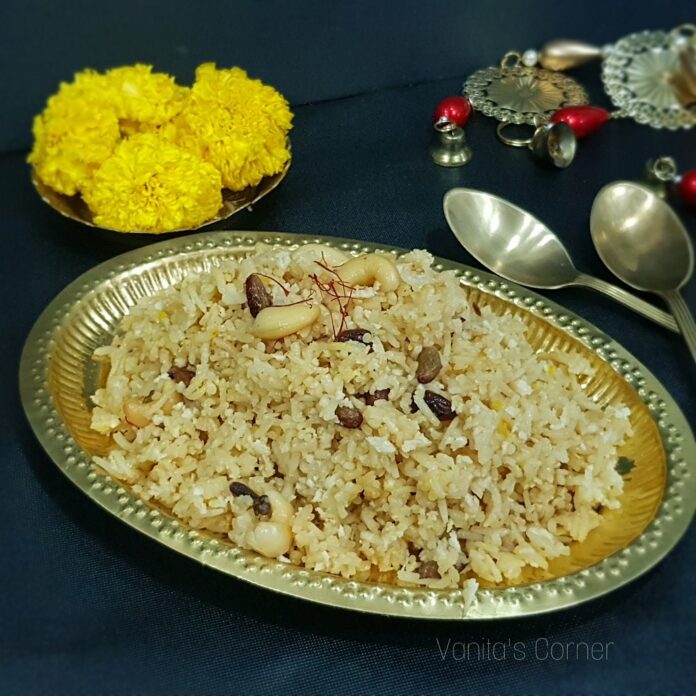 Narali Bhaath or Sweet Coconut Rice is a traditional Maharashtrian dish cooked specially on Narali Purnima , i.e. a full moon day in the month of Shravan. Narali Purnima  is celebrated with great fervour by the fishing community in Maharashtra. It marks the end of monsoon and  the fishermen getting back to fishing.  They celebrate Nrali Purnima by offering coconuts to sea.
Narali Purnima is also known as Raksha Bandhan, a festival to celebrate the bond between brothers and sisters.  A quintessential dish for Narali Pournima and Rakhi meal is the much loved Narali Bhaath, which is sweet rice made with coconut, jaggery and dry fruits. Here's the recipe:
Ingredients
½ cup basmati rice (chawal)
½ cup fresh grated coconut (nariyal)
½ cup grated jaggery (gud)
3 tsp clarified butter (ghee)
8 to 10 cashew nuts (kaju)
2 tsp raisins (kishmish)
A pinch of salt (namak)
1 ½ cups of hot water (garam paani)
A tbsp warm milk (doodh)
A large pinch of saffron (kesar)
1 tsp cardamom powder (elaichi powder)
3 to 4 cloves (laung)
Few threads of saffron for garnishing (kesar)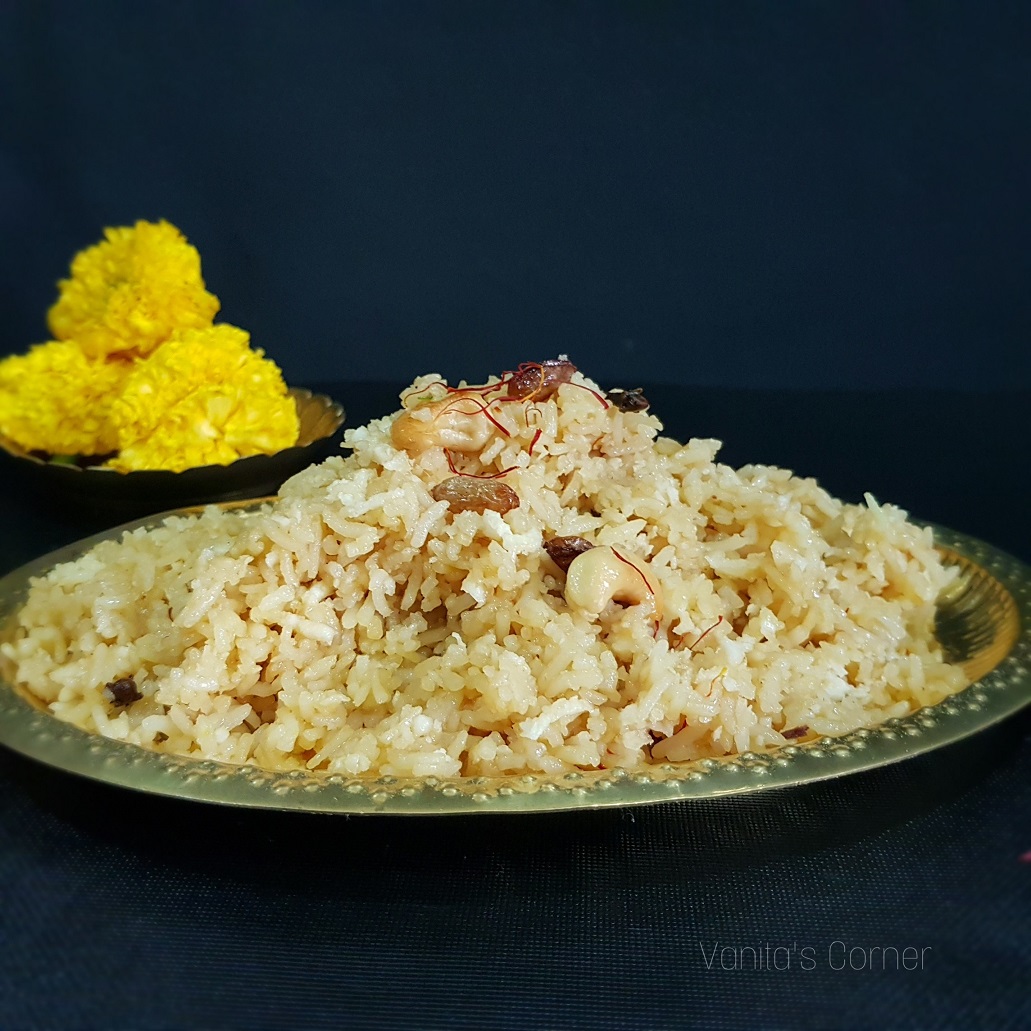 Method
In a small bowl, add a tablespoon of warm milk.

To this, add a large pinch of saffron.

Keep this aside for 20 minutes.

Wash and soak rice in water  for 20 minutes.

Drain the water and keep aside.

Heat a pan.

Add 1 tsp ghee.

When the ghee starts melting, add cashew nuts and saute for 2  minutes. Remove and keep aside.

Add raisins and saute for few seconds. Remove and keep aside.

Add another teaspoon ghee to the pan.

Add cloves and saute.

Now, add the drained rice to the pan.

Saute for few minutes.  

Now, add 1 ½ cups of hot water.

Add a pinch of salt and give a good mix.

Allow the water to boil.

When the water starts boiling, cover the pan and cook the rice on medium flame.

Cook the rice till it is 80% done.

Next, add grated coconut, grated jaggery, saffron milk and give a gentle mix.

Add a teaspoon of ghee.

Cook covered for 3 to 4 minutes, or till the jaggery melts and blends with the rice.

Add cardamom powder and mix.   

Add fried cashews and raisins  to the rice.

Garnish with few threads of saffron.

Serve hot.
Notes:
Jaggery can be replaced by sugar in this  dish.

The sweeteners (Jaggery or sugar) should be added only when the rice is almost done, or the rice will not cook properly.
WATCH RECIPE VIDEO :
Also, have a look at the recipe of Coconut burfi, which is also made by many for Narali Pournima.