Ninaav is a traditional sweet made by the Maharashtrian CKP community during the end of Shravan month. Ninaav literally means 'one that does not have a name'. Gram flour and wheat flour is cooked in coconut milk-jaggery mixture and then baked in the oven,  to make this dessert. It was traditionally made by placing the vessel over charcoal wood but now an oven or microwave is used to give the same effect. So, here goes the recipe for Ninaav.
Ingredients
1 cup gram flour (besan)
½ cup wheat flour (gehu ka aata)
1 ½ cup coconut milk (nariyal ka doodh)
1 cup grated jaggery (gud)
3 tbsp clarified butter (ghee)
½ tsp cardamom powder (elaichi powder)
¼ tsp nutmeg powder (jaayfal powder)
5 tbsp chopped dry fruits – almonds, pistachios  (sookhe mewe)
a pinch of salt (namak)
½ tsp clarified butter (ghee) for greasing the cake tin.
1 tsp wheat flour to dust the cake tin.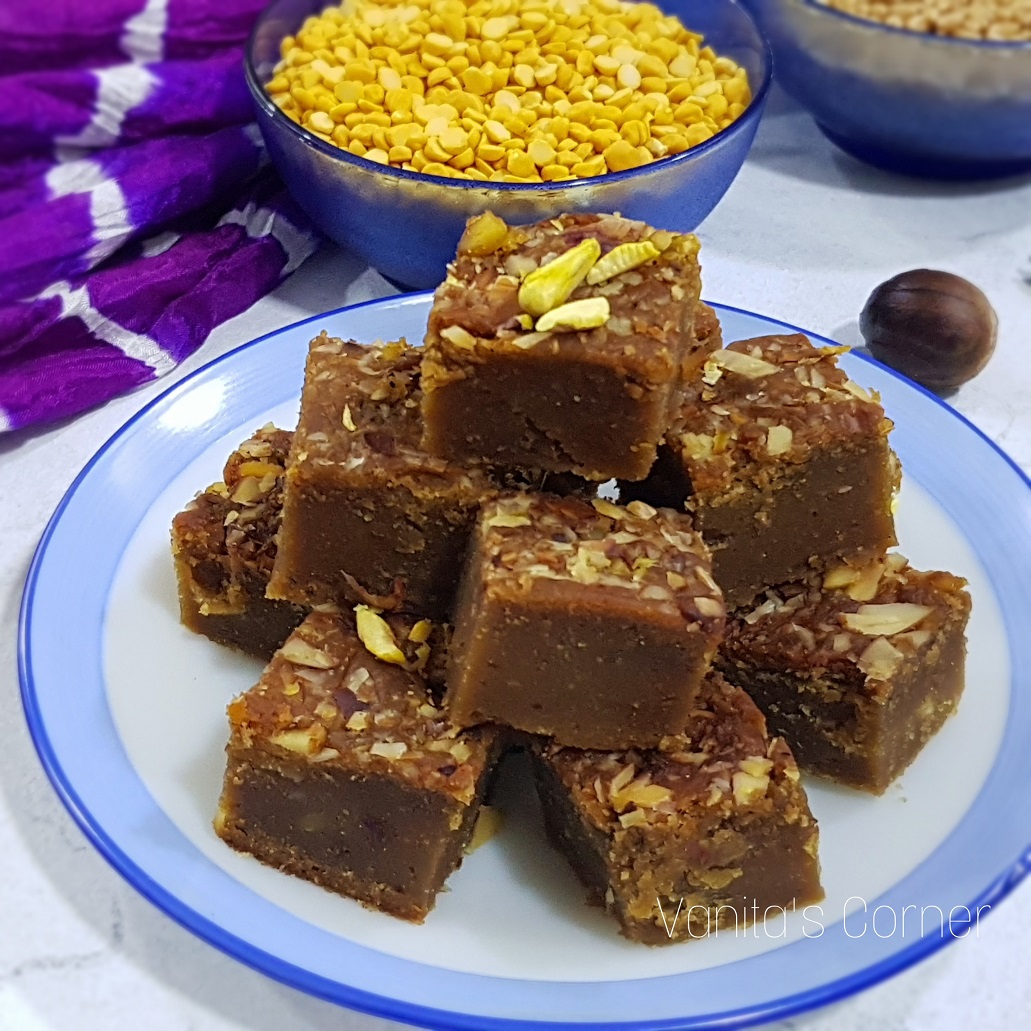 Method
In  a mixing bowl, combine coconut milk and jaggery.

Mix well, using a whisk till the jaggery is dissolved.

Add cardamom powder, nutmeg powder and 3 tbsp chopped dry fruits .

Give a quick mix.

Keep this mixture aside.

Heat 3 tbsp ghee in a pan.

Add besan and wheat flour.

Roast the besan- wheat flour mixture on a low flame till it gives out a nice aroma.

When the mixture turns aromatic, pour the coconut milk-jaggery mixture into the pan, keeping the flame at its lowest. 

Keep stirring continuously and cook till the mixture thickens.

Add a pinch of salt and mix.

When the mixture starts leaving the sides of the pan, turn off the heat.

In the meanwhile, grease a cake tin using ½ tsp ghee.

Sprinkle 1 tsp wheat flour and swirl the tin so that the flour sticks to the ghee.  

Pour the cooked gram flour mixture into the cake tin.

Spread evenly using a spatula.

Garnish with 2 tbsp chopped nuts.   

Preheat an oven at 180 degrees for 10 minutes.

Place the cake tin in the preheated oven.

Bake at 180 degrees for 25 to 30 minutes.

 Allow the baked ninaav to cool completely before cutting it into pieces. 

Ninaav is ready to be served.
Notes:
I have used organic jaggery, hence the colour of ninaav is dark brown. The colour may change depending on the type of jaggery used.

For the coconut milk, I have mixed first and second extract of coconut milk. To know, how to extract coconut milk, click here.  
WATCH RECIPE VIDEO: