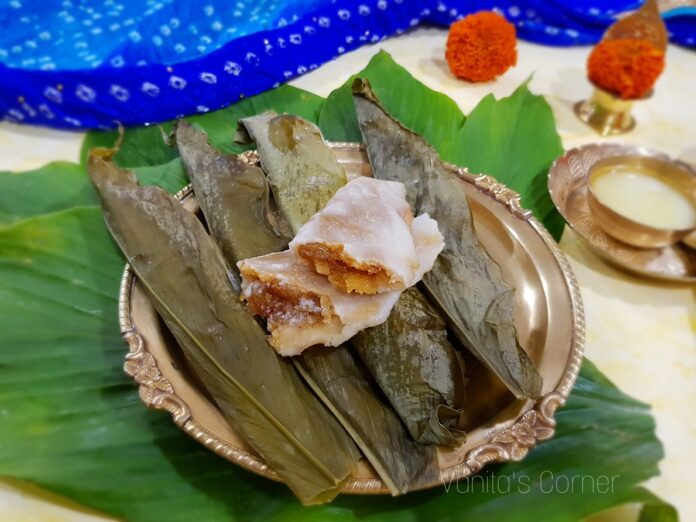 Patolyas in Marathi, Patolis in Konkani, Manjal Irreda Gatti in Tulu (Manjal Irre = turmeric leaves and Gatti = steamed dumplings)  – different names in different regions of India, but in kitchen, they are the same steamed, sweet rice dumplings. They are rice dumplings filled with a mixture of coconut and jaggery, wrapped in turmeric leaves and steamed.  Turmeric leaves impart a heavenly aroma to the dish. These are prepared for  festive occasions. In Maharashtra and Goa, it is made for Nag Panchami, whereas Mangaloreans make Manjal Irreda Gatti for Diwali. The outer covering can be made in two ways (a) by soaking rice and grinding it (b) by using rice flour. I have made them in both ways. Here goes the recipe:
Ingredients
For the Stuffing
2  ½ cups of grated fresh coconut (nariyal)
2 cups of grated jaggery (gud)
1 tsp of cardamom powder (elaichi powder)
Few raisins (kishmish)
For the Outer Covering
Method 1 – Soaking & grinding rice
1 cup rice (Basmati or boiled rice) (chawal)
1 to 2 tbsp fresh grated coconut (nariyal)
Salt as per taste (namak)
Method 2  –  Rice flour
1 cup rice flour (chawal ka atta)
1 tsp clarified butter (ghee)
Salt as per taste (namak)
1 cup water (paani)
Turmeric leaves for wrapping the dumplings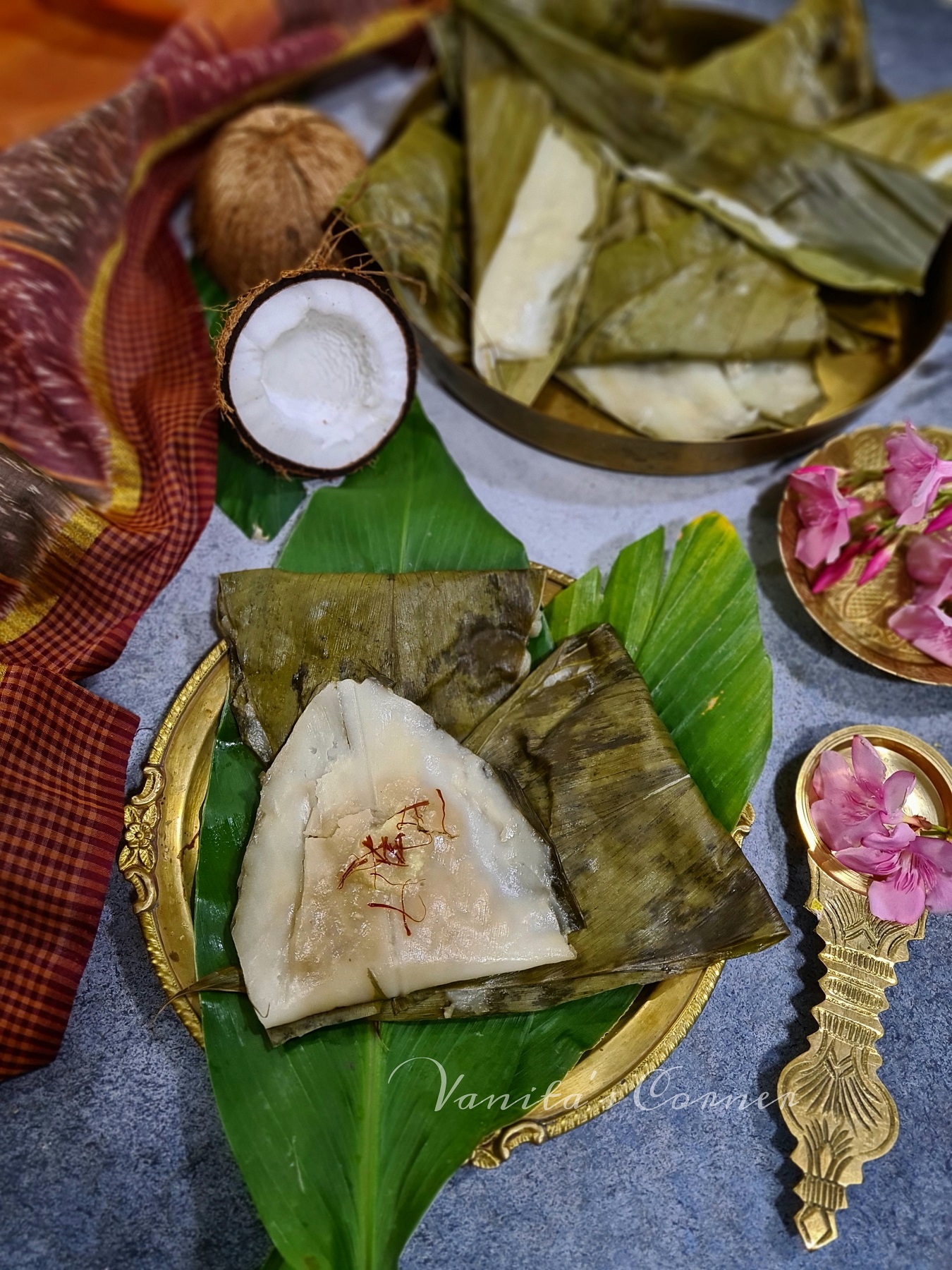 Method
Wash turmeric leaves. Wipe them dry.

Cut the base stalk of the leaves. Keep aside.
For the stuffing
Heat a pan.

Add the grated jaggery.

When jaggery starts melting, add grated coconut. Mix well.

Cook for 3 to 4 minutes.

Add cardamom powder and raisins.

Mix and keep this aside to cool down.

Do not overcook the mixture. 
Outer Covering – Method 1
Wash and soak 1 cup rice  in water for 3 to 4 hours.

After 4 hours, drain the water.

Transfer the rice to a mixer jar.

Add 1 to 2 tbsp of grated coconut, salt and 2 to 3 tbsp water.

Grind the rice to a thick, smooth paste.

Do not use more water.

Start by adding 1 tbsp.

Add more water if needed.

The batter should be thick and smooth, so that it can be spread easily on the turmeric leaves.

Place a leaf on a flat surface.

Spread around 2 to 3 tbsp of rice batter, evenly on the leaf. 

Place around 2 tbsp of coconut jaggery mixture in the centre of the leaf and spread.

Fold the leaf either vertically or horizontally.

Repeat the same with other leaves.
Outer Covering – Method 2
In a mixing bowl, add rice flour.

Add salt.

Add water, 

little at a time.

Mix well to form a thick, smooth paste.

I have used 1 cup of water.

Finally, add 1 tsp ghee and give a mix.

The procedure to be followed after this step is the same as mentioned under Method 1.
How to proceed
Once, you are done with wrapping all the dumplings in turmeric leaves, take a steamer plate.

Grease the plate with oil.

Keep the dumplings on the plate. Boil water in a steamer. Place the steamer plate with patolis, in the steamer. 

Steam for 15 to 20 minutes.

After the patolis are steamed , the colour of the leaves will change.

Allow the patolis to cool.

Unwrap the patolis.

Serve patolyas with hot ghee.
Notes:
Turmeric leaves give a nice aroma to patolis. But, if you are unable to find turmeric leaves, patolis can also be made with banana leaves or badaam (Indian almond)  leaves.

If you are following the first method, i.e. of soaking and grinding the rice, then basmati rice or ambemohar rice can be used. Mangaloreans, traditionally use boiled rice (ukda chawal)  to make this dish.
WATCH RECIPE VIDEO:
Also have a look at the following traditional Mangalorean festive recipes:
Idlis steamed in jackfruit leaves, Moong Dal Payasam