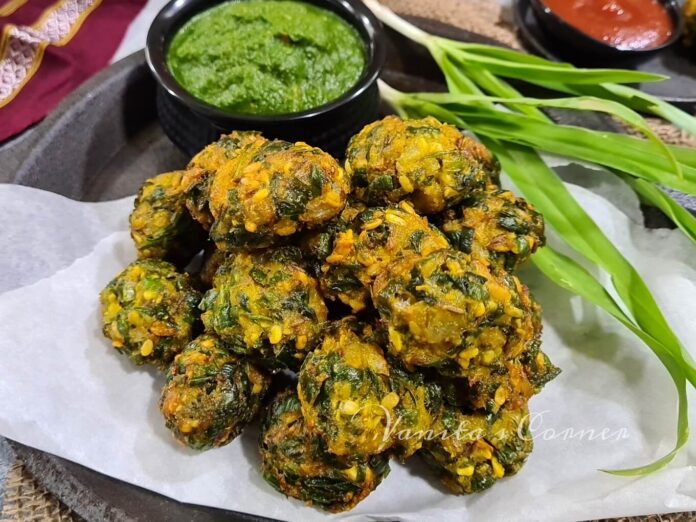 Phodshi Pakoda – delicious fritters made with the rare monsoon leafy greens called Phodshi  and moong dal.
Monsoon is the time when some rare leafy greens are found in patches of forest areas. Phodshi is one such leafy vegetable found in Maharashtra during monsoons. It resembles grass but is broader than grass, hence it is also known as Gavti Bhaji (Gavat means grass in Marathi). This vegetable is available only for few weeks on onset of rain and it grows on its own without any human intervention.
These greens are widely consumed by the local tribes. But, now it is also available with the vegetable vendors in Mumbai. They are known to build immunity and hence recommended to consume in this season.  Phodshi can be prepared in a number of ways. It can be made all by itself or by adding chana dal or prawns to it.. You can find the recipe for Phodshi with chana dal here. Pakodas or bhajiyas are made using Phodshi by combining them with either moong dal or chana dal. The recipe for Phodshi pakodas with moong dal is as under:
Ingredients
2 cups finely chopped phodshi greens
1 cup split green gram (moong dal)
2 onions, finely chopped
1 cup coriander leaves, chopped
1 to 2 green chillies, finely chopped
1 tbsp cumin seeds (jeera)
1 tsp turmeric powder
1 tsp red chilly powder
1 tsp cumin coriander powder (dhaniya jeera powder)
Salt as per taste
1 tbsp rice flour
Oil for deep frying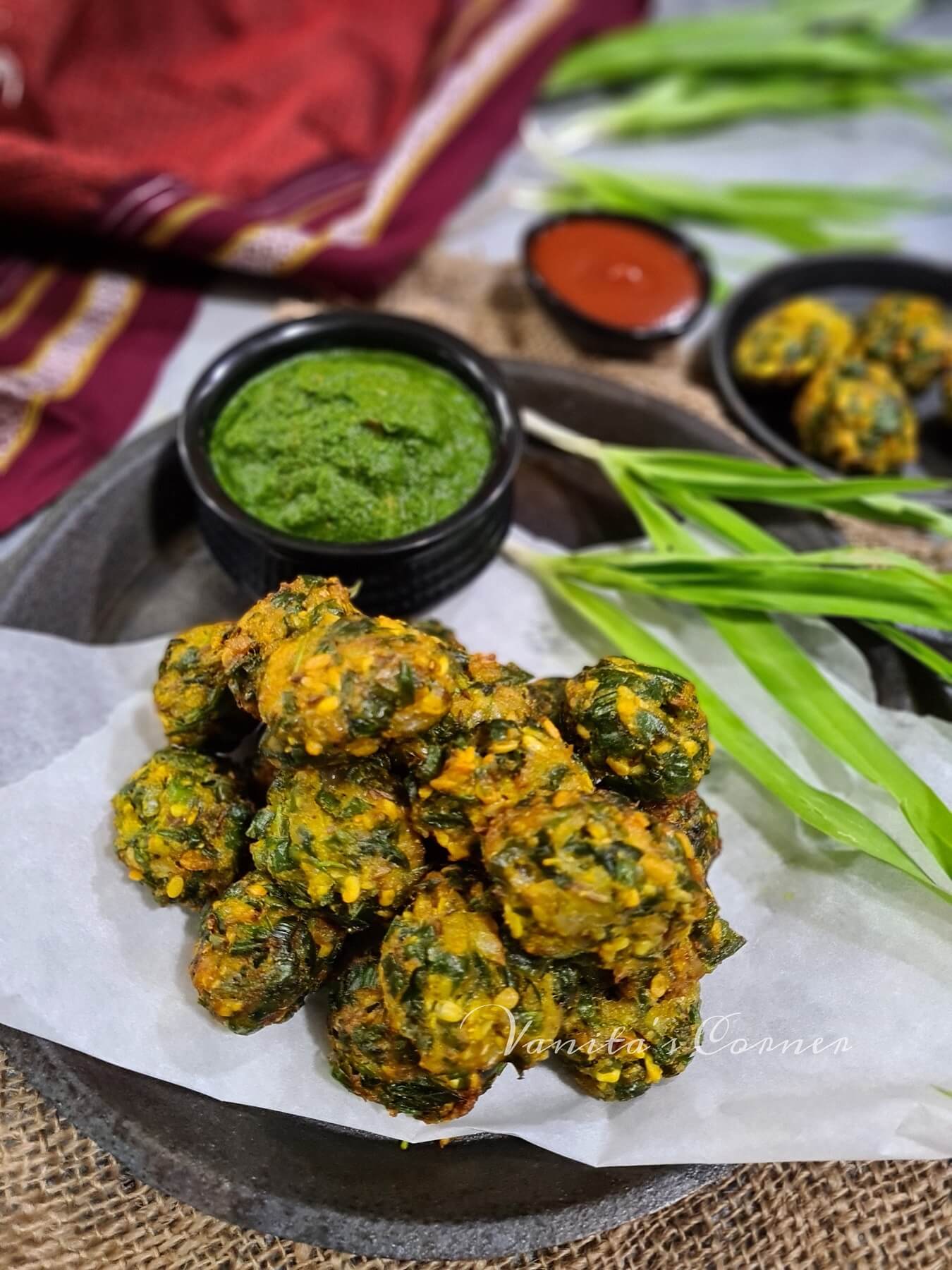 Method
Wash and soak moong  dal in water for 3 to 4 hours.

Wash phodshi leaves , trim off the white bottom and finely chop them.

Drain the water from moong dal and blend to a coarse paste. 

In a mixing bowl, add moong dal paste, chopped phodshi greens, chopped onions, chopped green chillies, chopped coriander leaves, cumin seeds, turmeric powder, red chilly powder, cumin coriander powder, salt and mix well.

Finally add rice flour and give a mix.

Heat oil in a frying pan.

Drop spoonful of the mixture using your fingers and deep-fry a few pakodas at a time on a medium flame till they turn golden brown in colour from all the sides.

Serve hot with green chutney or tomato ketchup.
WATCH RECIPE VIDEO:
Thank you for stopping by. If you like/ tried this recipe, leaving a comment below the post will enable more readers and cooking enthusiasts to discover these recipes. Also, if you are on Instagram, do share a picture of the dish and tag @vanitascorner to be featured in my stories.
Do follow me on Instagram, Facebook and Pinterest.
Happy Cooking!!