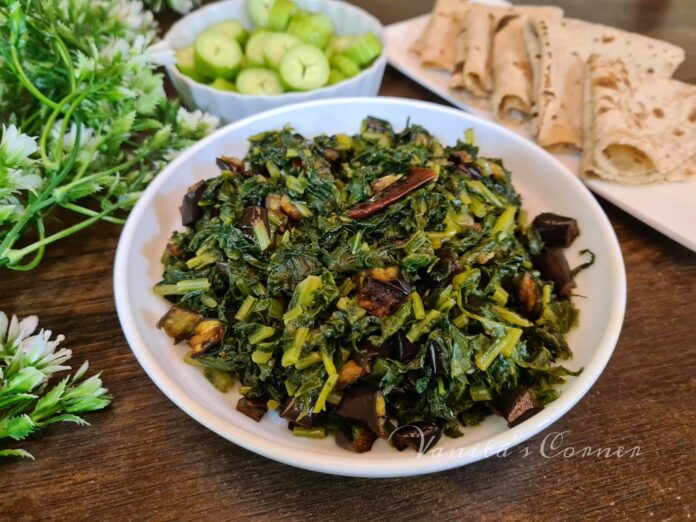 Radish Greens and Brinjal stir fry – a simple sabzi with minimum spices.
As it is rightly said, simplicity is the ultimate sophistication. It is simple food that actually satisfies the soul. There are times when we crave simple, soul satisfying food as opposed to exotic, fancy meals. This radish greens and brinjal stir fry is one such recipe. This recipe was shared by Sanjukta Majumdar in a facebook food group around a month ago. I liked the recipe so much that I have prepared this sabzi 3 times in last 30 days.
I have used homegrown radish greens here. Radish greens are sauteed in minimum oil and spices, to which fried brinjal cubes are added. Fried brinjal gives a nice crunch to the dish. Brinjal cubes can be air-fried, if one wants to avoid oil.  This sabzi with hot phulkas, accompanied with sweet mango pickle or amla murabba is comfort food for me.
Ingredients
2 bunches of radish greens / 5 cups of chopped radish greens (mooli ke patte)
3 long brinjals (baingan)
1 tbsp oil (tel)
 2 to 3 dry red chillies (sookhi laal mirch)
1 tsp mustard seeds (sarso)
1 tsp chopped garlic (lehsun)
½ tsp asafoetida (hing)
1 ½ tsp turmeric powder (haldi)
½ tsp red chilli powder (laal mirch)
salt to taste (namak)
Oil for frying brinjal (tel)
Method
Wash and chop radish greens. Keep aside.

Wash the brinjals and cut into tiny cubes.

Keep the brinjals immersed in water to avoid oxidization. 

Drain the water and add salt, ½ tsp turmeric powder and ½ tsp chilli powder to the brinjal cubes. Mix well.

Deep fry brinjal cubes and keep aside.

Now, heat 1 tbsp oil in a pan.

Add mustard seeds, chopped garlic, hing and red chillies.

Saute for few seconds.

Add chopped radish greens.

Add salt and 1 tsp turmeric powder.

Mix well and cook covered for 8 to 10 minutes. 

Now, add fried brinjal cubes and mix.

Cook covered for another 2 minutes.

Radish greens & brinjal sabzi is ready to be served.
WATCH RECIPE VIDEO: