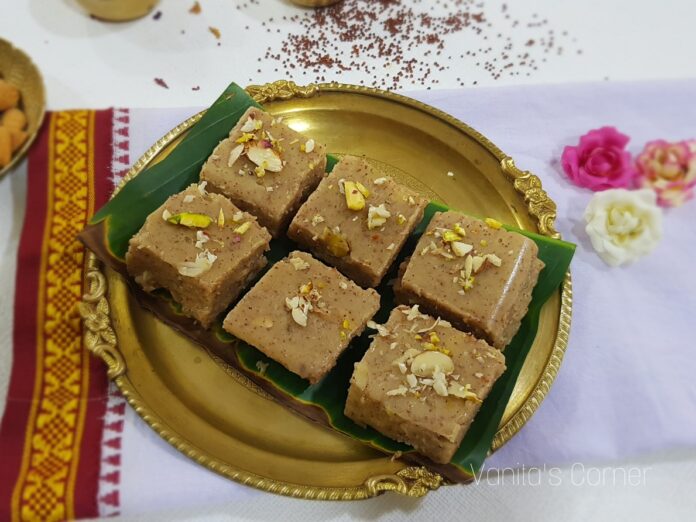 Ragi Manni – a traditional Mangalorean dessert made with finger millet (ragi/nachni), coconut and jaggery.
The humble ragi which was once a poor man's food, has found its way to the dining table of many and also on restaurant menus. Ragi, the tiny millets are  loaded with calcium and minerals. They are known to work wonders for maintaining skin health. There are many dishes that one can prepare using ragi. For eg. Ragi roti, ragi dosa, ragi cookies, ragi porridge etc. But one ragi recipe which is my personal favourite is the Ragi Manni. Ragi Manni, also known as ragi halbai, nachani duddali, nachni satva  is a jelly like dessert made with ragi, coconut and jaggery. Here goes the recipe:
Ingredients
1 cup finger millets (ragi/ nachni)
1 cup grated fresh coconut (nariyal)
1 ½ cups grated jaggery/ jaggery powder (gud)
1 tbsp clarified butter (ghee)
a pinch of salt (namak)
4 tbsp chopped nuts – almonds, cashews, pistachios (badam, kaju, pista)
1 tsp cardamom powder (elaichi powder)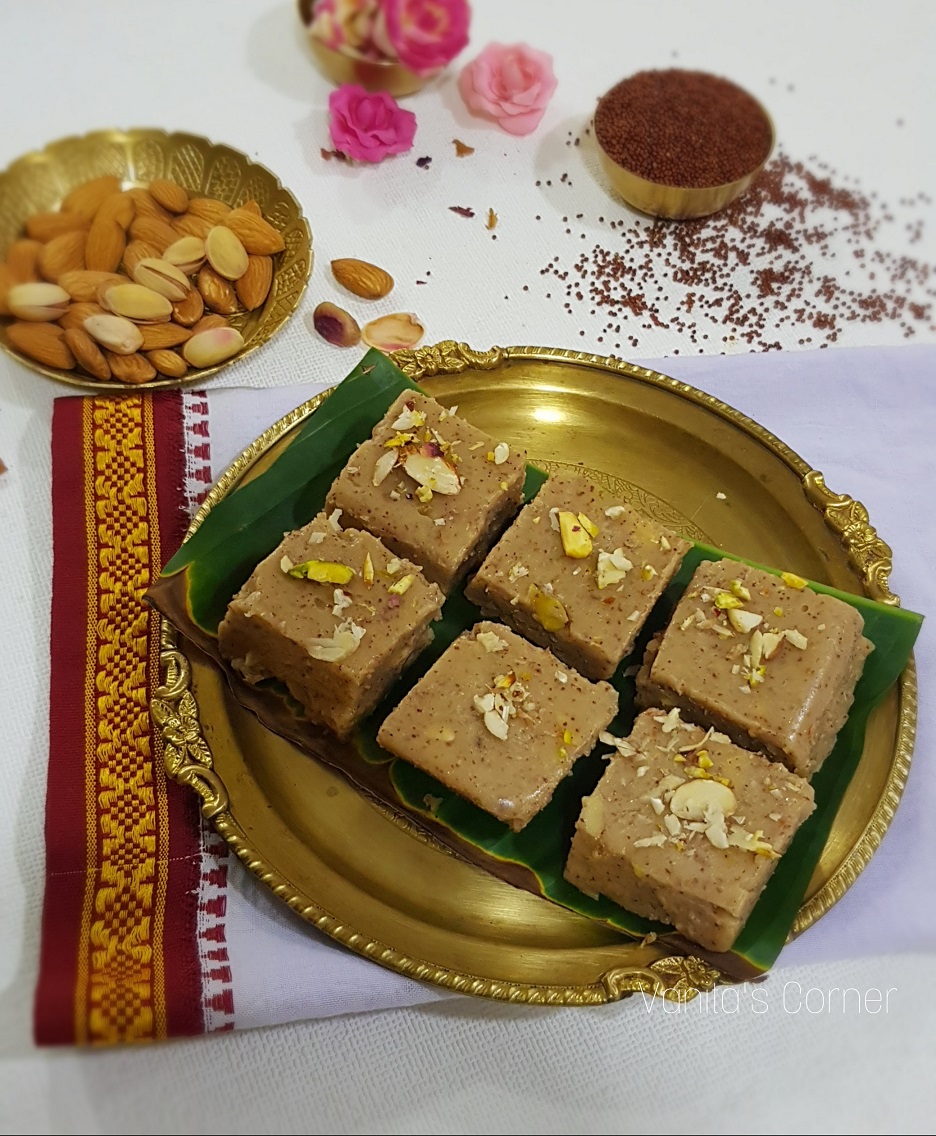 Method
Wash and soak ragi for 5 to 6 hours or overnight. 

Drain the water and transfer the soaked ragis to a mixer jar.

Add grated coconut and a cup of water.

Blend to a fine paste.

Strain the mixture by passing through a sieve and squeeze out the milk.   

Return the residue to the mixer and add another cup of water.

Blend again.

Pass the mixture through a strainer and squeeze out the milk.

Return the residue once again to the mixer and add half a cup of water and blend.

Follow the same process and collect the milk.  Keep this aside.

Next, heat a pan and add jaggery, ¼ cup of water and keep stirring till the jaggery melts.

Once the jaggery melts, add the ragi-coconut extract.

Cook on low flame, stirring continuously.

Add ghee, salt and keep stirring.  

The mixture will start thickening.

Now, add the chopped nuts and cardamom powder. 

Keep stirring till the mixture starts leaving the sides of the pan.  

Turn off the heat.

Transfer the manni to a greased tray/ container and flatten it, using a spatula.

 Allow it to cool completely. 

After it has cooled completely, loosen the manni from the edges using a knife  and unmould.

Cut into desired shapes.

Refrigerate and serve chilled.

Ragi manni tastes best when chilled.
WATCH RECIPE VIDEO: