I have earlier shared the recipe of ragi idlis which was made using ragi flour. Today, I am back with the recipe of sprouted ragi (finger millet) dosa.
Finger Millet/ Ragi/ Nachni being an excellent source of calcium is considered a superfood and   sprouting them – further increases their nutritional value.  And above all, these dosas are made with fermented batter. Needless to mention, fermented food contains beneficial probiotics and health boosting nutrients.  So, these dosas have 3 salient features : a) the use of nutritious ragi  b) sprouting of ragi c) fermentation of the batter.  Lets see how to make these nutritious and delicious dosas:
Ingredients:
2 cups of sprouted finger millets ( ragi/ nachni)
a cup of rice (chawal)
1 tbsp fenugreek seeds (methi daana )
a cup of split black gram (udad dal)
Salt as per taste (namak)
Clarified butter (ghee) for cooking the dosas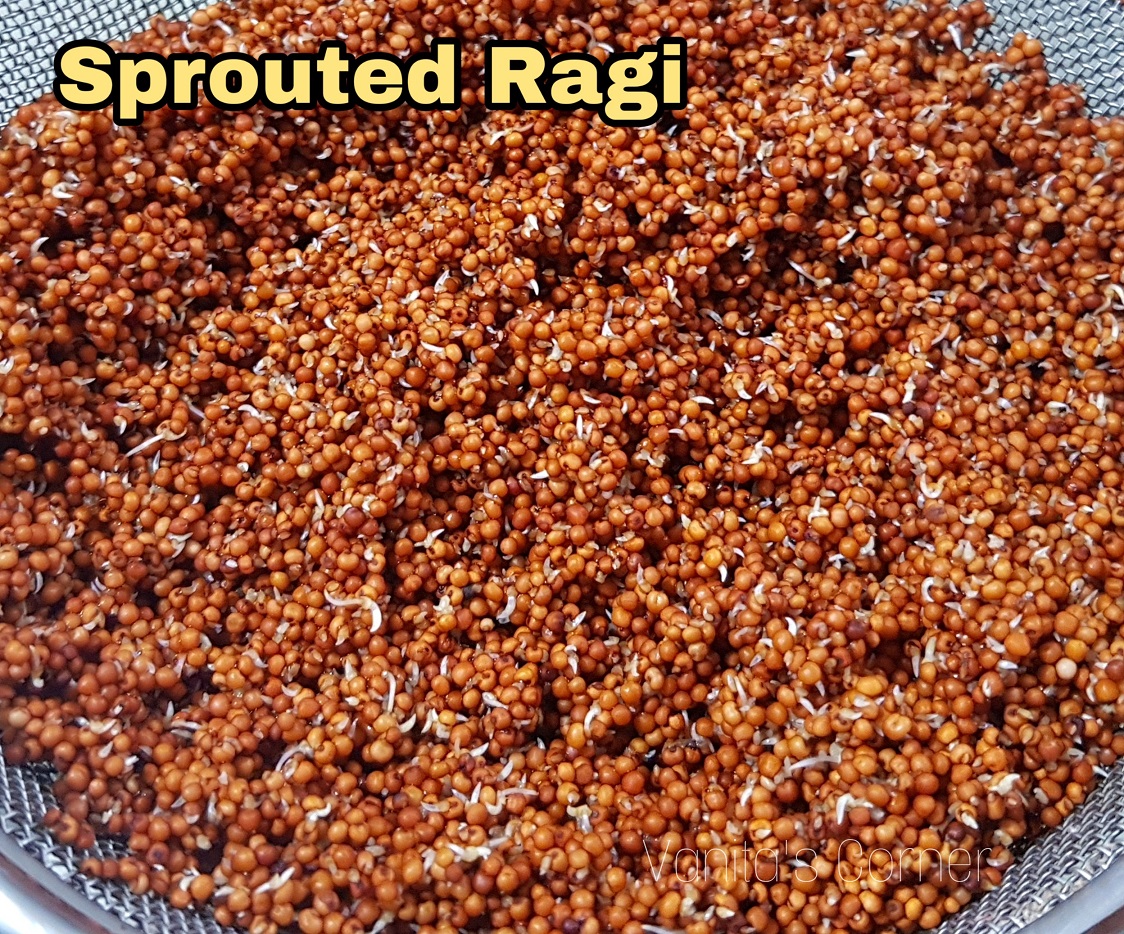 Method
Wash and soak rice alongwith methi seeds in water for 4 hours.

Wash and soak udad dal in water for 4 hours.

In a mixer jar, add sprouted ragi and little water.

Blend to a fine paste.

Transfer the ground ragi to a deep vessel.

Drain the water from udad dal and rice. 

Blend udad dal, rice alongwith methi seeds to a fine paste, using little water.

Add udad dal and rice paste to the ground ragi and mix well.

You can add a little water while mixing to get the desired consistency. 

The batter should not be too thick or too thin.

Add salt and mix.

Keep it aside for 7 to 8 hours for fermentation.

After 8 hours, the batter would be fermented.

Heat a pan. Pour a ladle of dosa batter and spread it in a circular motion to form a thin dosa.

Drizzle a tsp of oil or ghee  around the dosa and cook till the dosa turns brown in colour and crisp.

Remove from the pan and serve hot with coconut chutney and tomato chutney.
 WATCH RECIPE VIDEO: