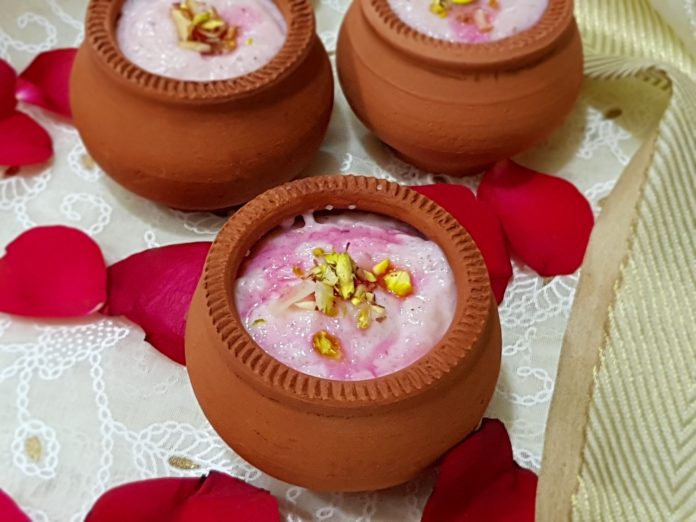 Phirni is a delicious, creamy dessert made with milk and ground rice. Rose Phirni is the regular phirni flavoured with rose syrup. Rose Phirni makes for a  royal dessert which not only tastes great but is also a visual delight. Here goes the recipe.
Ingredients:
 3 tbsp Rice (chaawal)  
10 Almonds (badam)                        
10 Cashew nuts (kaju)                              
3 tsp Rose syrup                 
3 cups full fat Milk (doodh)                                  
4 tbsp Sugar  (cheeni)                                              
1 tsp Cardamom powder (elaichi powder)                                  
Chopped almonds and pistachios for garnishing (chopped badam and pista)
Method
Soak the rice in water for 30 minutes.

Soak the almonds and cashews in hot water and set it aside for 30 minutes.

Drain the water from rice and grind it to a coarse paste.

Drain the water from soaked nuts and grind to a smooth paste.

Heat a pan, add 3 cups of full fat milk and bring it to boil.

Allow the milk to boil in medium flame till it reduces to 3/4 of its quantity. 

Now, add the ground rice  to the milk and start stirring continuously to avoid the lumps.

Keep stirring the milk and boil  till it becomes a porridge consistency.

Add almond-cashew paste and mix. 

Stir in the sugar and mix.

Cook on a slow flame for another 2 to 3 minutes.

Add cardamom powder and mix everything well.

Allow the phirni to cool completely.

Once the phirni is cooled, add the rose syrup and mix well.

Transfer to earthen pots or any serving bowl.

Drizzle few drops of rose syrup and garnish with chopped almonds and pistachios.

Refrigerate and serve chilled.
WATCH RECIPE VIDEO