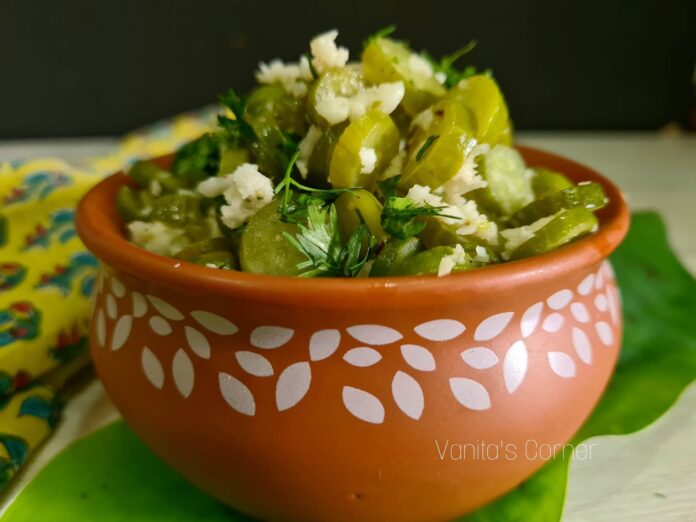 Satvik Ivy gourd sabzi is a sabzi prepared without oil, onion, garlic or any spices except green chillies.
Sattva means pure and satvik food means pure food, prepared without processed ingredients, without preservatives and it is very light on spices.  Of late, I have been reading a lot about Ayurveda, Satvik diet and about leading a natural lifestyle. Satvik diet is known to have calming, positive impact on mind and body. More and more people are turning vegetarian and vegan for their own  benefit and also for the environment.
So, keeping in mind the benefits of satvik food, I am slowly trying to change my lifestyle by including satvik food in my diet. Also, I have been getting requests to post satvik recipes on my blog. So, I will be posting satvik recipes for the benefit of those who want to follow satvik diet.
Satvik Ivy gourd sabzi is made without oil, without onion, garlic or any spices. I have only used green chillies, curry leaves, rock salt and grated coconut to make this sabzi and it has turned very tasty. If you love ivy gourds, you will definitely love this version of ivy gourd sabzi. Ivy gourds are cooked on  low flame in a clay pot by adding little water. Once they are almost cooked (not fully cooked), the heat is turned off, grated coconut and rock salt is added and the pan is kept covered for 10 minutes allowing it to cook in its own steam.  Due to grated coconut, the sabzi turns out very tasty and you will not even realize that this sabzi is cooked without oil. So, here is how to make Satvik Ivy gourd sabzi. Do try this recipe and share your feedback below this post, in the comments section.
Ingredients
¼ kg ivy gourds (tendli/tindora)
2 green chillies (hari mirch), roughly chopped
1 sprig curry leaves (kadi patta)
½ cup grated fresh coconut (nariyal)
rock salt as per taste (sendha namak)
chopped coriander leaves for garnishing (hara dhaniya)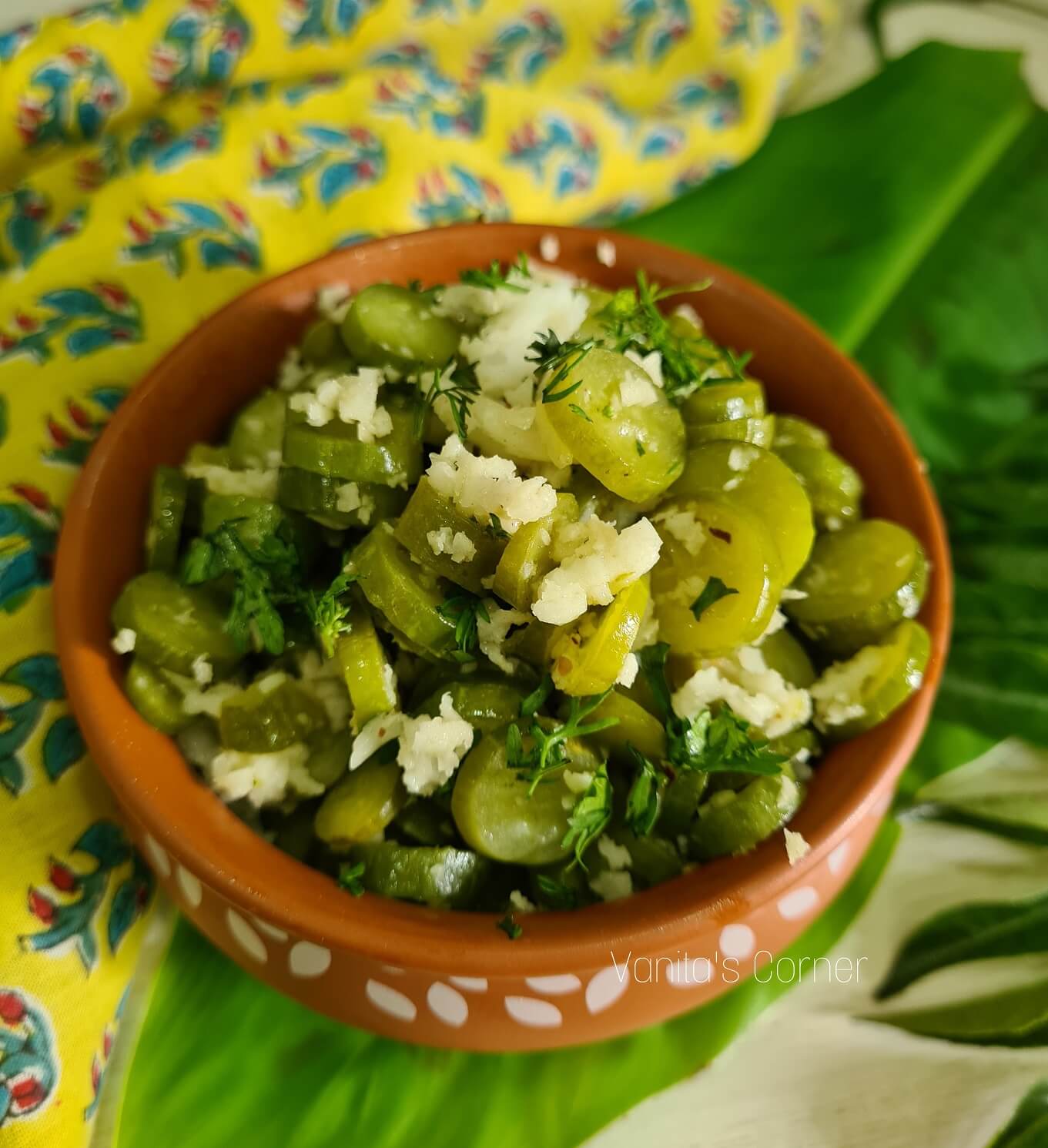 Method
Wash the ivy gourds and cut into roundels.

Heat a clay pot.

Transfer chopped ivy gourds into the clay pot.

Add curry leaves, green chillies and half a cup of water. Close the lid.

Cook on low flame for 10 to 15 minutes.

You can keep checking in between to see if the water has dried up and if you need to add water.

Once the ivy gourds are almost cooked (not completely cooked), turn off the heat.

Add rock salt and grated coconut into it. Mix well.

Close the lid and keep covered for 10 minutes allowing it to cook in its own steam.

Garnish with chopped coriander leaves and serve hot with chapatis.
WATCH RECIPE VIDEO :
Thank you for stopping by. If you like/ tried this recipe, leaving a comment below the post will enable more readers and cooking enthusiasts to discover these recipes. Also, if you are on Instagram, do share a picture of the dish and tag @vanitascorner to be featured in my stories.
Do follow me on Instagram, Facebook and Pinterest.
Happy Cooking!!