Beetroot Carrot Salad – a delicious, vegan salad made using beetroots and carrots with the crunchiness of peanuts.
Salads have the reputation of being boring. But in reality,  salads can be as delicious and satisfying as any other meal. Lately I have been following the satvik diet as recommended by "Satvik Movement". They recommend having grain meal only once a day. So inevitably, a healthy salad or soup is part of my  daily diet.  Of late, I have been experimenting with quite a  few salad /soup recipes. This beetroot carrot salad is a result of one such experiment.  This salad with beetroot, carrot, peanuts and coconut makes for a wholesome and satisfying meal.
This beetroot carrot salad is quite a simple recipe that you can put together as a side dish for any Asian meal.   It can also double up as a meal by itself as it's quite filling. The salad has a delicious crunch from beetroot and carrots. The roasted peanut powder gives a nutty flavour to the salad. I have used raw beetroot here. For those, who do not like to eat raw beetroot can boil/steam the beetroot and then grate it.
So, to sum it up, this beetroot carrot salad is quick and simple to make. It is made with minimum ingredients.  It is packed with crunchy vegetables, has a nutty flavour and is wholesome and healthy.
Step by Step Method
Rinse and peel the beetroots and carrots. Grate the carrots and beetroots.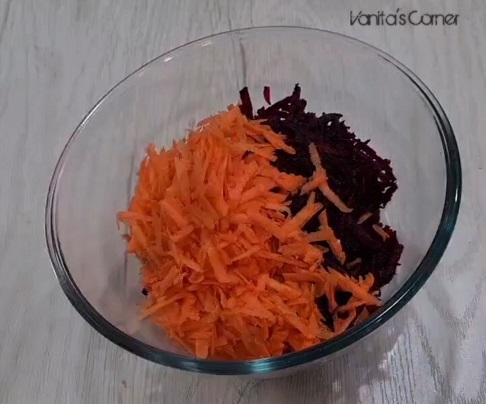 Into a mixing bowl, add grated beetroots, grated carrots along with roasted peanut powder, grated coconut and chopped coriander leaves. Add lemon juice and rock salt.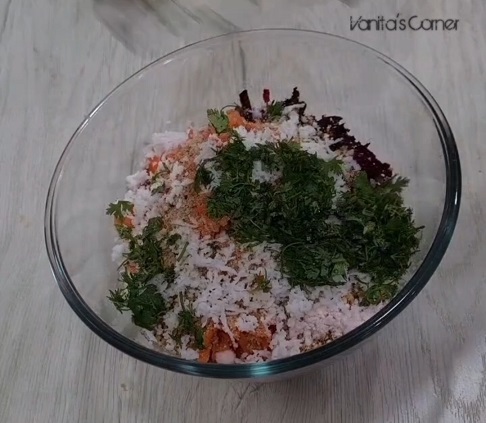 Give a good mix.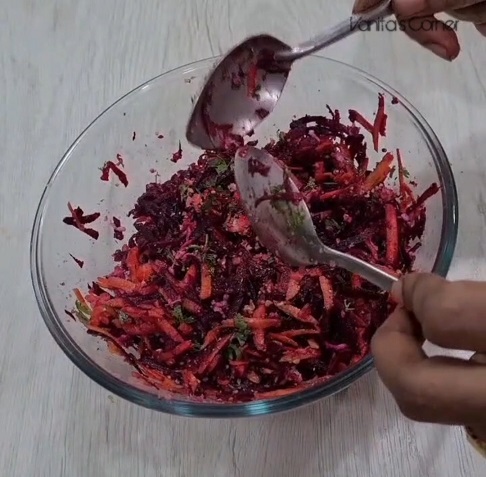 Serve immediately garnished with grated coconut and chopped coriander.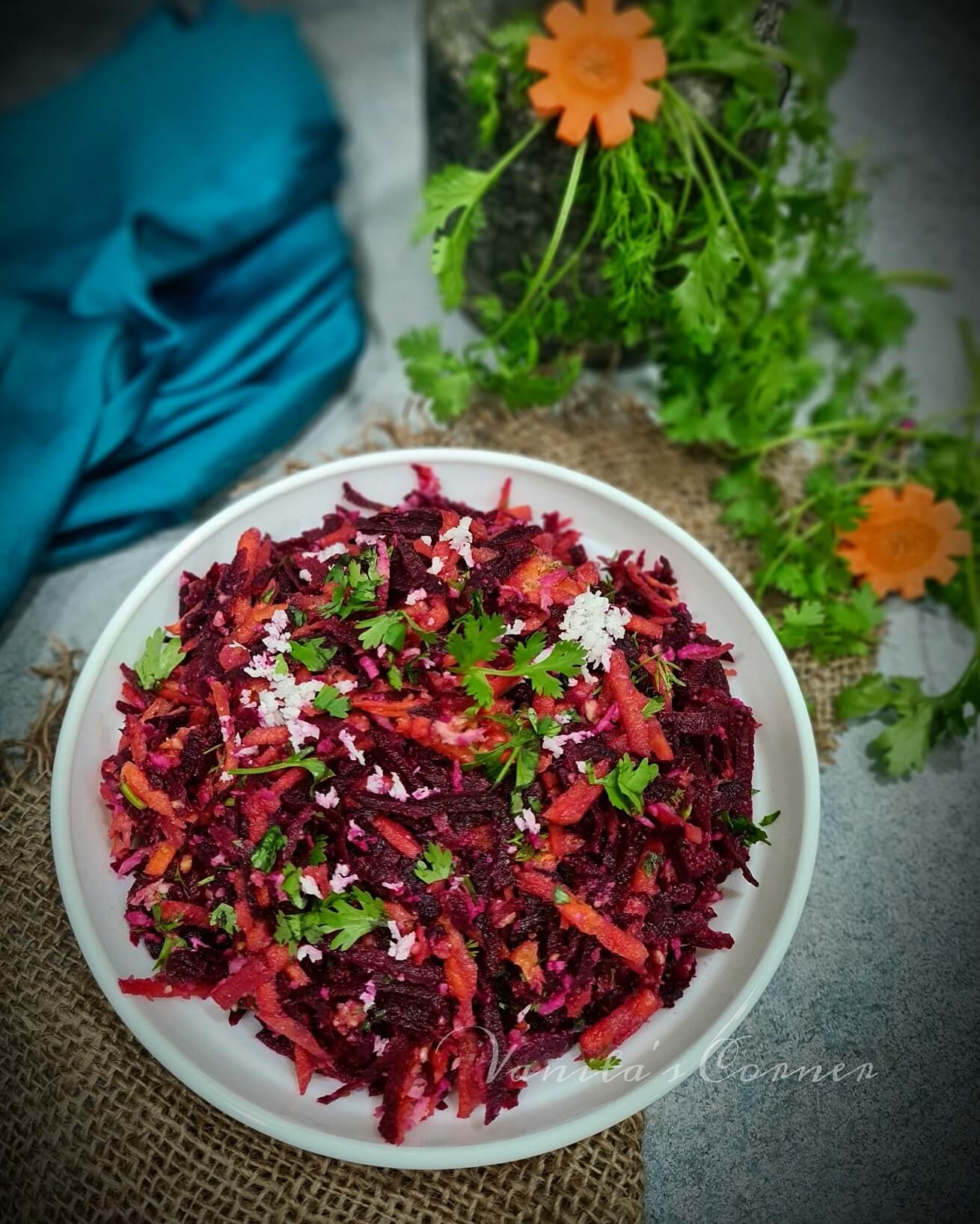 Recipe:
Ingredients
2 small sized beetroot / 2 cups grated beetroots
2 carrots / 1 ½ cups grated carrots
1/3 cup roasted peanut powder (coarse powder)
¼ cup fresh coconut, grated
¼ cup fresh coriander leaves, chopped
2 tbsp lemon juice
rock salt as per taste
Grated coconut and chopped coriander leaves for garnishing
Method
In a mixing bowl, add grated beetroots, grated carrots, peanut powder, grated coconut, chopped coriander leaves, chopped green chilly, lemon juice and rock salt. Give a good mix. Serve immediately.
Notes:
For making roasted peanut powder, heat a pan and add raw peanuts. Saute on low flame till they change colour and turn aromatic. Allow them to cool. Deskin the peanuts. Transfer the peanuts to a mixer jar. Run the mixer on pulse mode just for a second or two and make coarse powder.
WATCH RECIPE VIDEO:
Other Beetroot recipes : Beetroot Dip, Beetroot Raita , Beetroot Rasam, Beetroot Akki Roti
Thank you for stopping by. If you like/ tried this recipe, leaving a comment below the post will enable more readers and cooking enthusiasts to discover these recipes. Also, if you are on Instagram, do share a picture of the dish and tag @vanitascorner to be featured in my stories.
Do follow me on Instagram, Facebook and Pinterest.
Happy Cooking!!