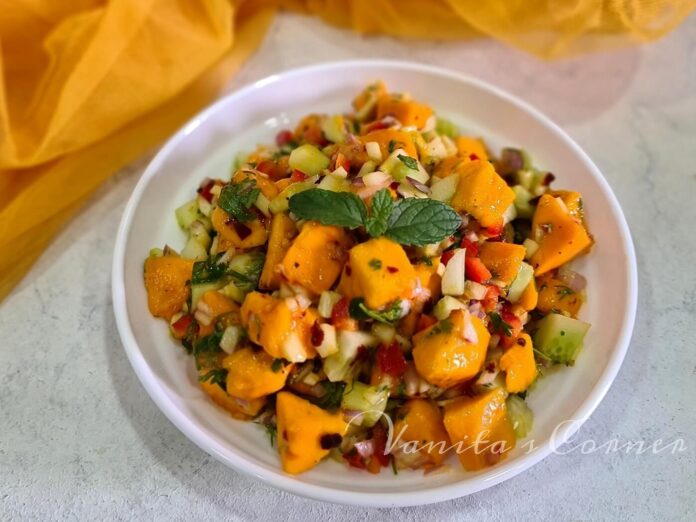 Mango salad – a refreshing summer salad made with ripe and raw mangoes with a spicy, sweet and tangy dressing.
It's mango season and I like to make the most of the mangoes till they are available. So, it's no wonder, that I have been posting mango recipes, back to back… After the ambe dal, methamba, raw mango curry, ambe upkari, today I am here with a refreshing salad. This vibrant looking mango salad is full of flavours and is a huge hit with everyone at home.  I have used ripe mango, raw mango, cucumber, red bell pepper, onions, coriander leaves and mint leaves to make this salad. For the dressing, I have used olive oil, lemon juice, honey, red chilli flakes and black pepper powder.
Mango salad makes for a great salad on its own and I can have bowls of this salad just like that. You can enjoy this salad as a side dish with your main meals or can even pair it with grilled paneer, chicken or fish. Do try this mango salad and I guarantee that you will be left wanting for more.  So, lets have a look at the recipe:
Ingredients
1 ¼  cup ripe mango cubes ( I have used alphonso mango) 
¾ cup cucumber cubes 
½ cup finely chopped, peeled raw mango 
¼ cup chopped onion 
¼ cup chopped red bell pepper/capsicum 
2 tbsp chopped coriander leaves 
1 tbsp chopped mint leaves 
salt to taste 
For salad dressing
1 tbsp olive oil
1 tbsp lemon juice 
1 tsp honey 
1 tsp red chilli flakes
1/8  tsp black pepper powder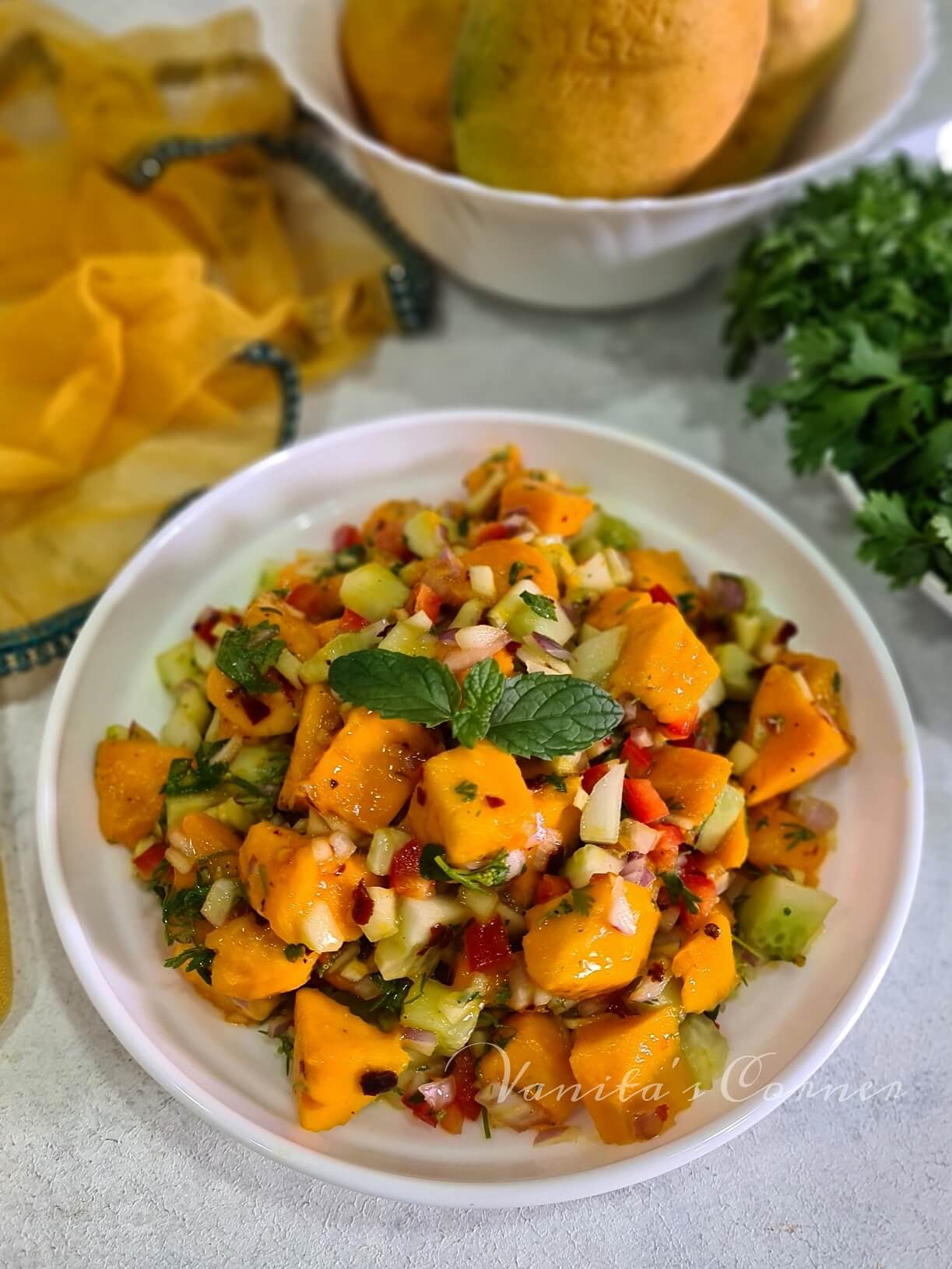 Method
Firstly, to make the salad dressing, in a bowl, add olive oil, lemon juice, honey, red chilli flakes and black pepper powder. Mix well.

Refrigerate the salad dressing  for 1 hour.  

In a mixing bowl, add ripe mango cubes, cucumber cubes, chopped raw mango, chopped onion, chopped red bell pepper, chopped coriander and chopped mint leaves. Add salt.

Pour the salad dressing and toss to combine.

Serve mango salad  immediately.
Notes:
After adding the dressing, serve the salad immediately or else it will get soggy. In case you want to make the salad ahead of time, then prepare the salad dressing and refrigerate. Also, keep the chopped ingredients refrigerated. At the time of serving, you can add salt to the chopped ingredients, pour in the dressing and toss to combine.

While this mango salad with the additions given tastes fantastic, you are free to add/replace ingredients of your choice such as lettuce or spinach for greens, pineapple, tomatoes, avocado for fruits. You can also adds nuts and seeds of your choice such as walnuts, pumpkin seeds, peanuts etc.

I have cut the mangoes and cucumbers in such a manner that the size of mango cubes are larger then the cucumber cubes so that the mango cubes are prominently seen since mango is the hero of the dish. Raw mango is finely chopped so is the onion and red bell pepper. 
WATCH RECIPE VIDEO:
Some other mango recipes on the bog are : Mango Bhapa Doi, Raw Mango Chaas, Mango Burfi, Raw Mango Sharbat, Raw Mangoes in brine, Mango Mastani, Kulfi stuffed mangoes, mango sheera, sweet mango pickle, oats mango parfait, mango ice-cream, raw mango rasam, aamras, mango kulfi, Andhra style raw mango chutney, mango basundi, amrakhand, mango lassi, mango milkshake, mango phirni, instant mango pickle, raw mango chutney.