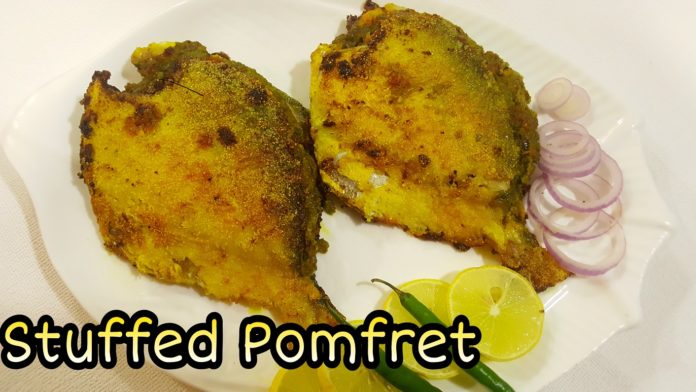 Fish lovers out there will agree that Pomfret is one of the tastiest fishes.  Any pomfret preparation, whether a simple curry, fried pomfret or fish cutlets, makes for a delicious meal. Today I am sharing a recipe of stuffed pomfret. Pomfret is slit open and filled with a spicy green masala and then shallow fried. The cutting of the fish from one side and creation of a pocket has to be done delicately. I usually get it done from the fishmonger.
Ingredients
2 medium sized Pomfrets
1 1/2 tsp turmeric powder
1 tbsp ginger garlic paste
2 tsp lemon juice
1 tbsp oil
2 onions (chopped)
2 small tomatoes (chopped)
1 tbsp cumin coriander powder
1 tsp garam masala
3 tbsp rava (semolina)
3 tbsp rice flour
Oil for shallow frying
Salt as per taste
For the stuffing
½ cup scraped fresh coconut
½ cup fresh coriander
4 green chillies
5 to 6 cloves of garlic
1 ½ inches of ginger
Method
Clean the fish and make a deep slit on one side of the fish resembling a pocket.

Marinate the fish by applying 1 tsp turmeric powder, ginger-garlic paste, lemon juice and salt evenly on both sides (external side and the pocket) of the fish.

Keep aside for 30 minutes.

In the meantime, prepare the stuffing.

For the stuffing, blend fresh coriander, scraped coconut, green chillies, garlic and ginger to a fine paste and keep aside.

Heat  1 tbsp oil in a pan.

Add the chopped onions.

Saute and cook till they turn brown and soft.

Add the chopped tomatoes and cook till they turn soft.

Add ½ tsp turmeric powder, cumin-coriander powder, garam masala, salt and mix well.

Now, add the ground green masala paste and cook on a slow flame till the moisture in the masala dries up.

Stuff this masala in the slit section of the fish.

In a plate, mix the rava and rice flour.

Coat each fish with the rava-rice flour mixture.  

Shallow fry the fishes.

Serve Stuffed Pomfret alongwith onion slices and lemon wedges.
WATCH RECIPE VIDEO
If you love pomfret, then do have a look at the recipe of Pomfret Curry.