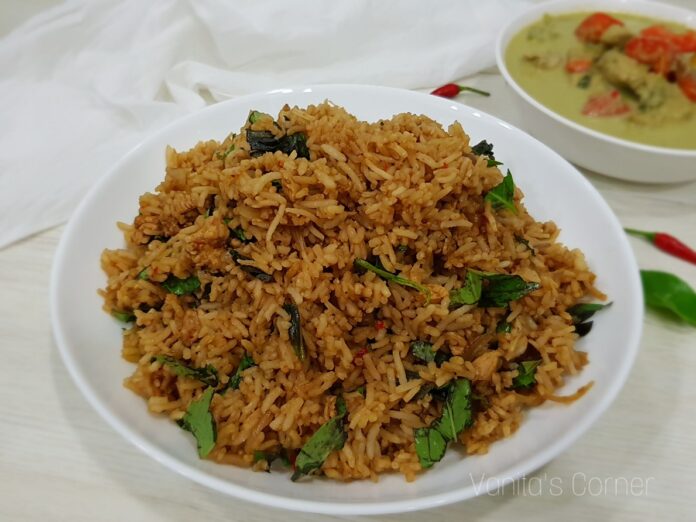 Thai Chicken Fried Rice is an easy yet tasty rice preparation with the flavours of three different sauces and basil leaves. Rice is a quintessential part of every household and there are umpteen number of dishes made with rice. One such interesting rice dish is  Thai chicken fried rice which is sure to please your taste buds. Succulent chicken pieces cooked with a host of sauces and tossed with rice makes for an amazing dish. If you have leftover cooked rice, then it is all the more easy to rustle up fried rice. Though you don't need a side dish for this, it tastes great with Thai Chicken green curry. Let us take a look at the recipe:
Ingredients
200 gram boneless chicken
1 tsp ginger garlic paste
12 cloves of garlic
8 to 10 bird's eye chillies / thai chillies
1 tbsp oyster sauce
1 tbsp fish sauce
2 tbsp soya sauce + 1 tsp soya sauce
1 tbsp oil
1 onion, thinly sliced
2 ½ cups cooked rice
¾ cup roughly chopped thai basil leaves
Salt as per taste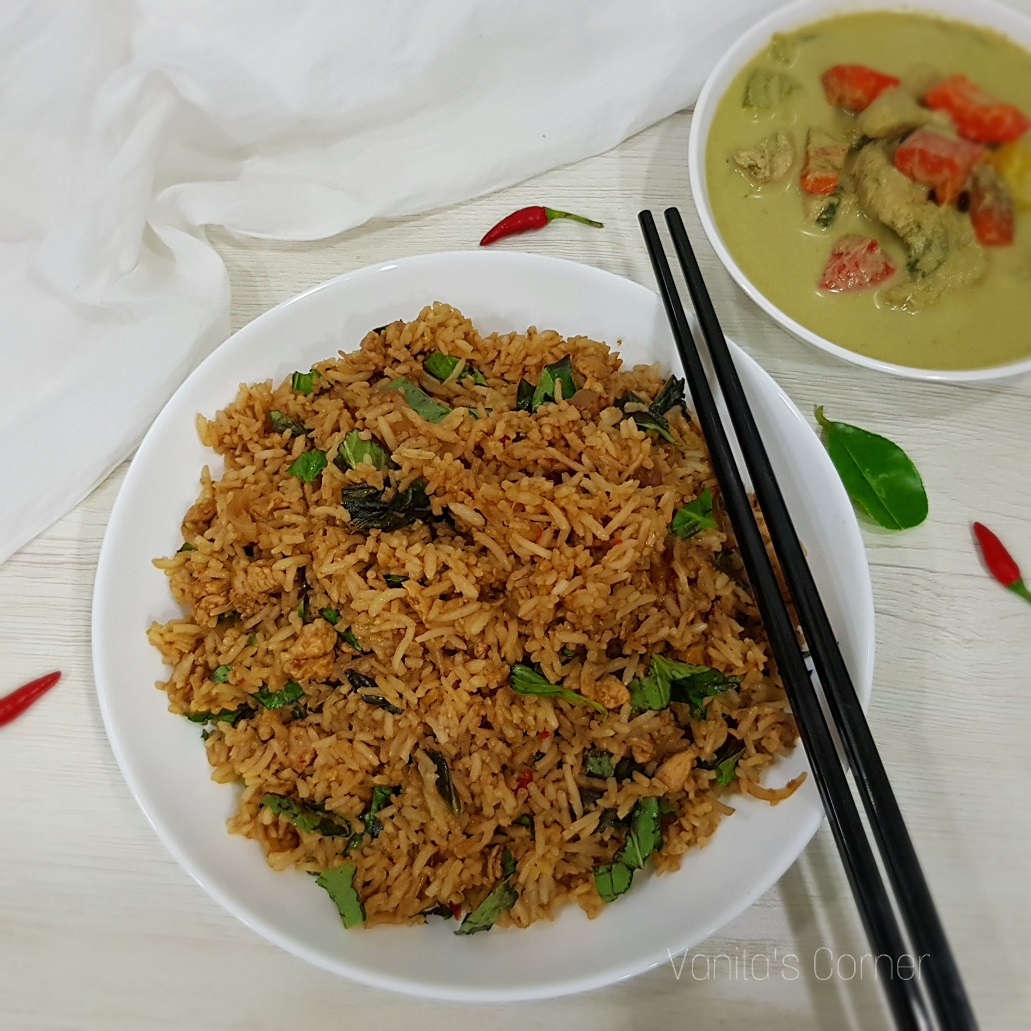 Method
Wash the chicken and cut into small pieces.

To the chicken pieces, add ginger garlic paste, 1 tsp soya sauce, salt and mix well.  Keep this aside.  

Blend garlic and thai chillies to a coarse paste and keep aside.   

In a small bowl, add 1 tbsp oyster sauce, 1 tbsp fish sauce, 2 tbsp soya sauce and mix well. Keep this aside.

Heat 1 tbsp oil in a pan.

Add chilli garlic paste and saute for few seconds on high flame.

Add onion slices and saute for few seconds. 

Add marinated chicken. Saute for 3 to 5 minutes or till the chicken is cooked. 

Next, add the sauce mixture and mix well. 

Add cooked rice and mix well.

Add salt if required.

Add chopped basil leaves, mix and cook for 2 to 3 minutes.

Serve hot.
WATCH RECIPE VIDEO: