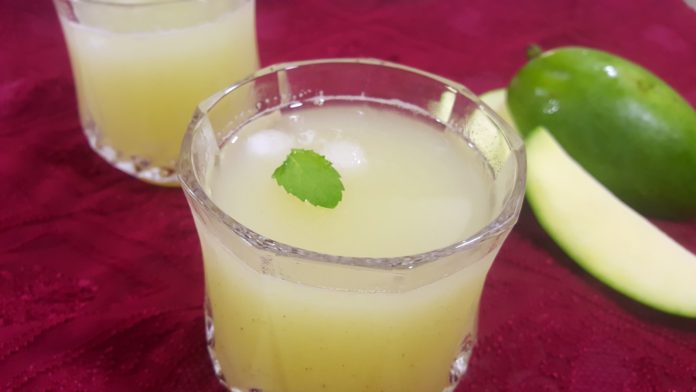 Aam Panna is a refreshing, sweet and tangy summer drink known for its heat resistant properties. It is prepared with raw mangoes.  It serves as a powerful antioxidant due to the 'Vitamin C' content in raw mangoes. It is very easy to make. So, instead of reaching out to aerated drinks, go for this healthy and energizing beverage to beat the summer heat.
Ingredients
1 large raw mango or 1 cup cubed raw mango
½ cup water
½ cup sugar
½ tsp cardamom powder (elaichi powder)
2 to 3 ice cubes
Few mint leaves for garnishing
Method
Peel the raw mango and cut into small cubes.

In a vessel/pan, add the raw mango pieces, half a cup of water and cook for about 8 to 10 minutes on medium flame.

Add the sugar and cook for another 3 to 4  minutes till the sugar is dissolved and the mango pieces are cooked.

Remove from fire and allow it to cool.

Add cardamom powder and blend to make a puree.

This is the Aam Panna concentrate, which can be stored in the refrigerator.

When you wish to serve, add 3 tbsp of this concentrate in a glass and top it with water and ice cubes.

Garnish with mint leaves and serve.
Variation:           
1. You can add roasted cumin powder and rock salt to this.
2. A pinch of saffron (kesar) can be added to Aam Panna to enhance its flavour.
WATCH RECIPE VIDEO
For more recipes of healthy beverages, check the following links:
Tender Coconut Rose Drink
Papaya Smoothie
Morning Boost