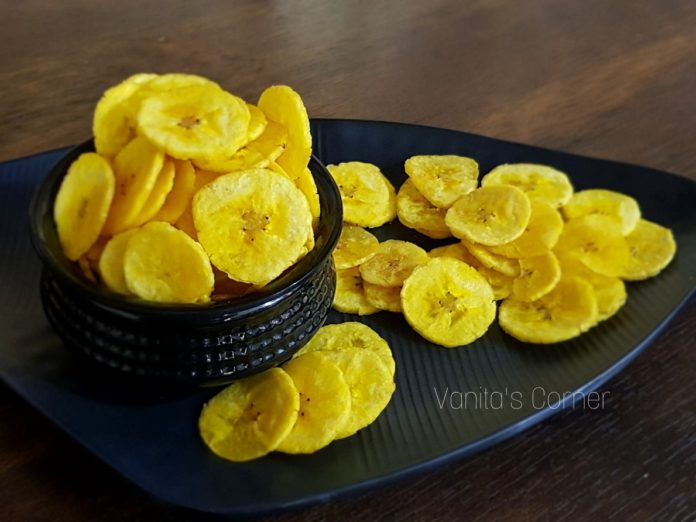 I am a member of few food groups on Facebook. Some time back, in one of the food groups. Ms. Gayathri Pai of www.gayathrifoodbytes.blogspot.com had shared the recipe of banana chips, which caught my attention. The recipe seemed quite simple and so I decided to give it a try. I followed the recipe exactly as explained by Ms. Gayathri Pai and the chips turned out great. I had never imagined myself making banana chips at home and so was overjoyed with the outcome. Even my folks at home were quite pleased with me. So, now…. no more buying of readymade banana chips.  
Making of banana chips is quite easy and does not call for many ingredients. All you need is raw kerala bananas, salt and oil for frying the chips. Here goes the recipe:
Ingredients
2 raw Kerala bananas
Salt
Oil for frying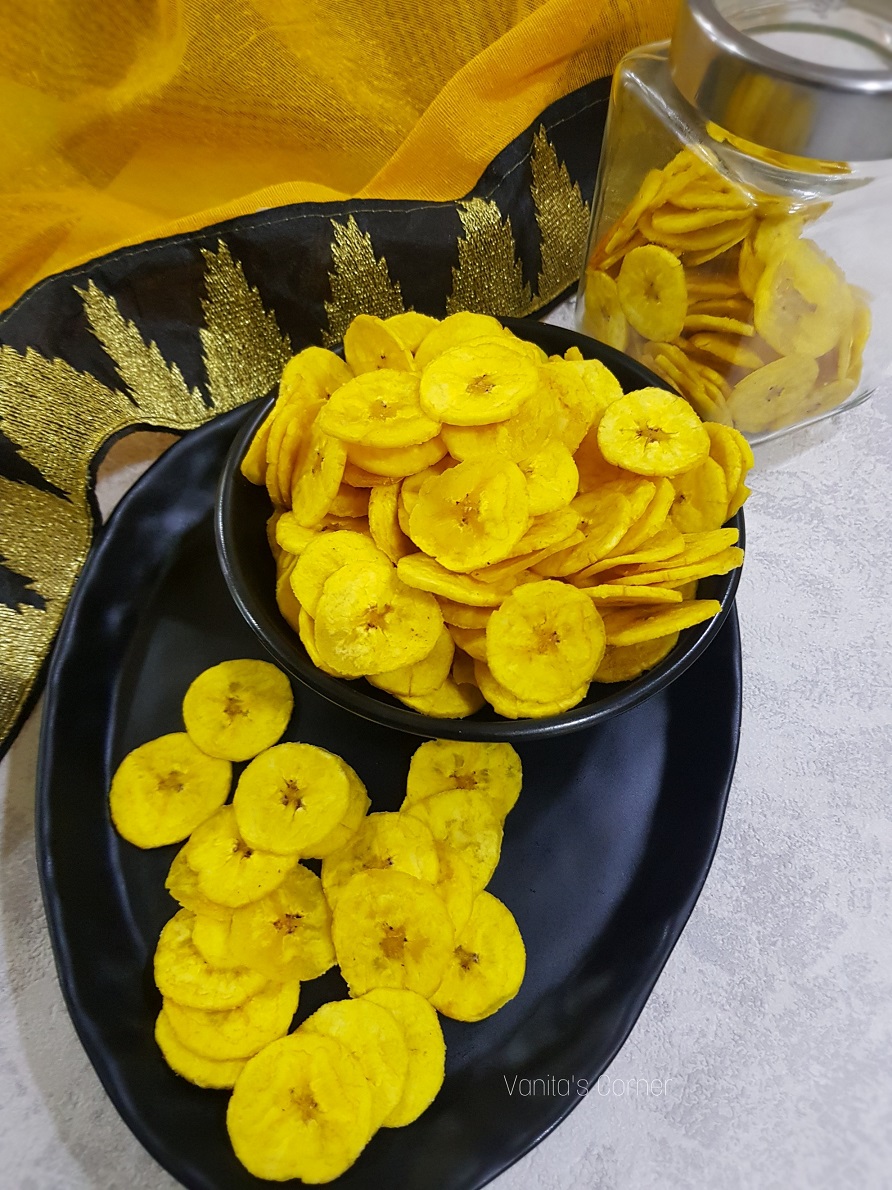 Method
Firstly, in a bowl, take ½ cup water, add 1 tsp salt to it.

Dissolve the salt in the water and keep the salt solution aside.

Heat sufficient oil in a pan for frying the chips.

In the meantime, using a knife, make incisions on the banana skin, lengthwise, at equal distance,  all around the banana (see the video below for proper understanding).

This has to be done skillfully, taking care not to pierce the banana within. 

Trim both the edges of the banana and remove the peel.

Making of incisions on the banana skin helps to remove the peel easily.

Using a slicer, slice the bananas directly into the hot oil.  

Allow the banana chips to cook for few seconds and then add 1 tsp of salt water solution.

As soon as the salt water is added to the oil, it will start spluttering. 

Let the chips cook for few more seconds.

Now, with the help of a slotted spoon, keep stirring the chips.

Cook the chips on a medium flame until the chips turn crispy and the spluttering sound stops completely. When the spluttering stops, its an indication that the chips are fried properly.

Remove the banana chips from the oil and drain on an absorbent paper.

Serve hot, or store in an air tight container after it cools completely.
Notes:
Since the bananas are directly sliced into hot oil, salt solution is added to the oil after the chips are dropped into the oil.

Utmost care has to be taken while slicing the bananas into the oil. Hold the slicer firmly in one hand.  Do not hold the slicer too high from the pan to avoid the oil from splashing.

While slicing the bananas, gas has to be on the lowest flame.

I have used rice bran oil to fry the chips. You can use coconut oil to fry the chips to get the authentic flavour of Kerala banana chips.
WATCH RECIPE VIDEO: