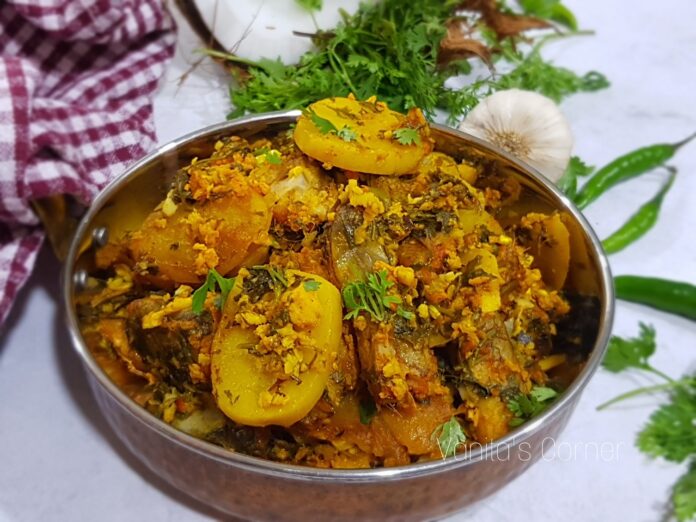 Bombil batata – a unique dish prepared by the Maharashtrian CKP community.
Fresh Bombay ducks and potatoes are used to make this delicious dish. Fresh Bombay ducks are generally fried or used to make curry. But this is a dry dish. The preparation is very simple. There is no grinding of masalas involved. All you need is some fresh grated coconut, coriander leaves, chillies, garlic and some spices. But the end result is absolutely delicious. Here goes the recipe for Bombil Batata bhaji.
Ingredients
12 fresh Bombay ducks (bombil)
4 to 5 potatoes (aloo)
1 cup fresh grated coconut (nariyal)
2 cups fresh coriander, chopped (hara dhaniya)
7 to 8 cloves of garlic, chopped (lehsun)
4 to 5 green chillies, chopped (hari mirch)
1 ½ tsp turmeric powder (haldi)
1 ½ tsp red chilly powder (laal mirch powder)
1 tbsp lemon juice (nimbu ka ras)
5 to 6 tbsp oil (tel)
salt as per taste (namak)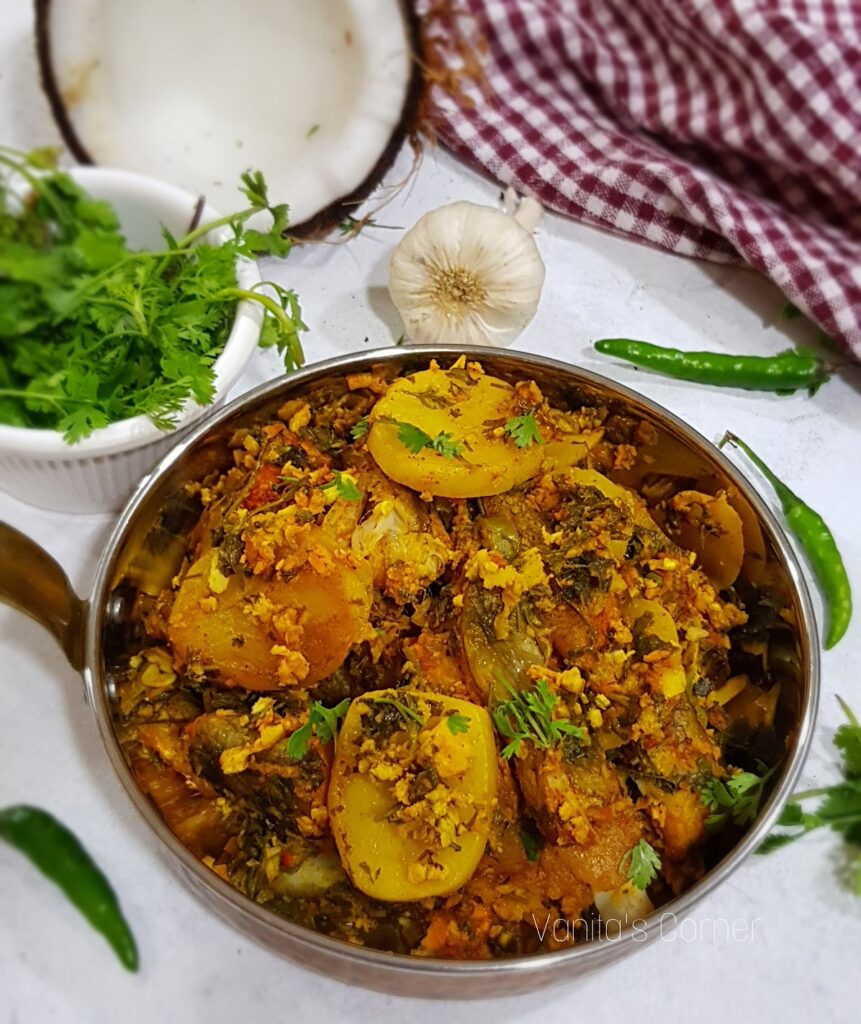 Method
Wash and clean the bombils.

Cut into 3 inches pieces.

Add 1 tsp turmeric powder, 1 tsp red chilly powder and salt to the bombil pieces.

Coat well with the masalas and keep aside.

Wash and peel the potatoes. Make thin round slices.

Add remaining turmeric powder, red chilly powder and salt as per taste.

Mix well and keep aside.

In a mixing bowl, add grated coconut, chopped green chillies, chopped garlic, chopped coriander leaves and lemon juice. Give a good mix.

Add one-fourth quantity of this coriander coconut mixture to the marinated potatoes and mix well.

Add half the quantity of the coriander coconut mixture to the marinated bombil and mix well.

Next, heat a broad pan. Add oil.

Arrange the potato slices at the bottom.

Cover the pan and cook for 5 minutes on low flame.

After 5 minutes, uncover the pan, turn the potato slices on the other side and cook for 1 to 2 minutes.

Then, arrange the bombil pieces on top of the potatoes.

Sprinkle the remaining coconut coriander mixture over the bombil pieces.

Add ¼ cup of water.

Cover the pan and cook on low flame for 15 to 20 minutes without stirring.

Serve bombil batata with chapatis or rice.
WATCH RECIPE VIDEO:
Thank you for stopping by. If you like/ tried this recipe, leaving a comment below the post will enable more readers and cooking enthusiasts to discover these recipes. Also, if you are on Instagram, do share a picture of the dish and tag @vanitascorner to be featured in my stories.
Do follow me on Instagram, Facebook and Pinterest.
Subscribe to my youtube channel for easy video recipes.
Happy Cooking!!