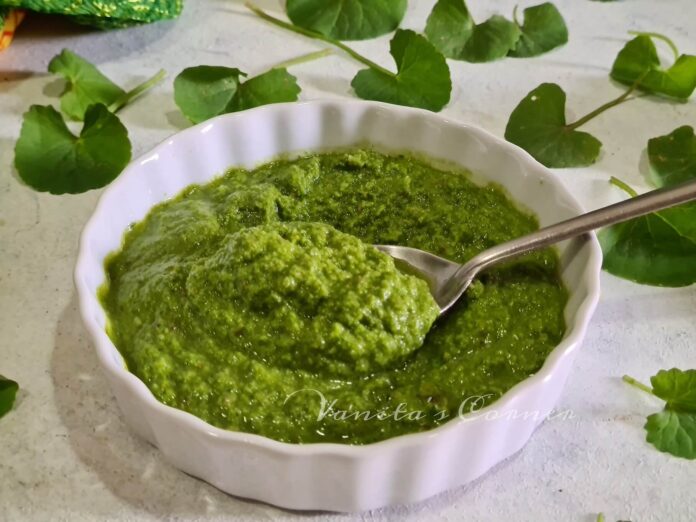 Brahmi Chutney – a healthy chutney made using brahmi leaves.
Brahmi/Indian Pennywort/ Centella Asiatic is a creeping succulent herb that grows throughout the year. The plant contains numerous fibrous roots at its node. The stems of the plant are slender and have a long stalk with a single, pretty looking leaf at the top. Brahmi is known as Thimare in Tulu, Ondelaga in Kannada and Ekpani in Konkani.
Brahmi has been extensively used in Ayurveda since ancient times. The plant including its roots are used for medicinal purpose. It is known for improving the function of brain and as memory enhancer. It is used to make oil which is said to reduce hair fall and improve hair health. Brahmi is known for its cooling properties and helps to keep the mind calm and anxiety-free. These nutrients rich leaves can be used to make chutney, raita, juice, soup, rasam and salads.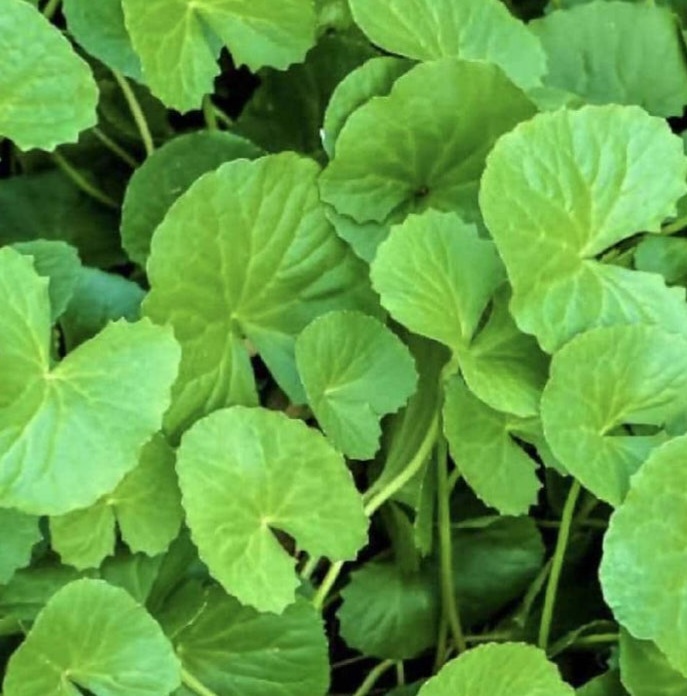 I have fond childhood memories of having Brahmi Chutney whenever we visited Mangalore. In Mangalore, every house would have brahmi plant growing in their backyard. My cousin would collect brahmi leaves and make a quick chutney using her stone grinder. She would then explain how beneficial the chutney is for brain and hair health. Brahmi Chutney made with simple ingredients turns out very tasty. This chutney can be served with your meals as a side dish or with idlis, dosas etc. Some other healthy chutney recipes on this blog are horsegram chutney, flax seeds chutney, Black sesame seeds chutney and pumpkin peel chutney.
Let us now take a look at the recipe for Brahmi chutney:
Step-wise recipe with pictures:
Wash the brahmi leaves
Transfer washed leaves to a mixer jar.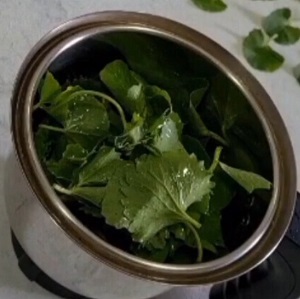 Add fresh coconut, green chillies, garlic, tamarind and sald.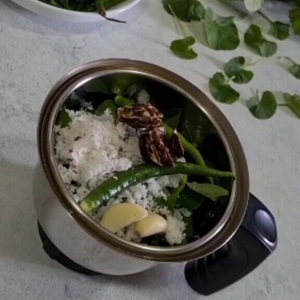 Add around 2 tbsp of water and blend to a smooth paste.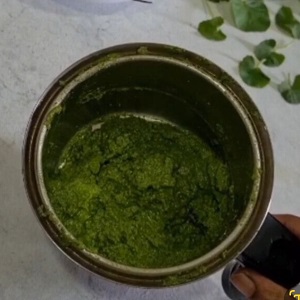 Serve Brahmi Chutney as a side-dish with your meals or with idli/dosa.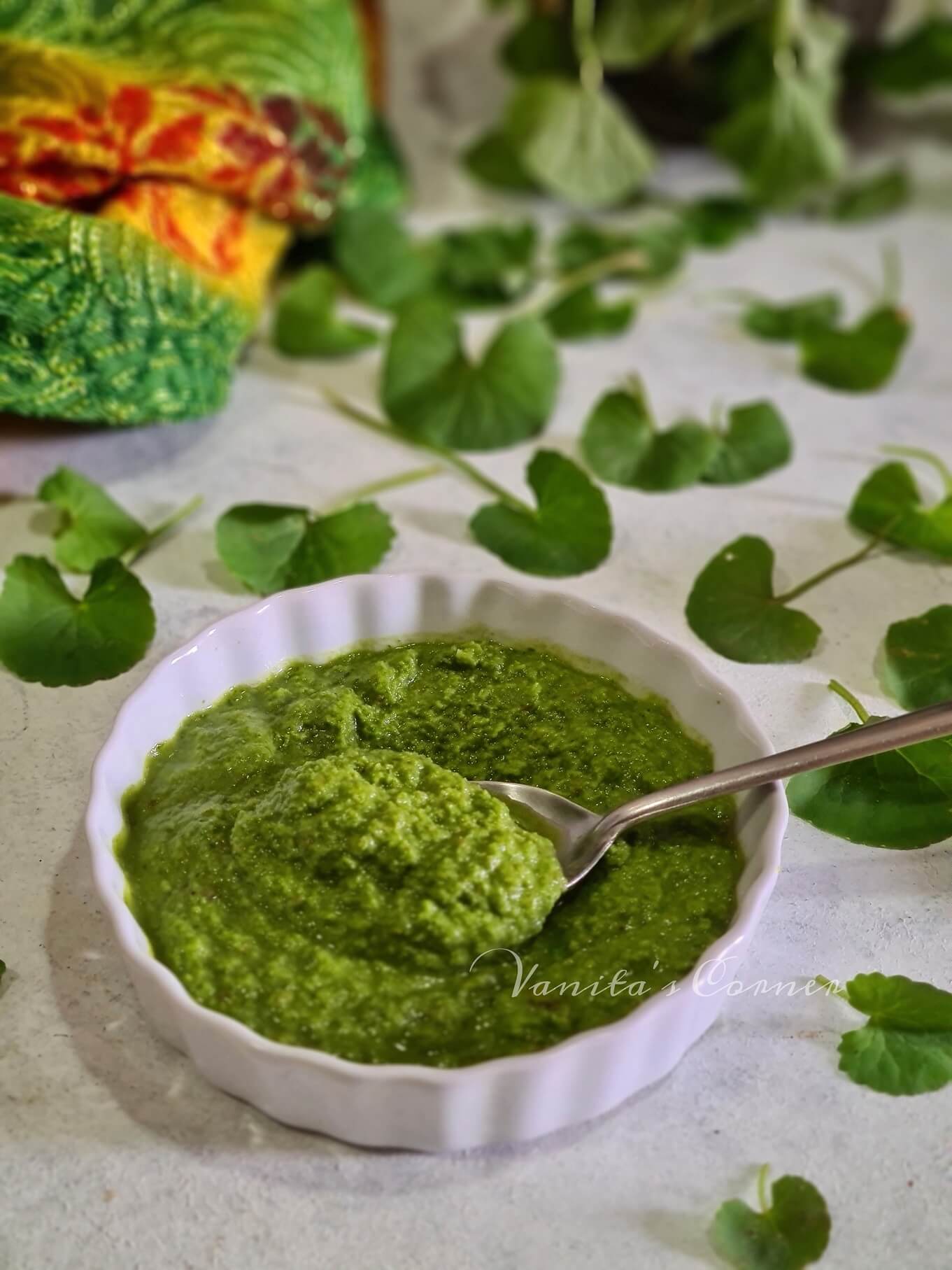 Recipe :
Brahmi Chutney
a healthy chutney made with brahmi leaves
Ingredients
2

cups

brahmi leaves

¼

cup

fresh coconut, grated

2

green chillies

2

cloves

garlic

a marble sized ball of tamarind

salt to taste
Instructions
You can add the stems alongwith leaves for making the chutney.

 Transfer the washed leaves to a mixer jar.

Add coconut, green chilies, garlic, tamarind and salt.

Add water as required and blend to a smooth paste.

Serve with your meals or with idlis/dosas
Video
Notes
If you wish, you can add a tempering to the chutney. For the tempering, you need to heat 1 tbsp oil. Add ½ tsp udad dal, ½ tsp mustard seeds and few curry leaves. When the seeds start crackling, pour  the tempering into the chutney.
Brahmi plant can be easily grown in pots.  It grows well in partial sunlight/shade.  The plant can be easily procured from your local plant nursery. A brahmi plant growing in a kitchen garden would mean regular supply of brahmi leaves whenever one needs it. However, if you are not up for growing brahmi plant at home, the leaves are now available online too. So, do try to procure the leaves and make this healthy chutney.
Thank you for stopping by. If you like/ tried this recipe, leaving a comment below the post will enable more readers and cooking enthusiasts to discover these recipes. Also, if you are on Instagram, do share a picture of the dish and tag @vanitascorner to be featured in my stories.
Do follow me on Instagram, Facebook and Pinterest.
Happy Cooking!!