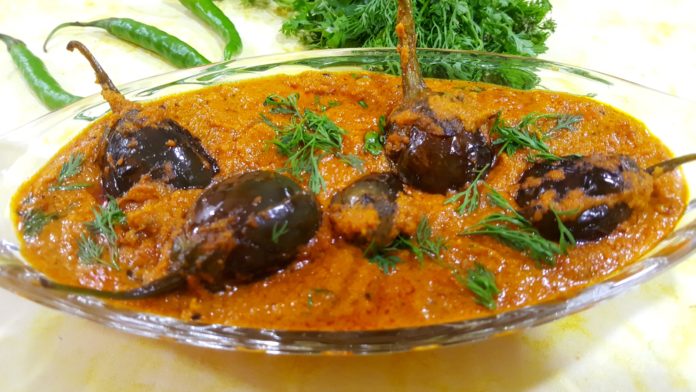 Hyderabadi Baghara Baingan – a flavourful brinjal preparation.
Brinjals cooked in Hyderabadi gravy is a delicious dish and a must try recipe. This gravy is tangy and has a unique flavour because of roasted sesame and peanuts. Peanuts and sesame seeds impart a nutty flavour to the gravy. This gravy goes well with rotis and also tastes great with rice.
Ingredients
10 to 12 small brinjals
4 tbsp oil
¼ tsp fenugreek seeds (methi seeds)
¼ tsp nigella seeds (kalonji)
1 tsp mustard seeds (rai)
Few curry leaves
2 green chillies, slit vertically
Salt as per taste
For sesame peanut powder
2 tbsp peanuts (moongphali)
2 tbsp sesame seeds (til)
1 tbsp cumin seeds (jeera)
For the masala paste
1 onion, chopped
6 to 7 cloves of garlic
1 inch piece of ginger
½ cup fresh grated coconut
a lemon sized ball of tamarind
½ tsp turmeric powder
1 tsp cumin coriander powder
2 tsp red chilly powder
Method
Wash the brinjals and slit each brinjal lengthwise into four, keeping the stems intact in such a way that the brinjals remain joined at the stem.  Immerse the slit brinjals in water in a vessel to prevent it from turning black.

Soak a lemon sized ball of tamarind in ¼ cup of water.

Keep aside for 20 to 30 minutes .

Mash and squeeze the tamarind using your fingers.

Strain and keep tamarind paste aside,  discarding the tamarind remains.

Heat a pan and dry roast peanuts, sesame seeds, cumin seeds for 2 minutes while stirring continuously.

Once it cools down, blend in a mixer to a coarse powder. Keep this aside.

Blend chopped onion, garlic, ginger, grated coconut, tamarind paste with a little water to a smooth paste.

Heat 1 tbsp oil in a pan. 

Add the ground paste and saute for 5 minutes.

Add the turmeric powder, cumin-coriander powder, red chilly powder and mix well.

Saute for a minute or so.

Add the sesame peanut powder, little water and mix well.

Cook on a slow flame for 5 to 10 minutes.

In the meanwhile, heat another pan with 3 tbsp oil.

Add  frenugreek seeds, nigella seeds, mustard seeds, curry leaves, slit green chillies and saute for few seconds.

Add the slit brinjals and saute for 2 minutes.

Cook covered for 5 minutes.  

Add the sautéed brinjals to the masala paste.

Add little water to obtain the desired consistency.

Add salt and cook covered till the brinjals are cooked well.

Garnish with fresh chopped coriander.

Serve hot with rotis or rice.
WATCH RECIPE VIDEO
Brinjal lovers, do have a look at the following brinjal recipes:
Maharashtrian style stuffed brinjal, Begun Bhaja, Baingan Bharta, Baingan Aloo Sabzi and Baadal Jaam