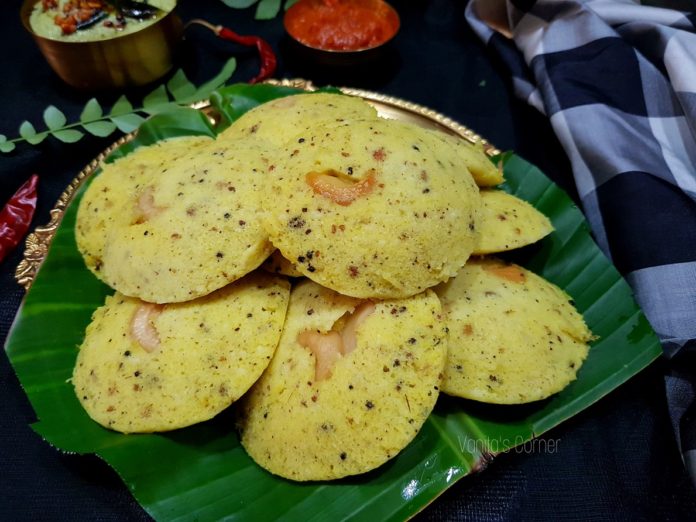 Kanchipuram idlis – Idlis made with an elaborate tempering of spices.
Kanchipuram idlis are a speciality from Kanchipuram, a small town in Tamil Nadu. The idli batter is spiced with pepper, cumin, ginger amongst other things before steaming. Different from the regular idlis, this is a must try recipe for idli lovers. Here goes the recipe:
Ingredients
2 cups Rice
1 cup Udad dal (split black gram)
1/2 cup poha (flattened rice)
For Tempering
1 tsp Dried ginger powder
1/2 tsp Turmeric powder
1 tsp Cumin seeds
1 tsp Whole black pepper
1 tsp Mustard seeds
1 tsp Chana dal (split Bengal gram)
1 tsp Udad dal (split black gram)
8 to 10 Cashew nuts
10 to 12 Curry leaves
1 tsp sesame oil
2 tsp Ghee
Salt  as per taste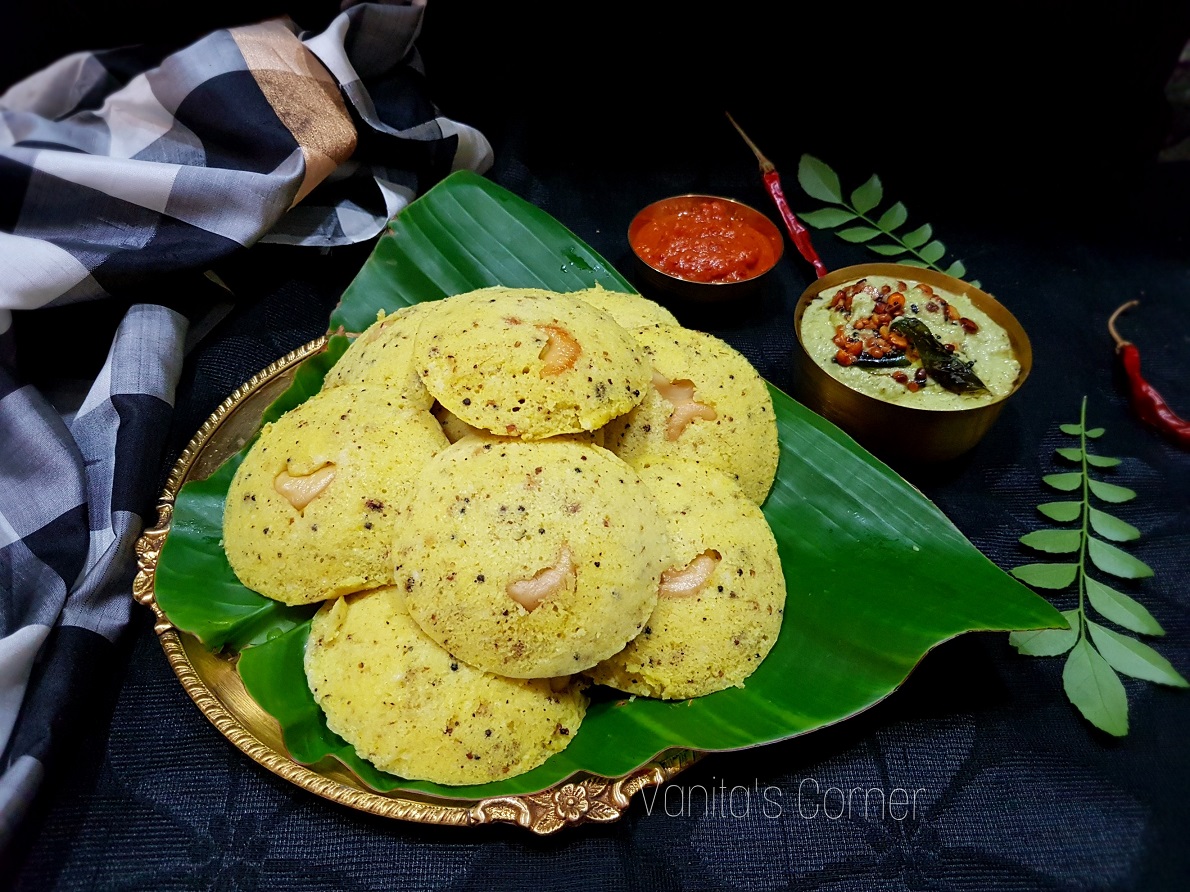 Method :
Soak rice and udad dal in water separately for 3 to 4 hours.
Soak poha for 15 minutes.
Drain and grind the udad dal with very little water to a smooth paste.
Grind rice and poha together with very little water to a fine paste.
Mix the ground udad dal, ground rice and poha together in a deep vessel.
Cover and keep the batter to ferment for six to eight hours in a warm place.
After fermentation, the idli batter will become double in quantity and rise.
To the fermented batter, add turmeric, dried ginger powder and salt and mix well.
Grind cumin seeds and whole black pepper to a coarse powder and keep it aside.
Heat 1 tsp ghee and sesame oil in a small pan.
Add chana dal and saute for a  minute.
Add udad dal, mustard seeds, cumin-pepper powder , curry leaves and saute on a medium flame for a minute.
Add this tempering to the batter and mix well.
Heat 1 tsp ghee in a pan and fry the cashewnuts. Set this aside.
Grease the idli moulds.
Place 1 fried cashew in each idli depression.
Pour the idli batter in the moulds and steam the idlis in a steamer or idli cooker.
Steam for 10 to 15 minutes or until the idli is done.
WATCH RECIPE VIDEO: