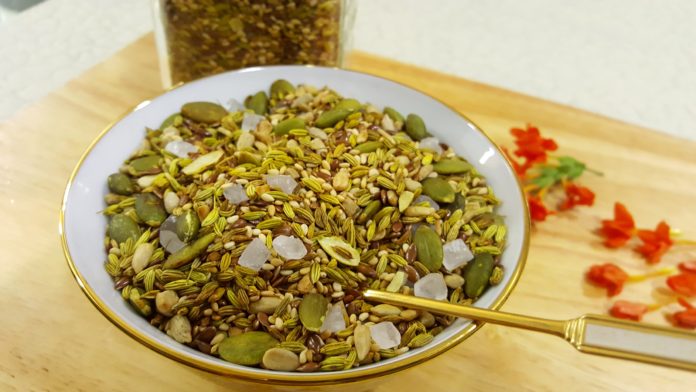 Mukhwas is an aftermeal mouth freshner. This Multiseeds mukhwas  is made of five seeds namely fennel seeds, pumpkin seeds, sesame seeds, sunflower seeds and flax seeds, each of them have their own health benefits.
Flax seeds are rich source of omega 3 fatty acids.  Fennel seeds are good for digestion. Sunflower, pumpkin and sesame seeds are powerhouse of nutrition containing vitamins and minerals. Hence, apart from acting as a mouth freshner, they have multiple benefits to offer. Here's the recipe
Ingredients
2 cups Fennel seeds (saunf)
1 cup Pumpkin seeds (Kaddu ke beej)
1 cup Sesame seeds (Til)
1 cup Sunflower seeds (Soorajmukhi ke beej)
1 cup Flax seeds (Alsi)
¼ cup Rock sugar candy (Mishri)  [optional]
Method
Heat a pan and dry roast all the seeds one by one. 

Let it cool completely.

Once it cools down, mix everything. 

Add the mishri and mix well.  Mishri is optional. You can very well skip adding that.

Store Multiseeds Mukhwas in an airtight container. 

This can be had after meals as mouth freshener or you can have a teaspoon of this everyday owing to its health benefits.
WATCH RECIPE VIDEO