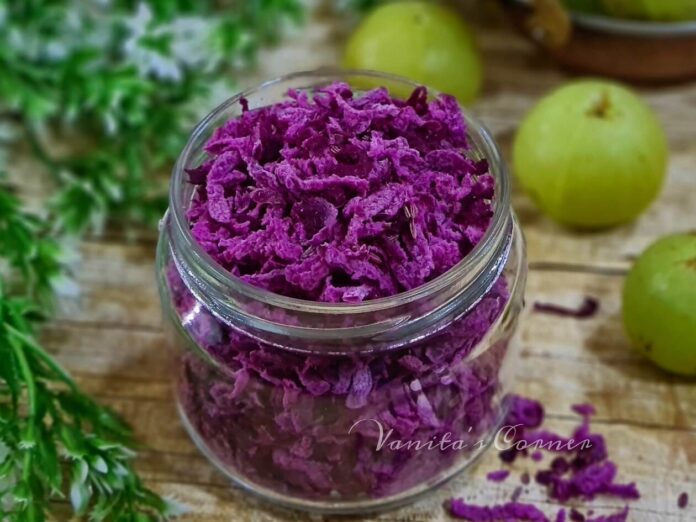 Amla Beetroot Mukhwas – an after meal digestive made with two nutritious vegetables/fruits.
Indian meal is incomplete without a dose of mukhwas. Mukhwas or mouth freshner is an important part of Indian meal. There are umpteen varieties of mukhwas that's available in the market. But, I prefer making them at home.  A very commonly made mukhwas at my home is the multiseeds mukhwas. I always have a bottle of multiseeds mukhwas at home which doubles up as a healthy snack too. Recently I came across an interesting mukhwas recipe on Instagram shared by @365kitchentales – a mukhwas made with amla and beetroot. The healthy  ingredients and the natural pink colour of the mukhwas were the inspiring factors for me to try the recipe. I tweaked the recipe a little to suit my taste. So, here is the recipe for Amla Beetroot Mukhwas:
Ingredients
12 Indian gooseberries (amla)
1 large beetroot (chukandar)
2 tsp roasted fennel seeds (sauf)
1 tsp roasted carom seeds (ajwain)
1 tbsp ginger juice (adrak ka ras)
1 tsp black salt (kala namak)
2 tbsp powdered sugar (pisi hui cheeni)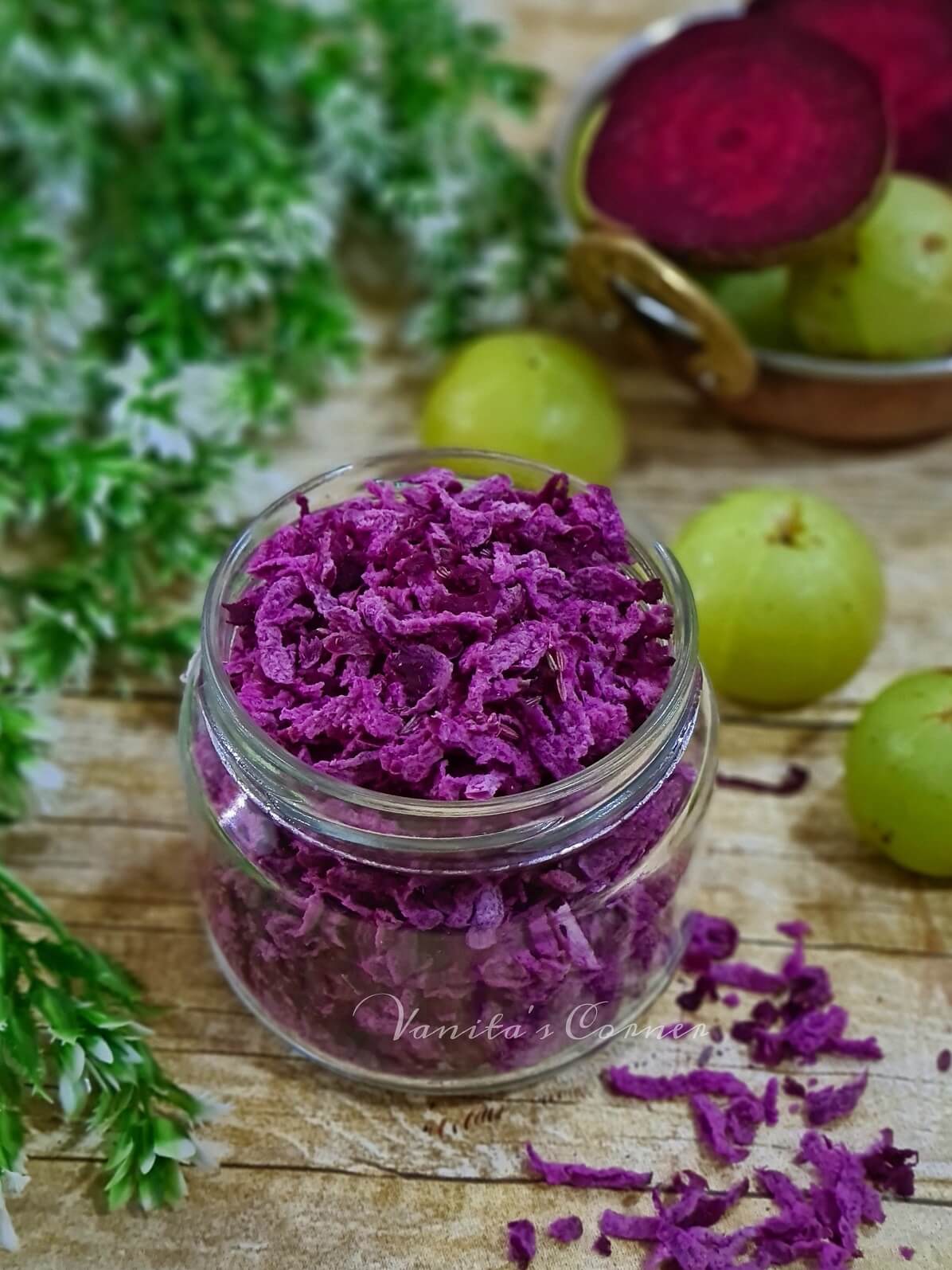 Method
Wash the amlas and grate them. Discard the seeds. Keep aside.
Wash, peel and grate the beetroot. Keep aside.
Crush roasted fennel seeds and roasted carom seeds to a coarse powder.
In a mixing bowl, add grated amlas, grated beetroot, ginger juice, sauf – ajwain powder, black salt and powdered sugar. Mix well.
Spread this mixture on a plate.
Keep the plate indoors in a place where there is sunlight, for 3 to 4 days.
If keeping the plate outdoors for drying, cover the plate with a muslin cloth and do not keep directly under the sun.
Once the mixture has dried well, store in an airtight container.
Note:
After speaking to few friends who make this mukhwas often, I learnt that the shelf life of this mukhwas is as long as 6 months or so. But I made in a small quantity and the same got over in a month's time. So, I can safely say that it remains good for minimum 1 month at room temperature.
WATCH RECIPE VIDEO: