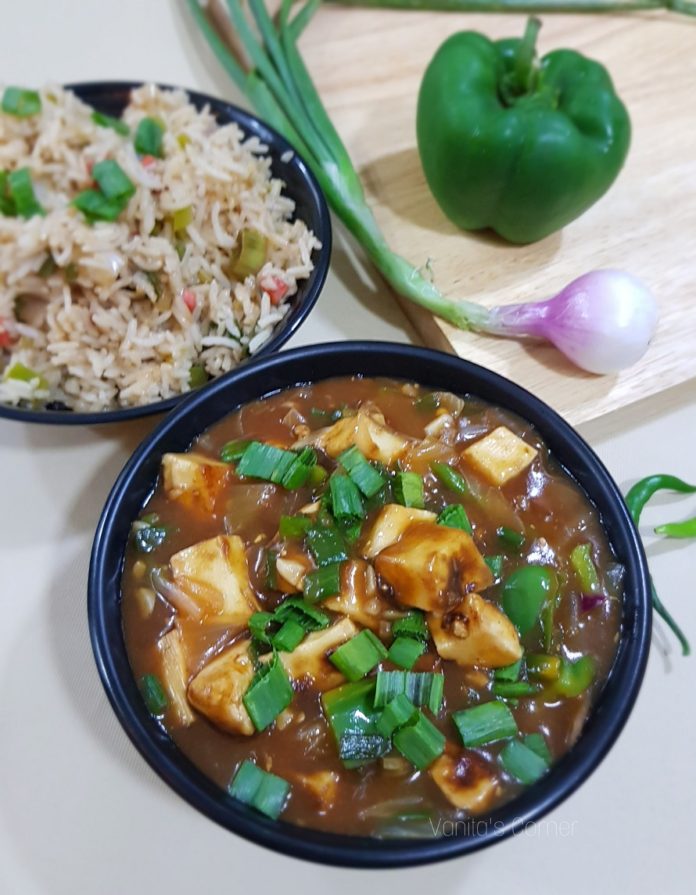 Paneer Chilly Gravy is a popular Indo-Chinese dish which is best served with fried rice and hakka noodles. Paneer Chilly can be made as dry or a gravy dish Dry paneer chilly is served as a starter whereas paneer chilly gravy is served as a main course dish alongwith fried rice or noodles. Here's the recipe for Paneer Chilly Gravy:
Ingredients
200 grams paneer, cut into small cubes (How to make paneer at home)
1 tsp ginger garlic paste
2 tsp soya sauce
2 ½ tbsp cornflour
2 tbsp oil
1 tsp finely chopped garlic
1 tsp finely chopped ginger
2 white bulbs of spring onion
2 green chillies, cut lengthwise
½ cup chopped spring onion (green part)
1 capsicum, cubed
1 tbsp red chilly sauce
a tsp of tomato sauce
Salt as per taste
Method :
In a mixing bowl, add ginger garlic paste, 1 tsp soya sauce and mix well.

Add paneer cubes and mix.

Add 1 tbsp cornflour and give a gentle mix ensuring that the paneer cubes are coated well with cornflour.

Keep this aside.

Heat 1 tbsp oil in a pan.

Shallow fry the paneer.

Keep the fried paneer aside.

Heat 1 tbsp oil in a pan.

Add chopped garlic and chopped ginger.

Saute for few seconds.

Add green chillies and  chopped spring onions (white part).

Saute for few seconds.

Add ¼ cup chopped spring onion (green part) and saute for few seconds.

Now add capsicum cubes and saute.

Add soya sauce, red chilly sauce and give it a mix.

Now, in  a bowl add 1 ½ tbsp cornflour, little water and mix it well to make a thin slurry.

Add the cornflour slurry into the pan and mix.

Further, add shallow fried paneer, salt, ¼ cup of water and mix.

Finally, add half of the remaining spring onion greens, tomato sauce and mix.

Cook for a minute.

Garnish with spring onion greens and serve hot with fried rice.
Note:
You can adjust the quantity of water added to make the gravy, as per the consistency required by you.

 If you wish to make the dry version of paneer chilly, then skip the cornflour slurry and water. The rest of the recipe remains the same.

A teaspoon of vinegar can also be added once the gravy is done.
WATCH RECIPE VIDEO: