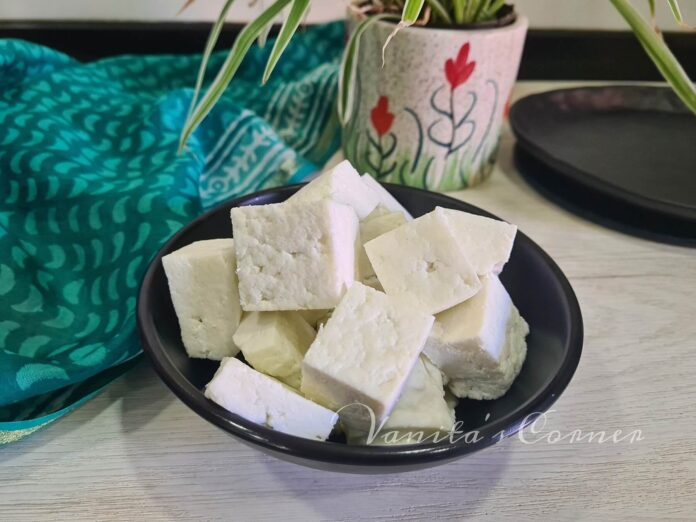 A good source of protein, paneer (cottage cheese) is a versatile ingredient of vegetarian cooking. It is used for making salads, desserts, sabzis, pulao, paratha and so on. If you have paneer handy, you can rustle up quite a few dishes using it. So, here is how you can easily make cottage cheese at home.
Ingredients
1.5 litre milk (doodh)
3 to 4 tbsp lemon juice (nimbu ka ras)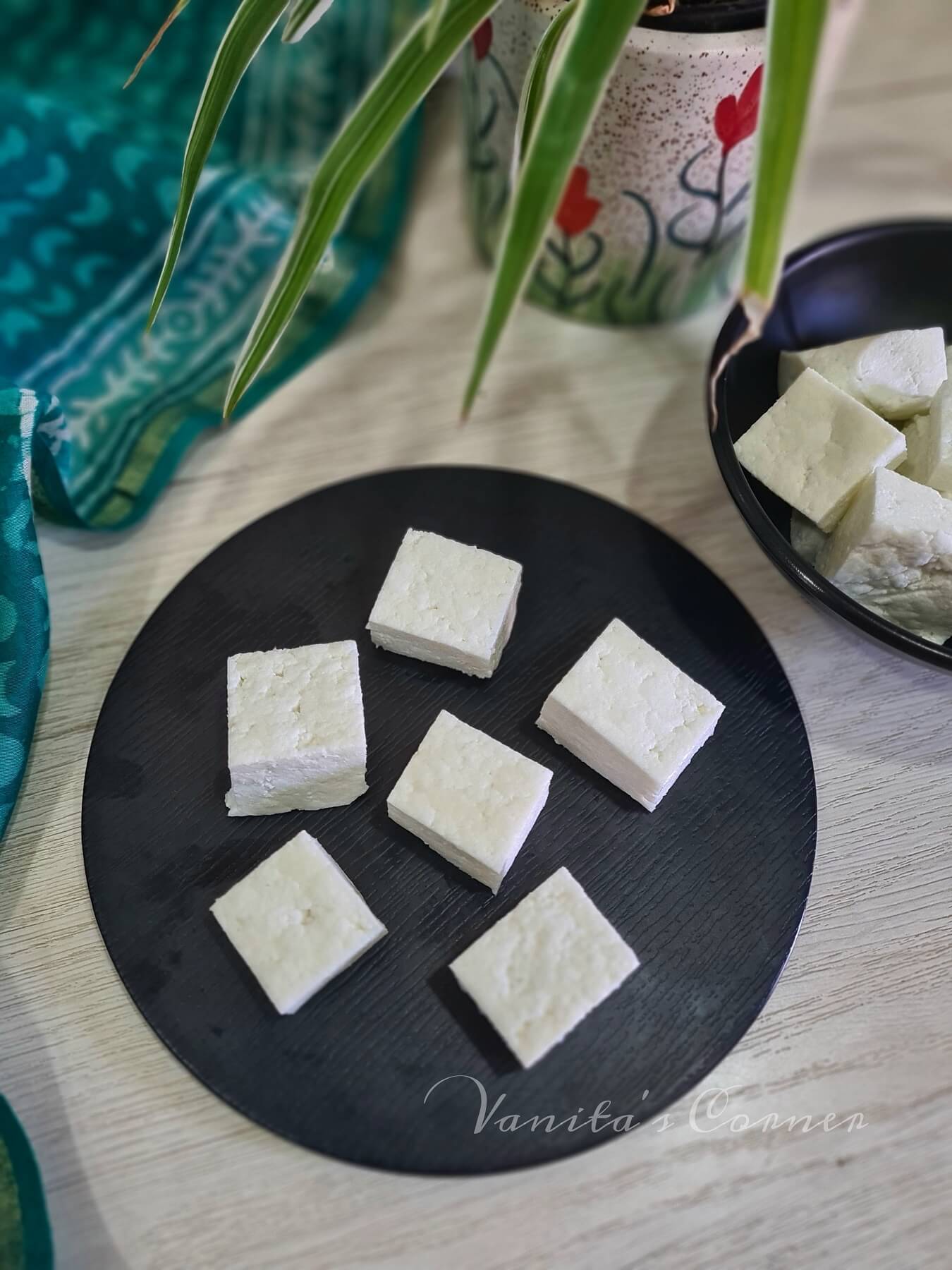 Method
Boil the milk in a large pan stirring occasionally.

When it starts boiling, add the lemon juice. Keep stirring.

The milk will start curdling.

Once the milk has curdled, place a strainer over a vessel and

strain the curdled milk.

Pour water over it ( 2 to 3 times ) and rinse to remove the sourness of lemon juice.

This is crumbled paneer.

If you want solid paneer, place the paneer in the muslin cloth.

Fold the cloth firmly and place heavy weight over it.

The paneer will be set in 30 minutes. Remove paneer from the muslin cloth and cut into cubes.

You can use this paneer to make any paneer dish of your choice.
From 1.5 litre milk, I got 239 grams of paneer.
WATCH RECIPE VIDEO

Further, I would like to draw your attention to some of the paneer recipes. Do have a look.
Paneer Bhurji with corn and capsicum, Chana Paneer salad, Matar Paneer, Paneer Tikka Kathi Rolls, Palak Paneer, Paneer Grilled sandwich, Paneer Paratha, Oats Corn & Paneer Cutlets, Paneer stuffed green peas paratha.
Thank you for stopping by. If you like/ tried this recipe, leaving a comment below the post will enable more readers and cooking enthusiasts to discover these recipes. Also, if you are on Instagram, do share a picture of the dish and tag @vanitascorner to be featured in my stories.
Do follow me on Instagram, Facebook and Pinterest.
Subscribe to my youtube channel for easy video recipes.
Happy Cooking!!