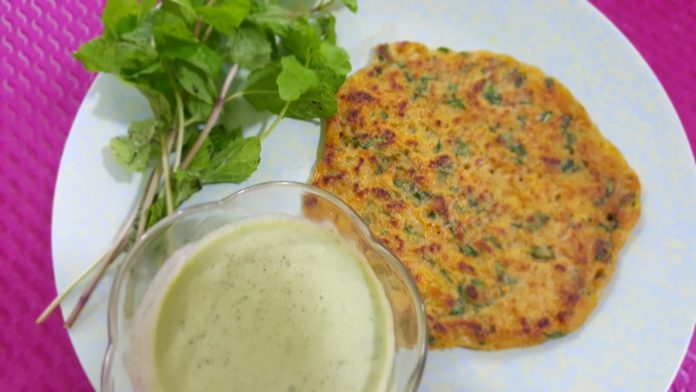 Oats and Vegetable Dosa – a healthy and quick breakfast dish.
Healthy oats and vegetables contribute to the high nutrition content  in this dosa.  To kickstart your day on a healthy note, try this power packed  dosas.
Ingredients
1 cup Oats
¼ cup Chopped spinach
¼ cup Grated carrot
1 tbsp Chopped coriander leaves         |
1 tsp Chilly powder
1 tsp Cumin coriander powder
Salt as per taste
Eno fruit salt 1 tsp
Oil for cooking the dosas
Method
Grind the oats to make a fine powder.

In a mixing bowl, take the oats powder.

Add chopped spinach, grated carrot, chopped coriander, chilly powder, cumin coriander powder, salt and add a cup of water and mix well.

The batter should be of pouring consistency. 

Add the eno fruit salt just before making the dosas. 

Heat a non stick pan.

Add a drop of oil.

Pour a ladle of batter and spread it in a circular motion to form a pancake.

Drizzle a tsp of oil around the pancake.

Once the base turns golden brown, flip the pancake to the other side.

Once it is cooked, remove it from the pan and serve oats and vegetable dosa with chutney. 
For more oats recipes, click Oats Palak Paratha, Oats Porridge, Oats Cutlets and Vegetable Masala Oats